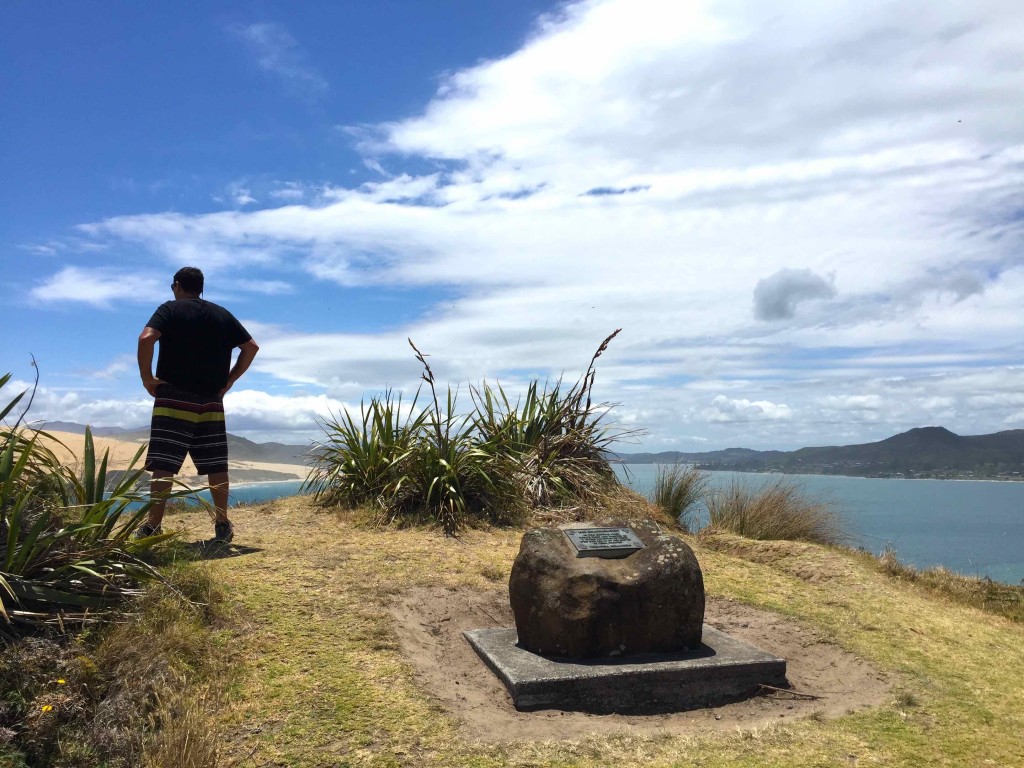 ---
Following are some highlights from our Driving tour of New Zealand's North Island. For South Island highlights see the following post, #37. For a more general overview and crew perspectives see the previous post, #35.
NORTH ISLAND HIGHLIGHTS
Matauri Bay – An easy one-hour drive north from Opua, Matauri Bay is sparsely populated and serene in it's natural beauty. We came to visit the Rainbow Warrior Memorial, and we were not disappointed. The Rainbow Warrior was a ship owned by the Greenpeace organization and used, among other things, to protest nuclear testing in the Pacific, specifically the French nuclear tests on Moruroa atol in the Tuamotus. On July 10, 1985 the ship was bombed and sunk in Auckland Harbor by the French government to prevent further protests. The agents who carried out the attack were convicted, but despite international protests, the French government continued to test nuclear devices on Moruroa for another ten years, finally ending in 1996. Find out more about the sobering true story of the Rainbow Warrior at https://en.m.wikipedia.org/wiki/Sinking_of_the_Rainbow_Warrior
---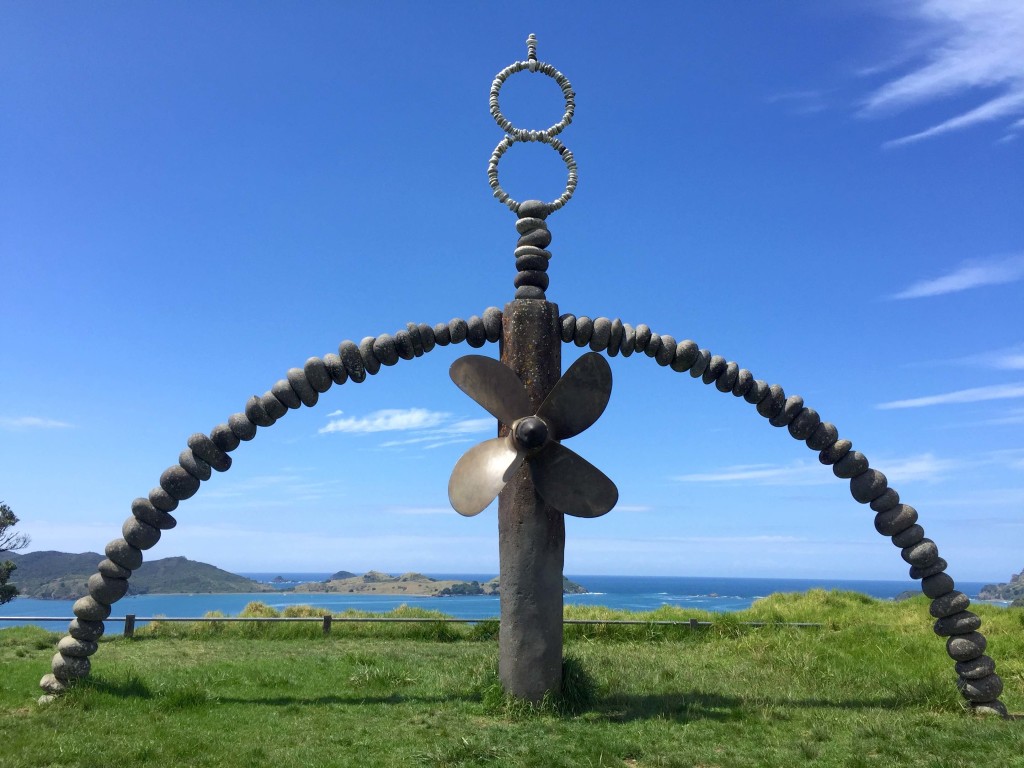 ---
Cape Reinga – Nearly the northernmost point New Zealand, Cape Reinga (pronounced Ray-EN-ga) holds a special place in Maori legend as the gateway to the spirit world. Looking out from this precipitous point, it's not hard to understand why. Occasional rays of sunlight peak weakly through through thick, dark, boiling clouds like hope struggling against darkness. Winds swirl and lash the place from most points of the compass. Below, the turbulent waters roil violently like opposing armies at the point where the Pacific Ocean meets the Tasman sea. Literally and figuratively, there can be no better place for a lighthouse.
Nearby, the towering Te Paki sand dunes provide the perfect counter-point to the spiritual weight of Cape Reinga:  sand boarding! This is an awesome, must-do activity for adrenaline junkies! Extremely large sand dunes + boogie board = serious fun. Trudging for vertical will test your lungs and legs, but the adrenaline rush is enough to keep you climbing way past the point of exhaustion. We did laps here for at least four hours.
---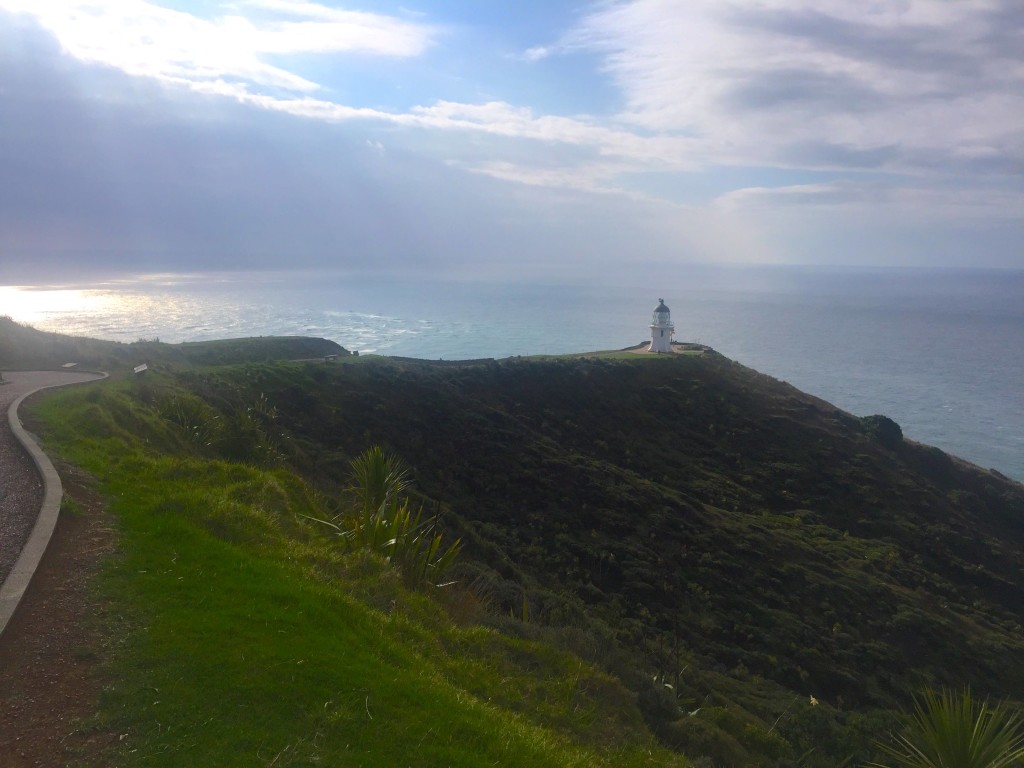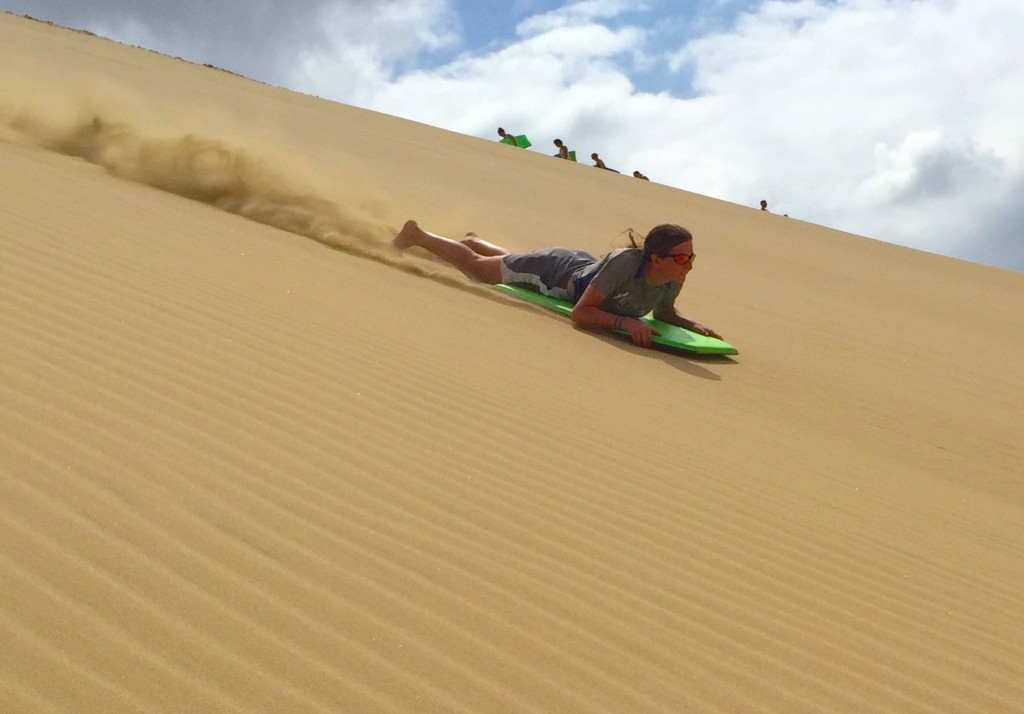 ---
Ahipara – This small town on the Northwest coast is home to several famous point breaks that bring surfers from around the world for perfect long, fast barrels. The day we were there the surf was approximately six inches high but absolutely perfect. If only I were an ant. Seriously though, with a SW swell, the surf setup couldn't be more perfect. Otherwise, the golden sand is great for castles.
Waitangi – Waitangi is the site of the Treaty signed between the British crown and over 500 Maori Chiefs on February 6, 1840.  Only 10 minutes from Opua, this site features an excellent (but somewhat expensive) museum dedicated to the spirit of the treaty. Living nearby, we were able to attend the Waitangi Day celebrations on February 6, which were not only inspirational, but also free. The NZ Navy were in attendance with two modern warships complete with twenty-one gun cannon salutes. There were also tall sailing ships, and hundreds of Maori chanting while paddling huge traditional Waka or war canoes. Having anchored Batu directly off the Treaty grounds, we were right in the middle of the action. Ashore, there were dance and singing performances, arts & crafts, and foods of all sorts. Imagine 'Fourth of July' meets Cirque de Soleil…it was quite an experience.
---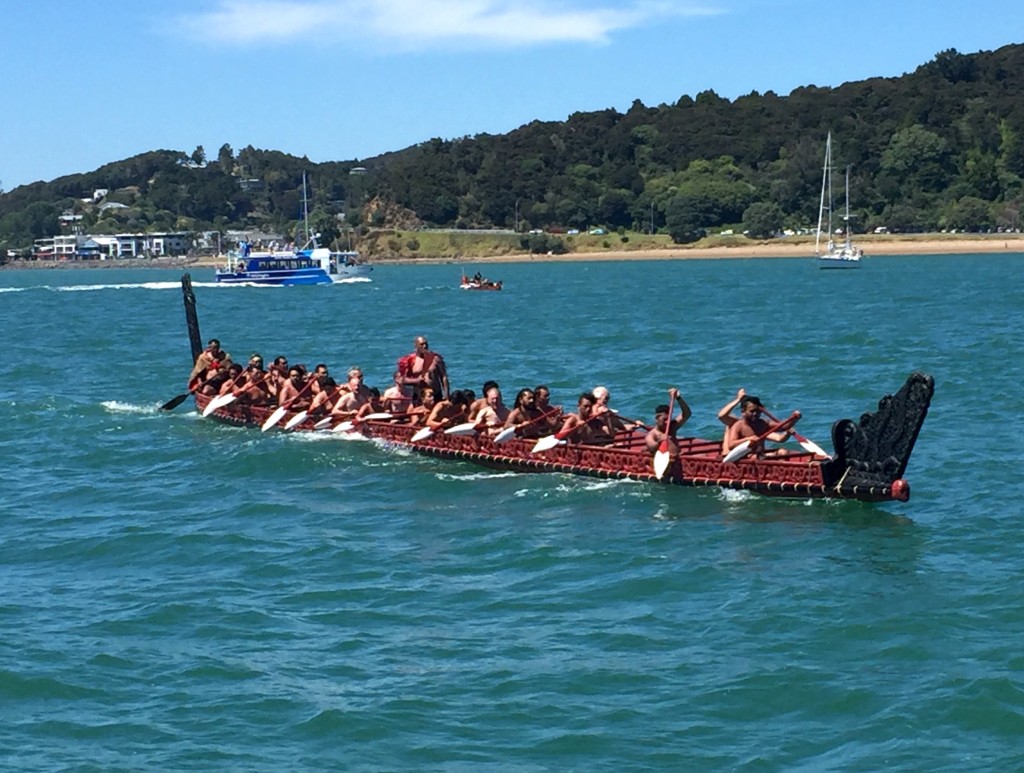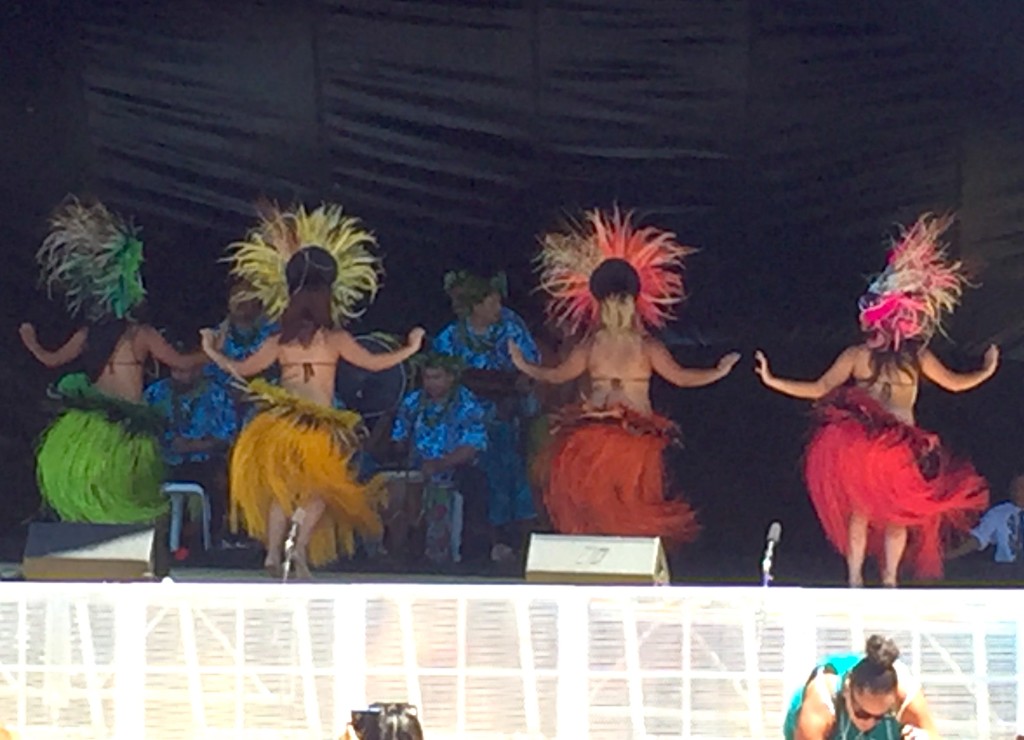 ---
Discussing the Treaty brings me to an interesting, possibly contentious, point about New Zealand. Certainly there have been many breaches of the treaty. Overall, the Maori have fared only marginally better than other indigenous peoples overtaken by western culture. But as an outside observer, I've been impressed by how integrated the two cultures are here. Although predominantly western, I sense respect for the Maori culture and a feeling of responsibility to preserve it. By my estimation it is at least a refreshing attempt at integration rather than cultural bulldozing.
Kauri trees – Giant Kauri trees, found only in New Zealand, have historically dominated the landscape here. Over-zealous logging has made old Kauri trees difficult to find, but these trees are certainly a sight to see. Most "Top 10″ lists will send visitors to the giant Te Matua Ngahere (the Father of the Forest) and Tane Mahuta in the Waipoua Forest. While we found these enormous trees impressive, the sites were also touristy. For us, the best place to experience the solemn power of these trees is in the groves of Northland's Puketi and Omahuta Forests. Great 'bush walks' (hikes as they are called here).
Kiwis – In marketing, gift shops and the spoken language, kiwis are everywhere. In reality, this flightless, nocturnal bird is extremely reclusive. Even for professional researchers, it's nearly impossible to see one in the wild. We found the best place to see wild-ish kiwis was at Kiwi North, a museum, and kiwi breeding sanctuary near Whangarei. Here you can watch a pair of these mysterious birds living in a carefully controlled, simulated environment – very cool.
---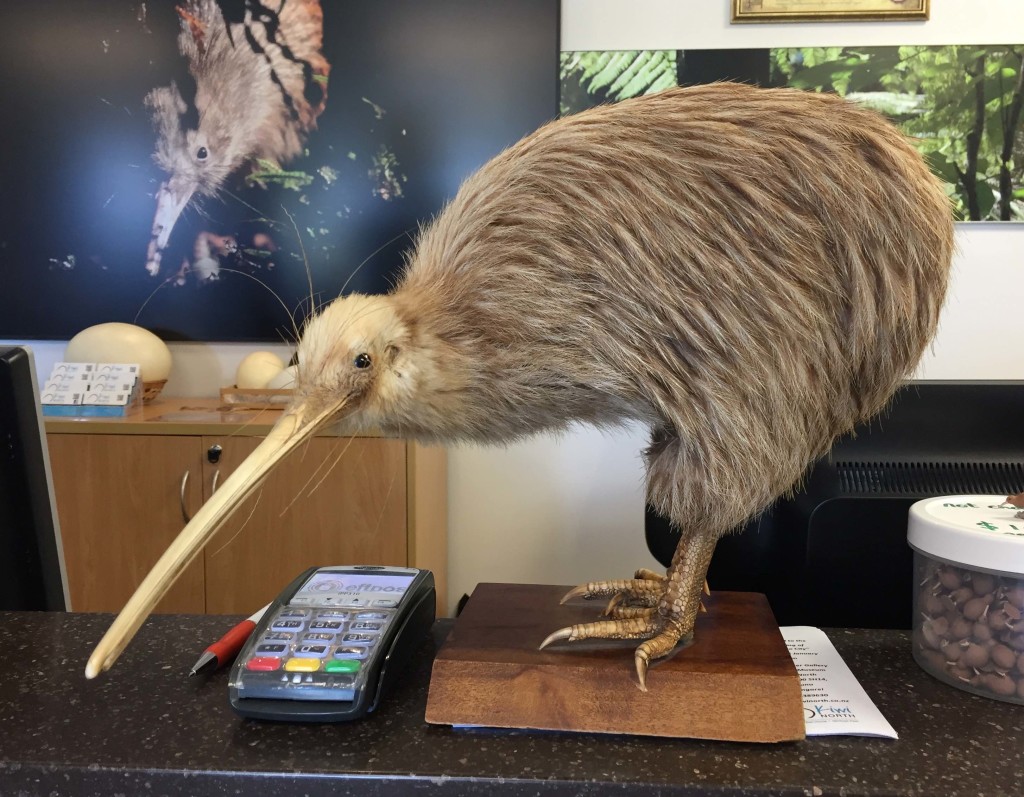 ---
Auckland – There are plenty of things to do in 'the City of Sails', but given our brief timeframe and general bias toward more natural sites, we spent the day in Auckland's excellent Maritime Museum. We found the exhibits fascinating. There was outstanding coverage of America's Cup and Vendee Globe sailboat racing as well as an entire floor on sailing legend Sir Peter Blake. Definitely worth a stop.
---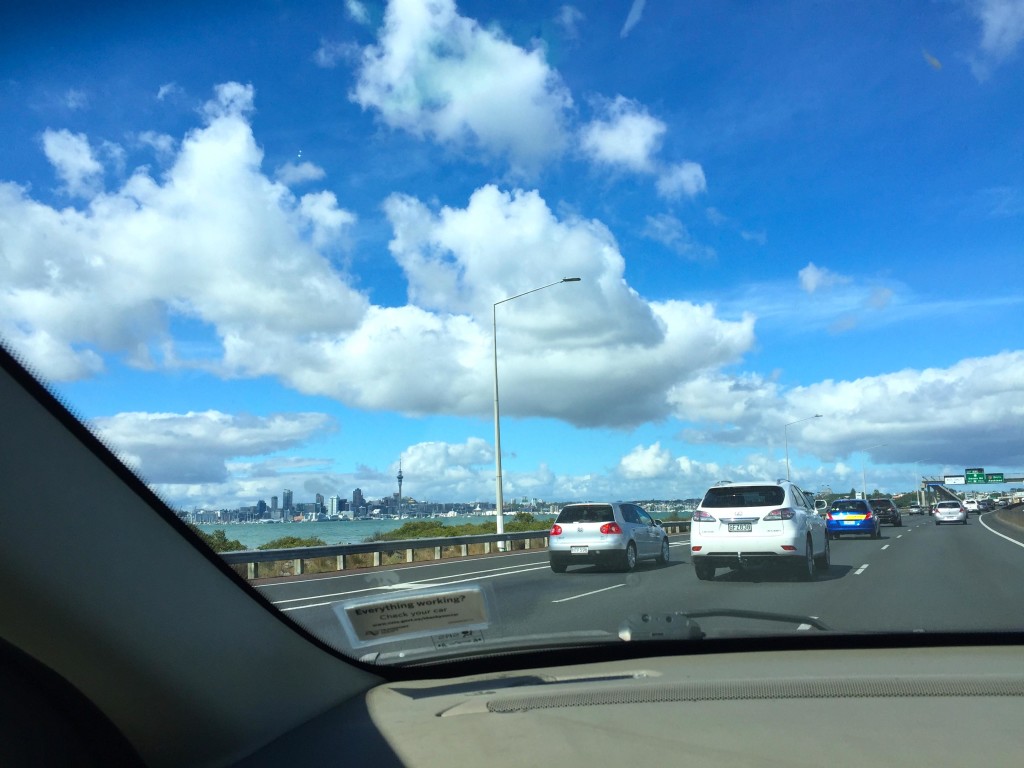 ---
Rotorua – The Rotorua area, about two and a half hours south of Auckland, is famous for geothermal activity. Natural hot springs, bubbling mud pits and steaming sulphur vents are scattered all around a 50km radius. While a few hot springs are public, most sites are privately owned and involve a substantial entry fee. We decided to splurge on a visit to Wai-o-Tapu, and we were not disappointed. The range of colors in the thermal pools there was utterly surreal, almost like looking at another planet.
One sight that was not unique during our tour was that of sheep dotted among rolling green pastures. There are a few sheep museums around the country, but we decided to visit the Agrodome near Rotorua to learn a bit more about sheep and wool. Although seriously touristy, the show was an interesting live demonstration and gave us a hands-on feel for the attributes of nineteen varieties of sheep, and the skills of the sheepdogs herding them.
---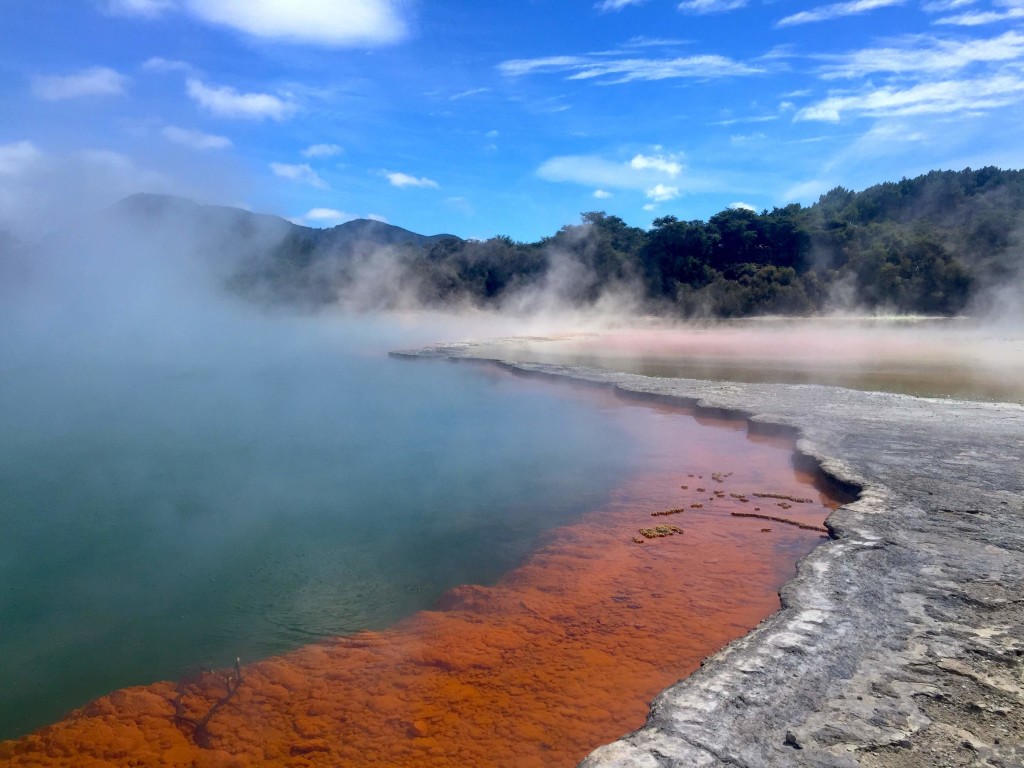 ---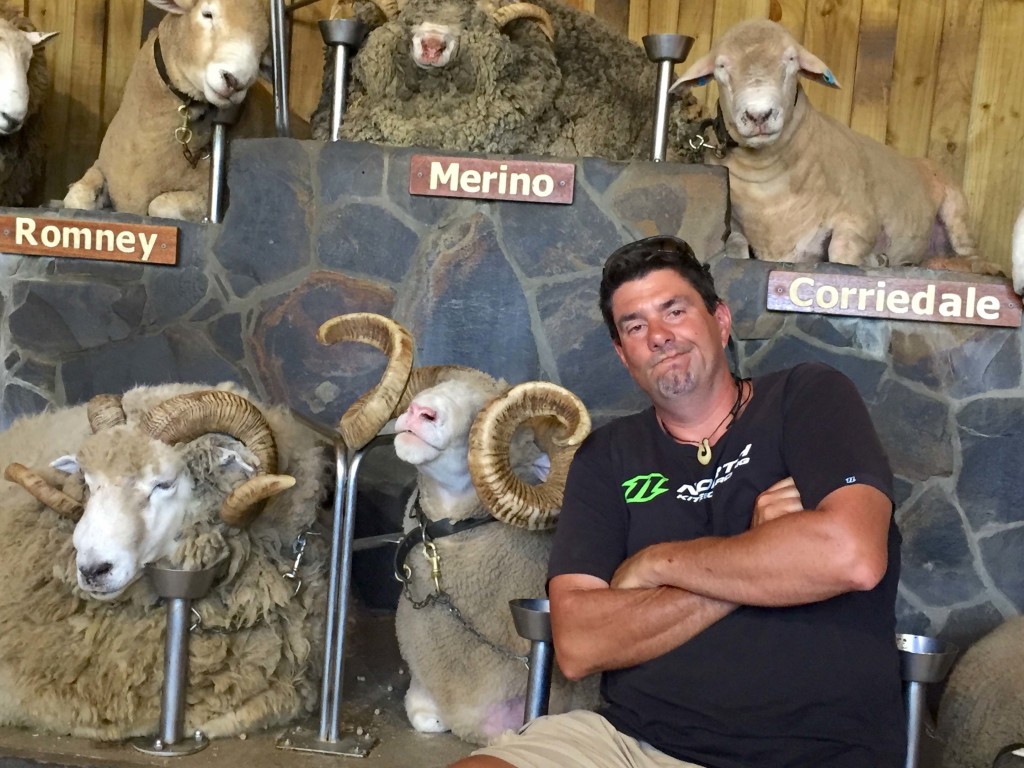 ---
Wellington – The city of Wellington is nestled into a natural harbor at the Southern tip of the North Island. Despite being the capital city, it has a comfortable, homey feeling and would be a fun place to explore if given more time. We had two days in Wellington, and spent both of them at Te Papa, the national museum. Not only is the museum free, but the exhibits are outstanding, successfully conveying an intimate understanding of the subject matter for all ages and types of people. As someone who has experience staging exhibits, I was awestruck by the modernity and skill of the presentation as much as by the material itself. Two thumbs way up!
Wellington harbor provides excellent shelter for the large Interislander ferries which are the most common way to cross the blustery Cook Strait separating North and South Islands. While only 25km across at it's narrowest, the Strait is regarded as one of the more dangerous patches of water in the world due to fierce currents and extremely strong winds. Crossing it was an interesting experience for us. We had rough conditions with 3 – 4m seas and heavy 35 knot winds during both crossings. However, despite the seasick passengers all around us, we had dumb smiles plastered on our faces due to the sheer ease of 'sailing' on a 22,000 ton vessel nearly 600 ft in length. The three-hour ferry crossing was an attraction in itself.
---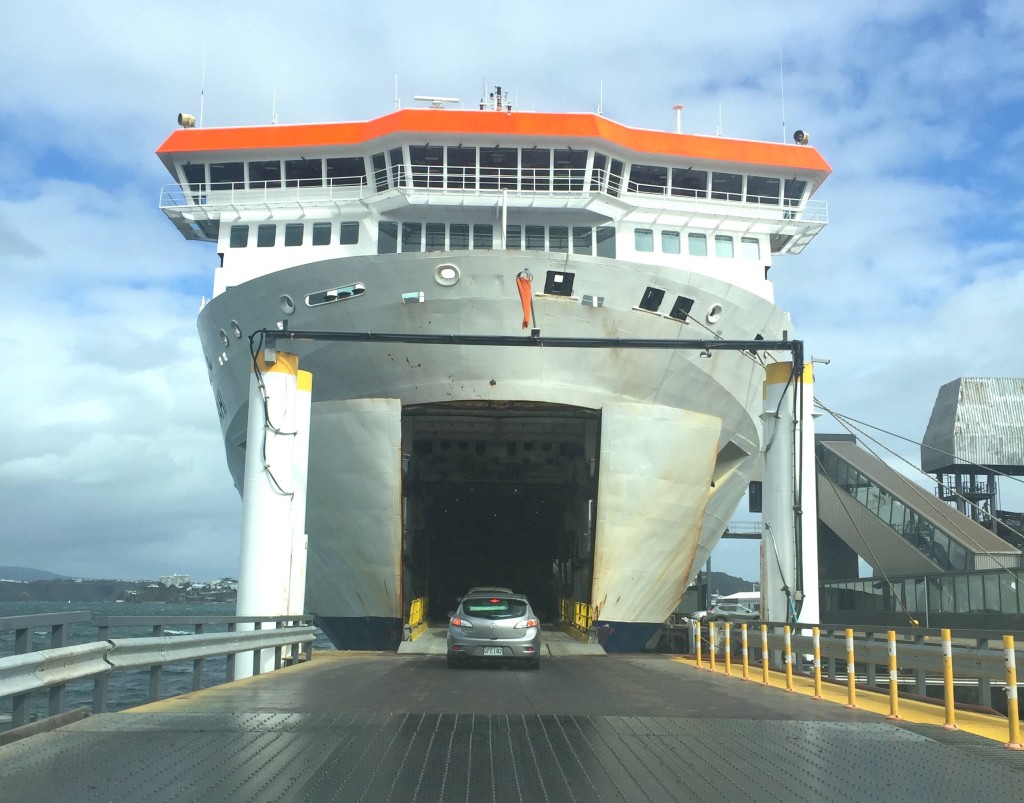 ---
South Island Highlights are found in the following post, Touring New Zealand, part 3 – #37.
---