As December ticks away we carefully remove the old refrigeration and install the new one. Help and advice from the manufacturer, Technautics, is critical. Two final steps remain and for these we call the refrigeration repairmen. It takes some specialized equipment to vacuum down the tubing and charge the system with refrigerant. To ensure success we also ask them to install our new expansion valve, a system-critical fitting that cannot leak. This is a choice we will come to regret, but hindsight is always 20/20. We start up the new 12v refrigeration system on December 14 and begin making plans to depart Ensenada on the 16th. The timing is tight, but leaving on the 16th gives us 8 days to make the 1100nm passage to Puerto Vallarta before Christmas.
We run around town gathering supplies, take an Uber car to Costco for frozen provisions, and fill up on propane. By the morning of our departure it is clear that there's a problem with the refrigeration. The system is cold, but not getting cold enough. We have two options: a) stay in Ensenada to resolve the issues, or b) leave on passage and fix the problems when we arrive in Puerto Vallarta. We have been in Ensenada long enough. It feels like we're growing roots to hold us here. Staying means having Christmas in Ensenada, and that prospect is daunting enough that we decide to leave and deal with the consequences, whatever they are. After several calls with Rich from Technautics, we determine that running the refrigeration in it's current state won't damage the system, so we depart late in the day – about 3:00pm.
Honestly, we are not quite ready to go to sea. In harbor, life is warm and sheltered. Our sails are prepped and gear stowed, but now none of us is wearing foul weather gear or life jackets. No sooner are we around the jetty than we are in 6-8ft seas, 15-25 knot winds and 20 degree cooler temperatures. Note to self: always put on sea gear before departure. We manage to get fenders & docklines stored, sea gear donned, and sails set in fairly short order. Feeling extraordinarily free we sail West, literally into the sunset, between Cabo Punta Banda and Islas de Todos Santos.
---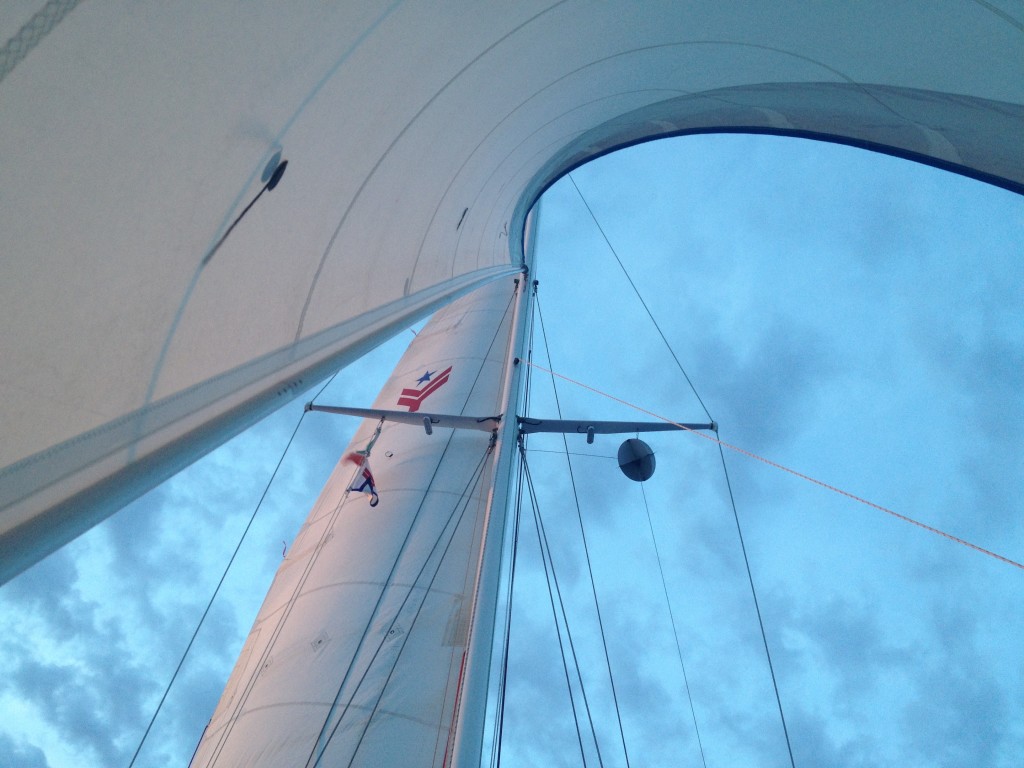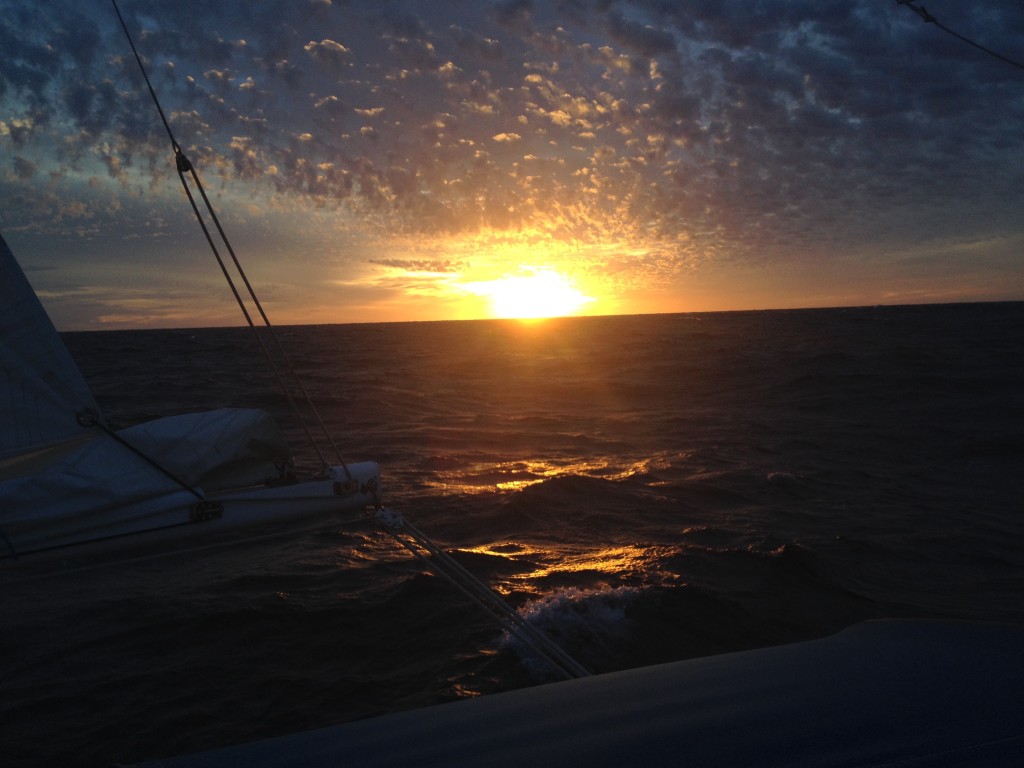 ---
The passage goes extraordinarily well. Our first couple days are light, but we make 3-5 knots of progress flying our colorful spinnaker in 5-15 knots of wind from astern. By the third day our breeze freshens to 20 – 30 and we hiss along nicely at 7 knots, mostly under 1-reefed main and poled-out staysail. The water is sapphire blue, skies are mostly clear with a few white puffy clouds, and we keep an eye on the dusty taupes, ochres and jades of the shoreline gliding by some 20 miles distant. We see little traffic, just the occasional freighter or cruise ship, Karen's favorite night-watch entertainment. Most keep a respectful distance away. The colorful cruise ship lights  serve as a poignant reminder of Christmas close at hand. Our kids begin to speculate about whether Santa makes deliveries at sea.
---
---
Knowing that our route passes over several seamounts, we speculate about the prospect of excellent fishing.  After a long stretch of trailing our Steve Wrye signature edition hand line, Sean decides to change to a bright 'hoochy' lure rigged on spectra line with our rod and reel. Somewhere mid-afternoon my peaceful nap is interrupted by the zizzing sound of line peeling off the reel and excited cries of 'FISH ON!' The sea around us is alive with schools of fish, and dolphins, the air alive with birds, the excitement palpable as we pass from 5000 foot to 200 foot depths over a giant mountain below the surface. Sean is giddy once he feels the incredible power and determination of the fish on the other end of that spectra line. After 40 minutes of strenuous fight, we haul in a 38 lb yellowfin tuna and subdue the beautiful fish with more than a modicum of Lady Bligh's Coconut Rum. Although certainly not what Lady Bligh (or the fish) had in mind, we eventually dispatch the fish and carve up at least 20 lbs of impeccably fresh, delicious tuna. The next morning we determine that our freezer is getting warmer, a fact that bodes poorly for about half the tuna and several hundred dollars worth of provisions, but for the time being, we eat fat & happy – tuna in butter, tuna in garlic, marinated tuna with garlic-lime aioli.
---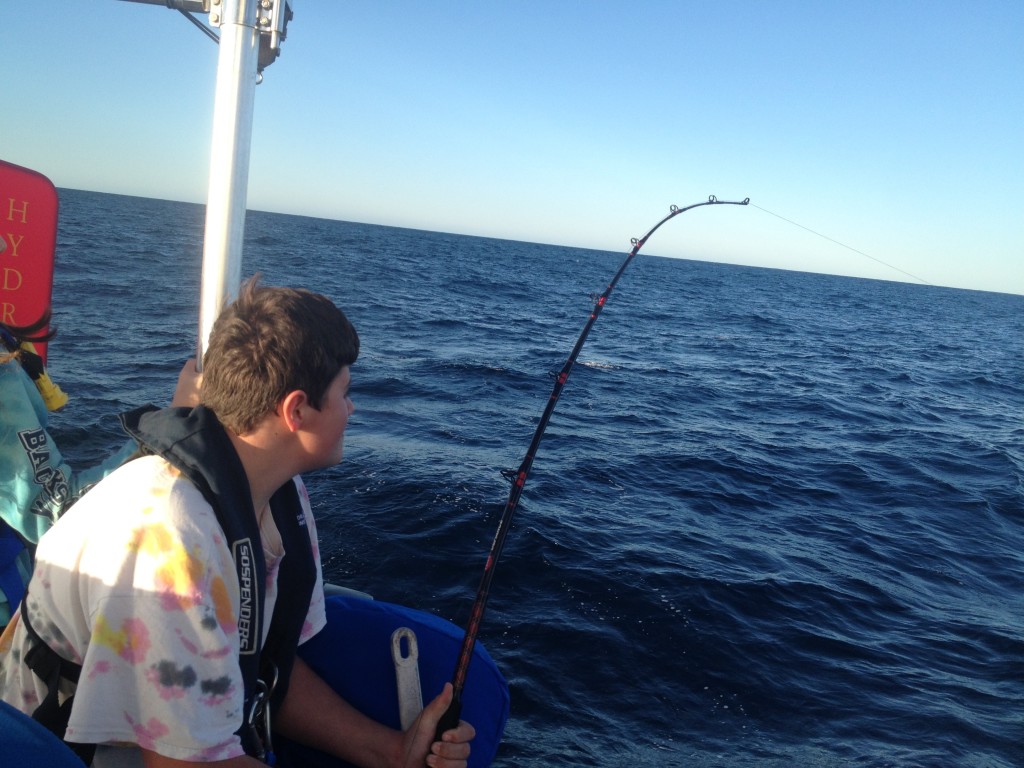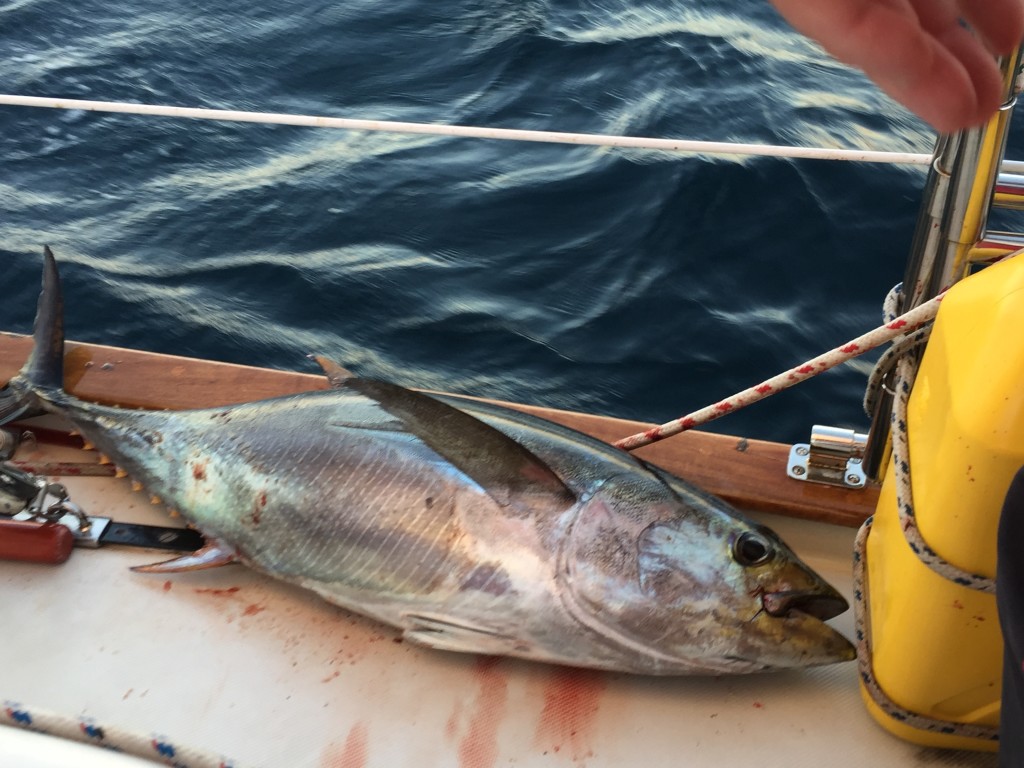 ---
Our boat loves the wind. 20 – 30 knots is a very happy spot for the fully loaded BATU and she sings along magically before 4+ days of great breeze. We are thankful for the wind and anxious to make our Christmas landfall, so we bypass all the anchorages, sailing past Turtle Bay at dawn, past Asuncion at sunset, past Mag Bay with a full head of steam and past Cabo San Lucas as well. We sail until the wind stops, some 25 miles into the Sea of Cortez, then we motor across the sea for two full, calm days. The wind returns just in time for a grand entrance into Bahia de Banderas under full sails as we arrive at the quaint Mexican village of La Cruz de Huanacaxtle (pronounced wanna-KASH-lay) on Christmas Eve. A warm Feliz Navidad to all our family and great friends! We are thinking of you fondly.
---
---
We celebrate Christmas modestly with a small round of useful gifts and heaping platefuls of Eggs Benedict, a Christmas tradition started by my brother Mark. The cooking takes some creativity as our refrigerator is now at a balmy 50 degrees – definitely no Bueno. In the coming days we will begin ' Refrigeration 201′ as we recharge the system, find and stop the leak and adjust the expansion valve to maintain the proper freezer/ fridge temp. For now though, we are just happy to be here in the tropics 'living the dream' as they say.
---