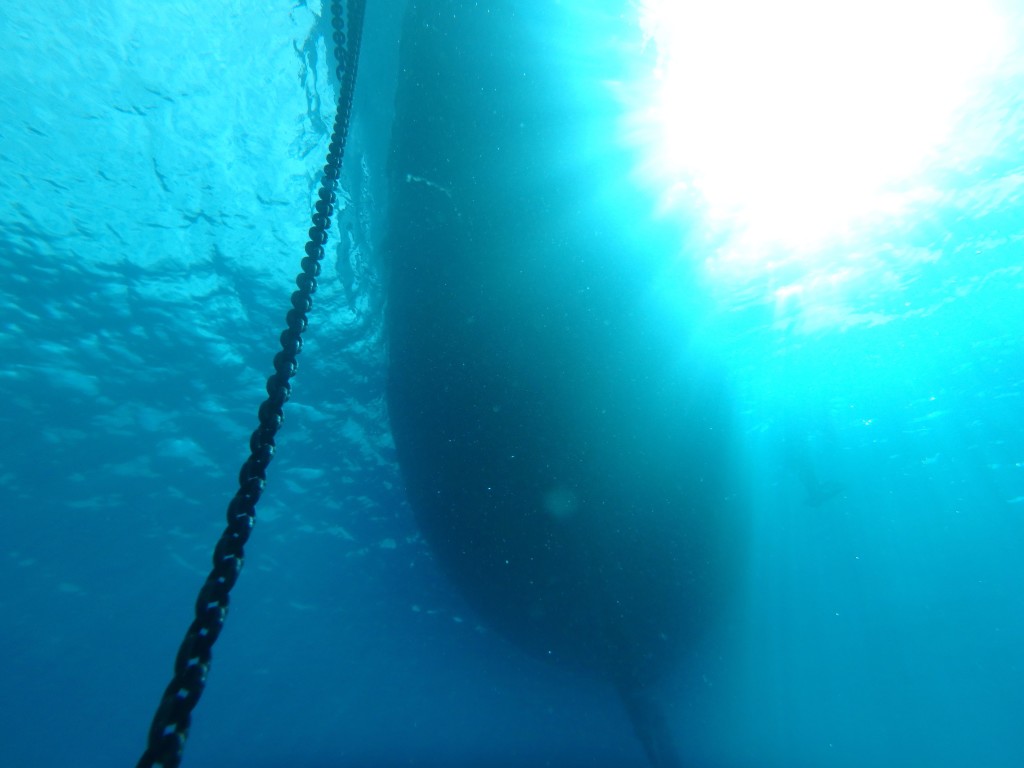 ---
During our first few weeks in the Marquesas we're starting to grow accustomed to some of the local wildlife. Regular rainfall creates many steep streams here in the Marquesas, and also in the Society Islands, and most of the these streams support large, freshwater eels – apparently not dangerous but very large and (my opinion) really ugly. Hiking in the Taioa valley with our Marquesan friend Paul, we encountered a pair of eels in the stream we were crossing. I can handle plenty of creepy-crawlies, but snakey things really freak me out. So, as we hiked through the 4 foot deep water, I was just a bit taken aback to see two fanged heads, each almost as big as a person peering out from under a large rock. When Paul went to "pet" one of the eels, it slid out from under it's rock and past our legs to reveal it's full 6 foot length, 10 inch diameter, and large anterior and posterior fins running from head to tail. OK, YUK! I'm assured these things are totally harmless, but I'm still warming up to the idea that they're in most of the streams around here.
---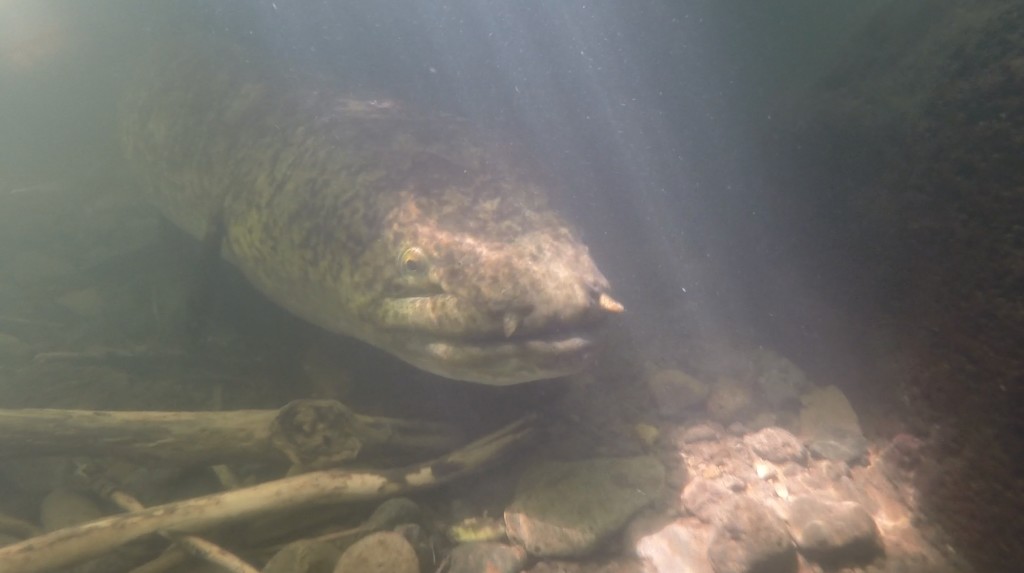 ---
With decent rainfall, streams and lush jungly growth you might expect a decent population of mosquito's & no-no's (no see-um's) and you'd be spot-on. Like authentic tourists, we've gone through several cans of bug spray, and we're still covered in bites. Sarah seems to be particularly susceptible. She's a human pin-cushion, the poor kid! All of us have been well covered in bites from just brief lapses in bug-spray coverage, and we're getting used to the idea that the spray doesn't prevent bites, just reduces the number of them. Although there is Dengue fever around, we've seen no symptoms yet – fingers crossed! Of course, somehow most of the locals casually brush the bugs off and seem virtually unaffected.
---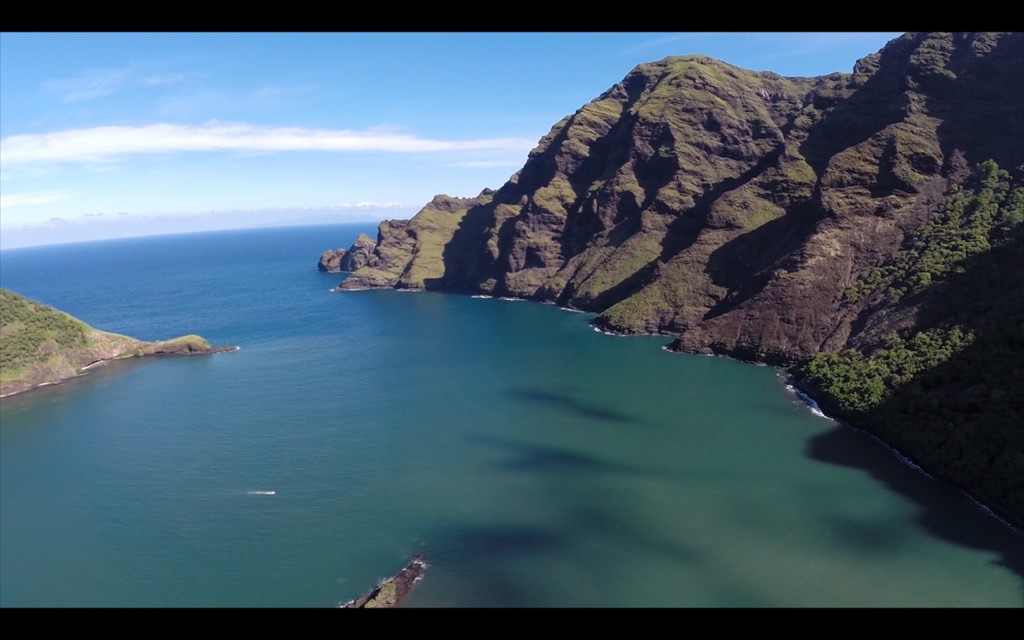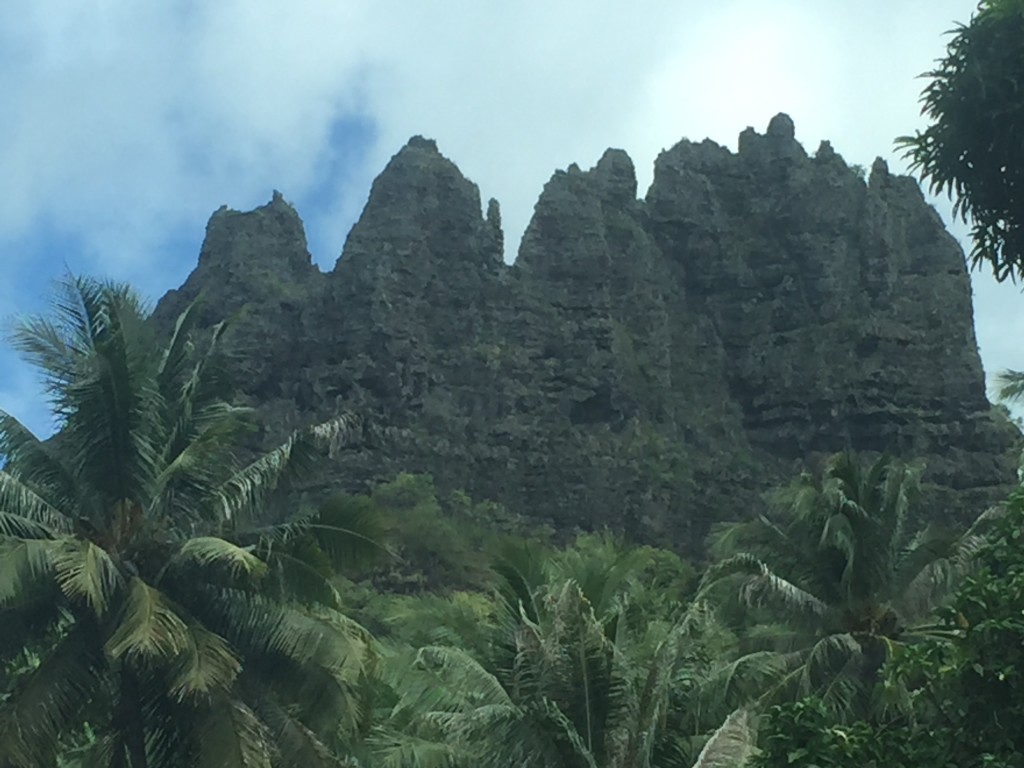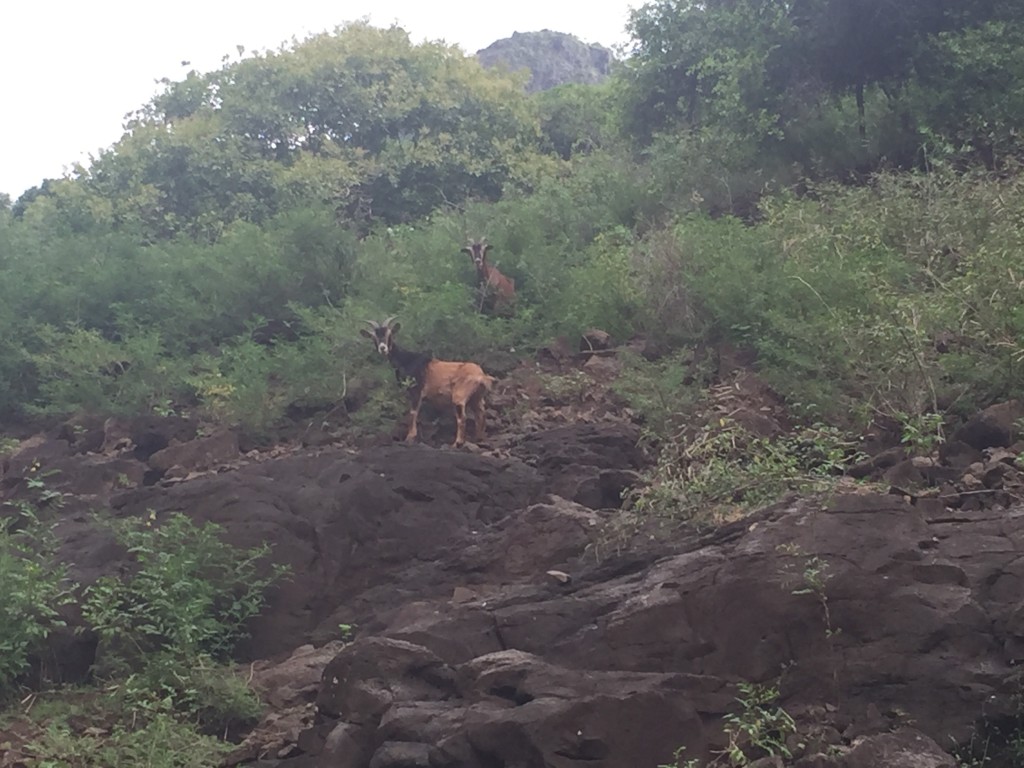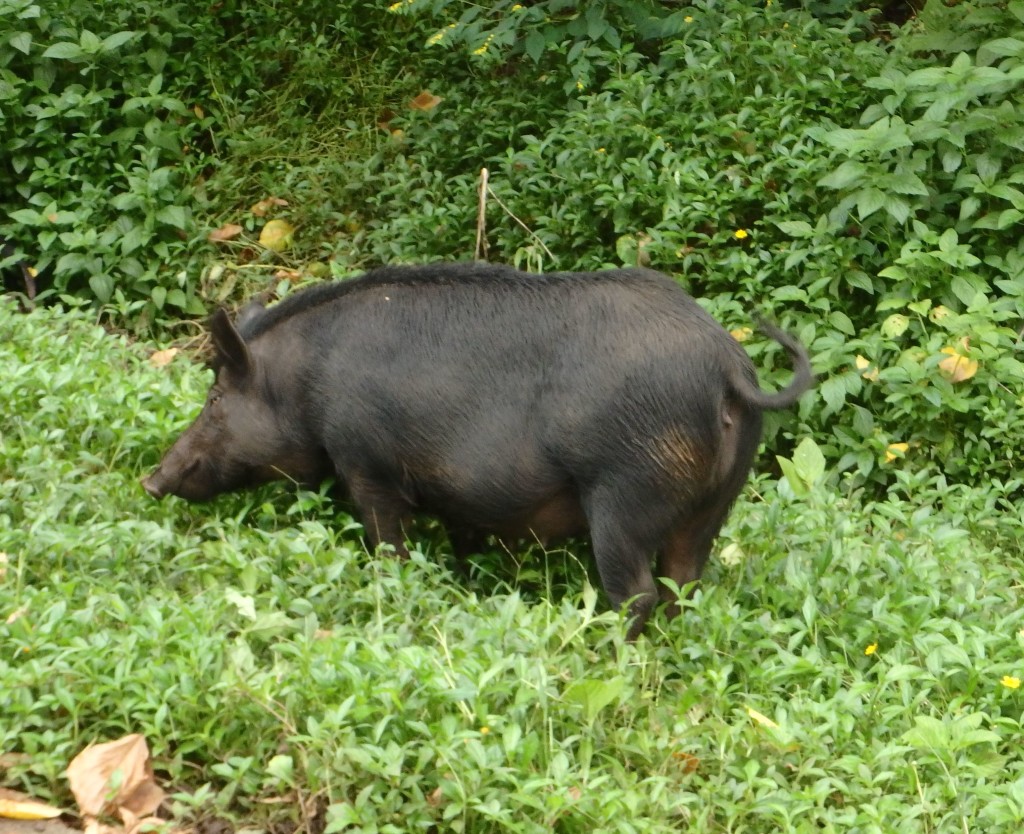 ---
One type of creature we've had no trouble getting used to are the Manta rays which frequently comb the surface of protected bays to feed. Distinctively marked in black and white, most of the rays we've seen are small (for Manta) but still impressive with 5 – 7 foot wingspans. They are magical to watch, cruising gracefully along the surface of the water, often just a few feet from our boat or dinghy. Their wing tips move slowly up and down, occasionally poking up from the surface, while they funnel huge amounts of water into their mouths. Likewise, we occasionally see green and brown sea turtles swimming on the surface, popping their heads up for a look around.
No matter where you are, it's easy to get caught up in hype. When we arrived in Nuku Hiva most cruisers told us how sharky the water was. We had daily rains so the water was quite murky and it was easy to imagine sharky shapes drifting through the murk. In fact, they were not imagined. There are plenty of sharks here; black tips, lemon sharks and hammerheads mostly. We were understandably a bit spooked and stayed clear of the water, something that's hard to do in South Pacific heat. The locals say "no problem, we swim there all the time!" The truth is, the sharks are very well fed here – there are fish aplenty, and people are not their natural food source. Locals suggest that, as long as you don't tie yourself to a fish, you'll be fine. It makes a certain amount of sense, but involves a paradigm shift for us. One needs to be ready to swim with sharks.
---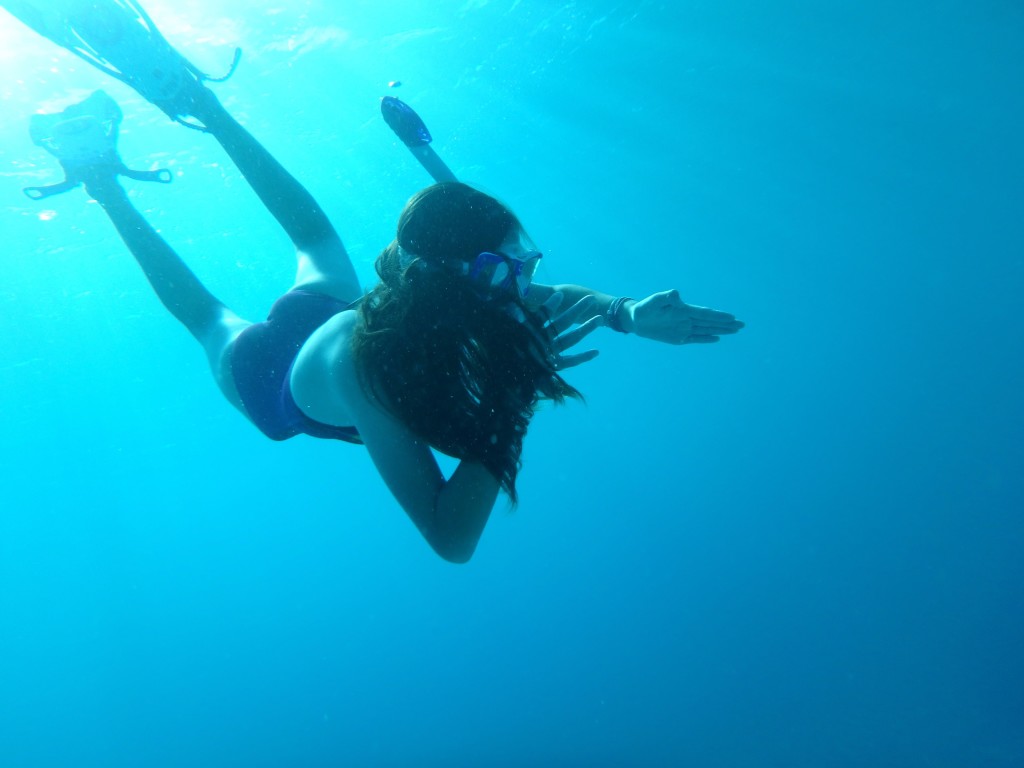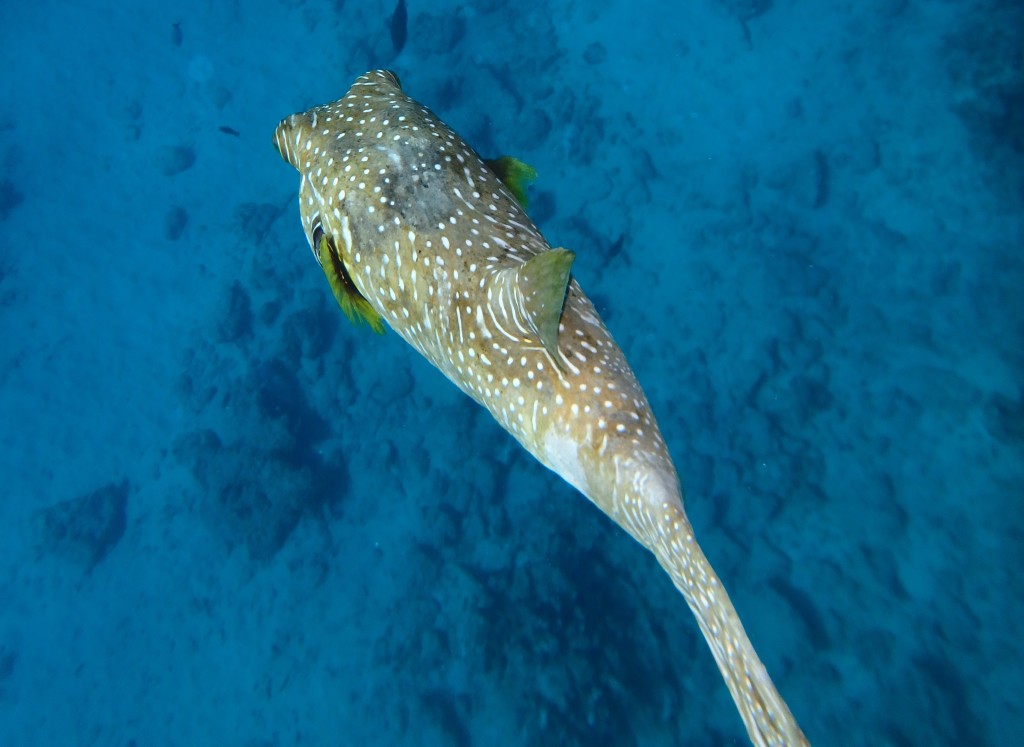 ---
So once the water cleared up we began to whittle away at our fears, taking quick dips for bathing, cooling and boat maintenance. Although dark below, on clear days we can look down the anchor chain to a depth of 30 – 40 feet, or more. One late afternoon around 5pm I pushed myself to dive beneath the boat for an extended time and clean the through hulls.  The cleaning went well and the 85 degree water felt heavenly! I swam around the boat and gave her a good scrub along the waterline. A few minutes after I got out of the water Karen gulped a subdued squeal. I saw turbulence swirling against the side of the boat and a hammerhead shark crossing back along the port side, moving quickly. From what I understand, this is no big deal. This guy was only 5 or 6 feet long, so probably not a threat to me, but still, it takes some getting used to. Apparently the worrisome sharks are the ones large enough to require large marine mammals (like seals) in their diet. "Large enough" apparently means a shark of 15 feet long or more. We have plenty of these in Oregon, but I've always tried not to think about them, and have never seen one. This experience did little to enhance my paradigm shift. Experienced divers and surfers are used to sharing the water with sharks, but I'm still growing accustomed to it.
---