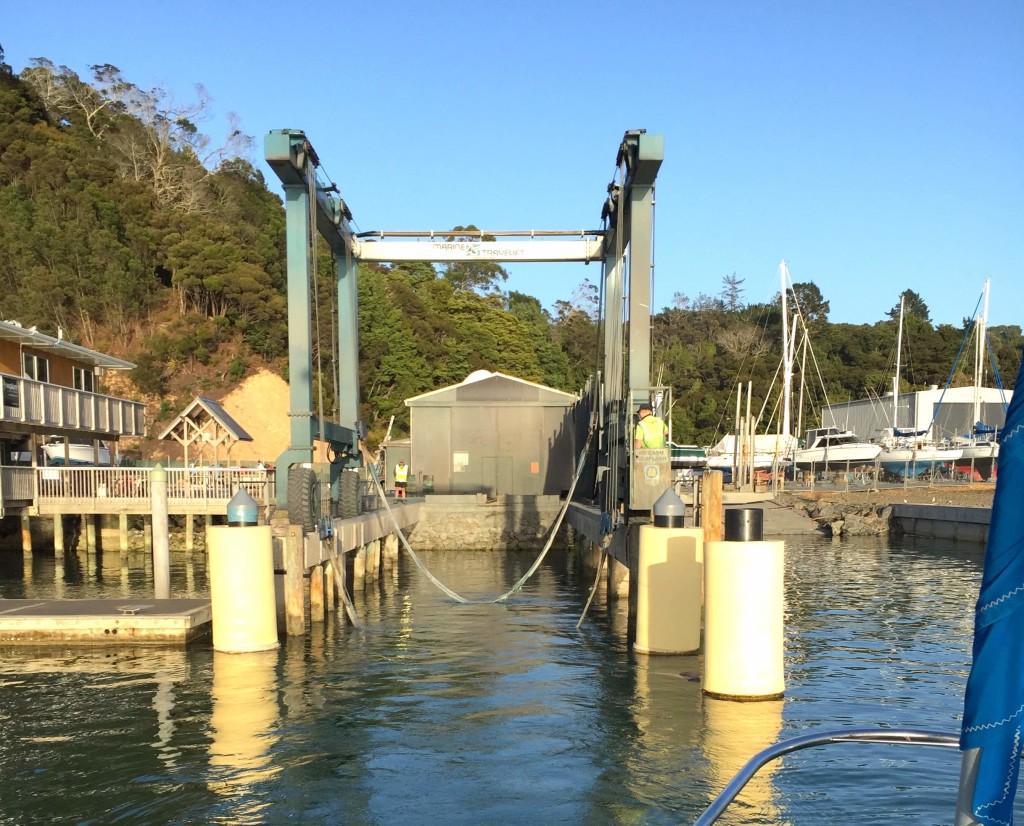 ---
Seriously, if you ever hear me say the words "just a quick haulout" again, please smack some sense into me. Our seventeen days on the hard could have been much worse, but it was also not exactly the luxury yacht experience. I had intended to replace the bottom paint, do a few other small projects, and splash a week or so later. But of course, once you start poking around things always come up. In the end we spent about ten days sanding, grinding & filling small blisters, plus fairing the keel and propeller strut before even applying any paint. It has been about five years since we addressed any blisters, so it was time. Once the blisters were ground out, epoxied (3-4 times) and wet sanded, we covered the bottom with several layers of primer and two coats of International Ultra 2 hard epoxy bottom paint. Not my first choice, at least the International is available around the world. The same can not be said of our previous Z-Spar bottom paint, which is not available in New Zealand.
---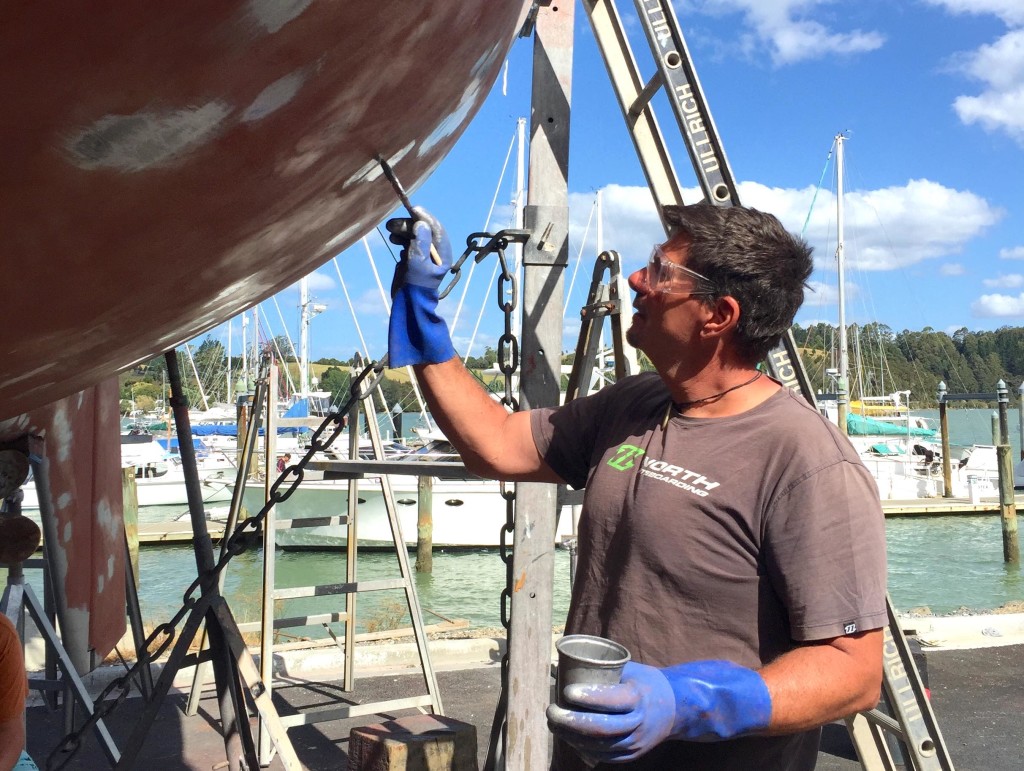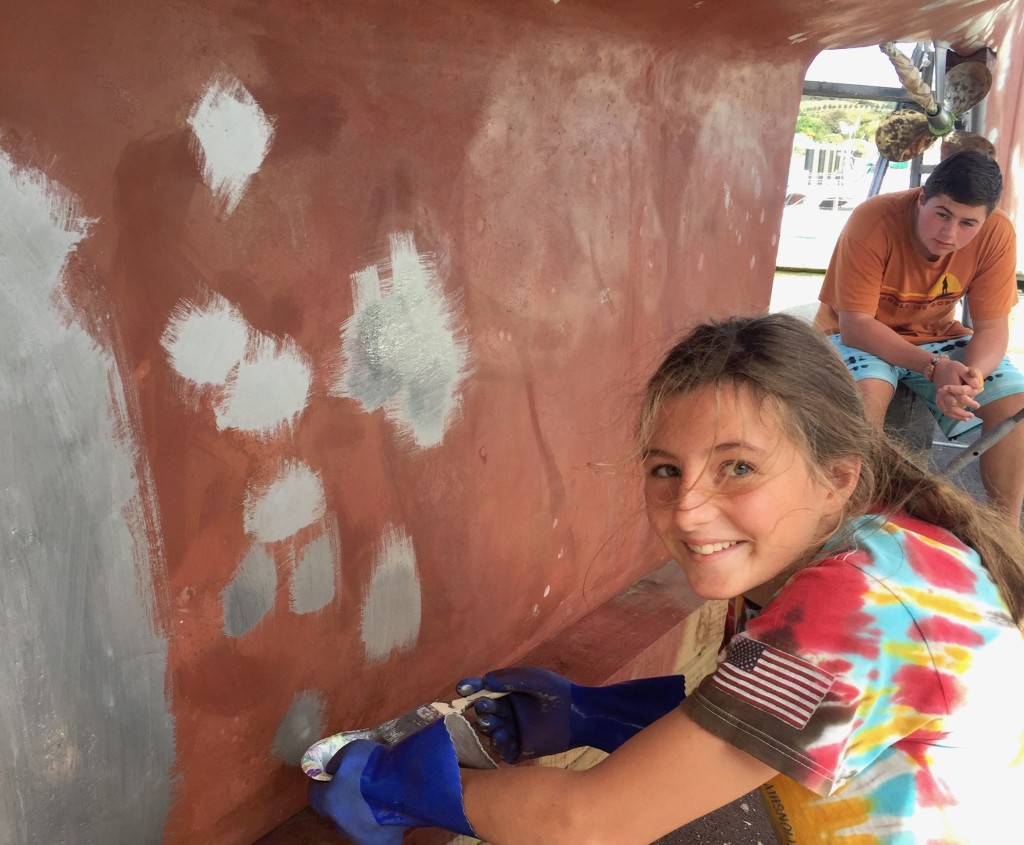 ---
While on the hard, we somehow managed VIP yard placement. We were positioned front and center on clean asphalt, directly next to the bathrooms and community kitchen with a great view of the bay. Nonetheless, every chore such as bathroom access, washing dishes, and working on the boat meant scurrying up and down a fifteen foot ladder, so the term VIP might be a stretch. We decided to tackle stripping the varnish off of our teak. This is a big job, but easier done on a scaffolding than bobbing in the dinghy with an electrical heat gun. After acid-washing & polishing the hull, we applied new vinyl lettering for Batu and added an Indonesian turtle graphic. We also reamed out bushings, cleaned and rebuilt the self-steering wind vane. For good measure, we re-marked the anchor chain, cleaned and lubricated all through-hulls and installed an intake scoop on the engine raw water. All of these projects are necessary and important, so we're glad to have them completed.
---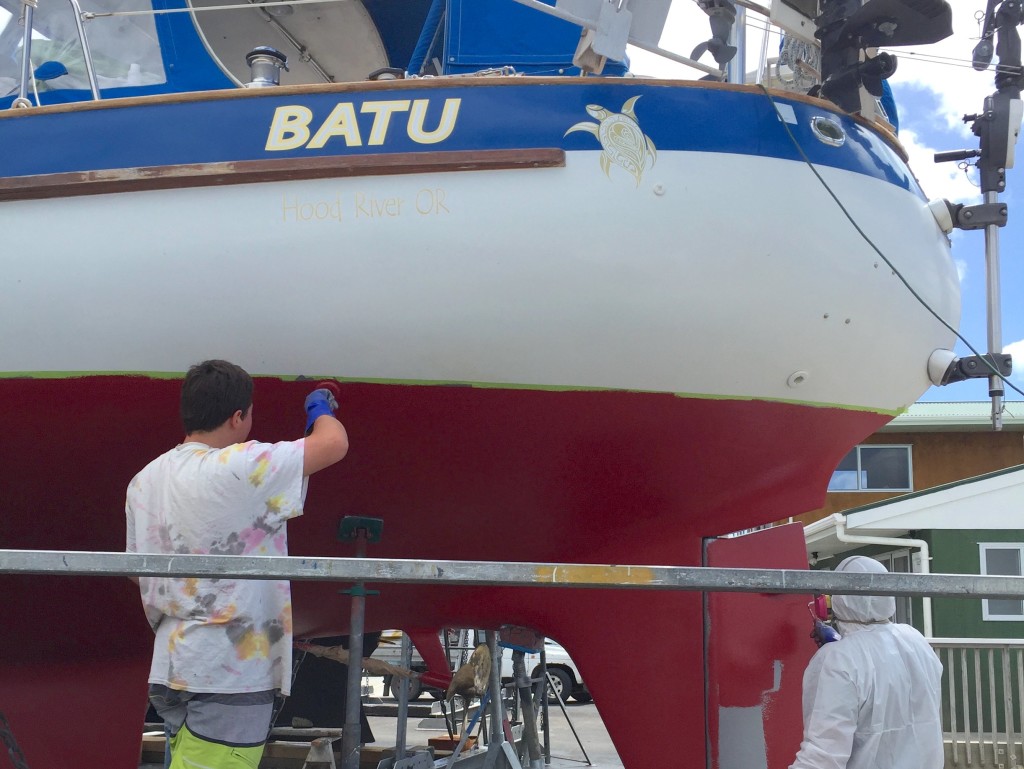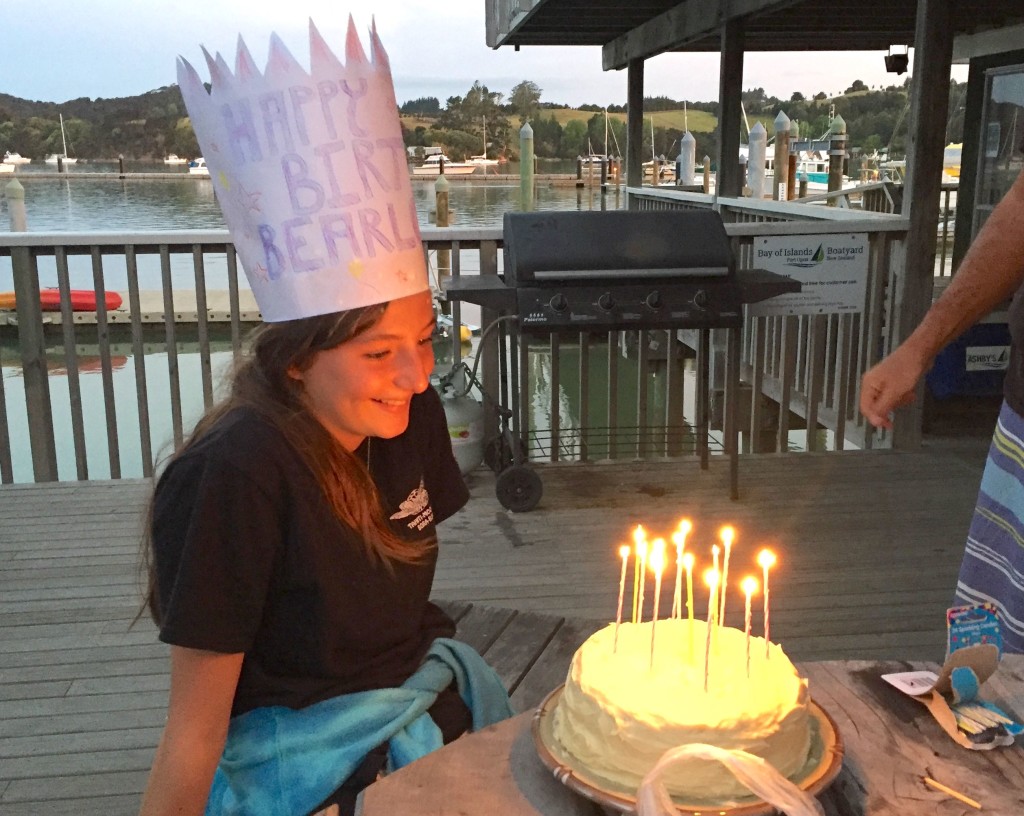 ---
Time passes quickly when you're immersed in projects, so on January 27th when Batu's hull was set gently back in the water we hadn't given even a moment's thought to what would come next. We emerged from the Travel-lift slings blinking into the early morning sunlight, muscles tired and aching from the physical work, merely glad for Batu to feel like a boat again. We followed the rays of the sun East into the Bay of Islands and nestled in a cozy anchorage at Otaio Bay off of Urupukapuka (pronounced OO-roo-POO-ka-POO-ka) island. Here, at last, we found a taste of the luxury yacht experience; a three-day weekend at the height of Summer! Long naps, leisurely sails, and scenic hikes helped us recooperate.
---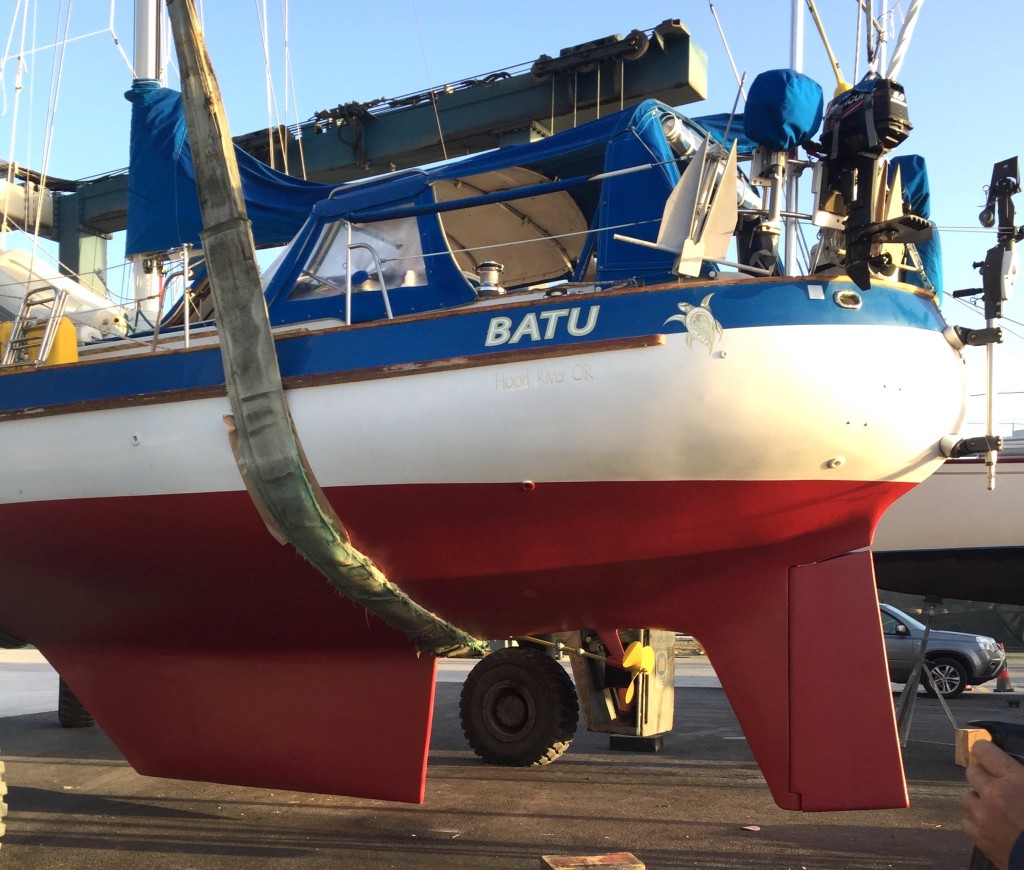 ---
So, what's next for the Batuligans? We've known since we began this voyage that we'd need to go back to work at some point, and that time is approaching. I'm currently revamping my resume and applying to a few New Zealand leads. With my experience in product development, sourcing and manufacturing plus creative marketing and sales at the international level, I'm hoping to find a position or contract work with some expanding businesses. Karen is looking forward to continuing her nursing career. Regardless of work options, we've decided to plot a course back to the US once the cyclone season is over. This is a long, difficult journey that will take many months to complete, but we think we're up to the challenge.
After the downwind sleigh ride of the coconut milk run through the South Pacific, most boats return to the islands, some boats continue Westward through Southeast Asia and the Indian Ocean, but many boats are listed for sale in Australia or New Zealand. Although this might sound like an appealing option, we agreed at the outset that the journey would mean more to us if we returned under sail. Consequently, our plan involves three month-long passages and about 8000 nautical miles of travel through difficult wind & sea conditions. We plan to leave New Zealand between April 15 and May 15, and hope to return to the US sometime around September, 2017.
Up next, some perspectives from the Batu Crew from our exploration of New Zealand.
---