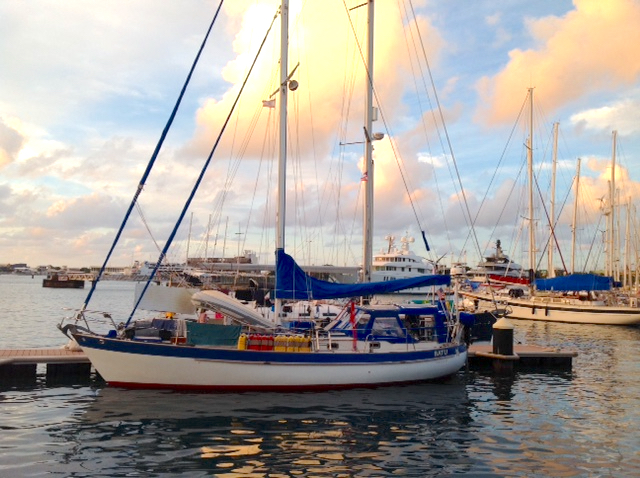 ---
Our time in Tahiti has passed quickly – quite a different experience from the last time we were here when it felt like we were stuck in cement. Although this stay has been only three weeks, we've accomplished a lot including washing away the stress and weariness of our previous passage from New Zealand.
While in Tahiti we discovered that our packing gland, a compacted joint preventing water from coming into the boat at the propeller shaft, was in need of new flax packing. We've covered over 15,000 miles since we last did the work during a haul-out in Mexico. Replacing the flax packing requires completely opening the packing gland for at least a couple of hours, so we researched haul-out options and were quoted $1783 USD to haul out and complete the labor. With some timely advice from cruising friends (s/v Enough) we decided to do the work while in the water, and naturally, ourselves. The key to this trick, we discovered, is to plug the stern tube from the outside of the boat. We used modeling clay, which kept the stream of incoming seawater to a light trickle once the packing joint was completely open. On some boats the packing gland is very accessible, but in Batu it happens to be one of the most difficult places in the boat to reach. Nonetheless, the profound desire to avoid spending $1783 made the cost (2.5 hours, several liters of sweat, and a couple nicely bruised ribs) worthwhile. I breathed a huge, (and somewhat painful) sigh of relief when the job was finished!
So our torn sails and dodger panels have been repaired, our oils changed, our fuels replenished, our spare parts and provisions restocked. Now we have our sights set toward the North: Hawaii, and then the US mainland. If all goes according to plan, the next passage should cover about 2650 nautical miles, taking us across the equator to the 50th state. Although there are regular squalls, and the remote possibility of an early season hurricane traveling out from Central America to greet us back to the Northern Hemisphere, we hope for relatively steady trade winds and significantly less drama on this passage. Fingers crossed.
Athough our aged InReach device is acting up a bit, we still post up position "dots" approximately hourly while underway, so anyone interested can map our progress at our Map Share . (Link – https://share.delorme.com/svBATU). The map is also visible at the bottom of our "About Us" page (Link – http://thevoyaginglife.com/index.php/about-us/).
---