We are the Arpags, a family of four plus granny, based in Hood River, Oregon. In October, 2015 we put our land-lives on hold and moved aboard our sailboat BATU, a 1977 Valiant 40 cutter. TheVoyagingLife.com website is our way of documenting and sharing our experience as we learn to live in a different way; the voyaging life.
Our goals are to spend time together as a family, to explore the world together and to experience different cultural paradigms than the suburban-American dream. Our plans are loose, and may be prone to change at the drop of a hat, but they include spending a winter in Mexico, exploring the islands of the South Pacific and spending time in New Zealand. Beyond that, only time will tell. We are not rich, but hopefully we are resourceful. What resources we have saved, we've put into this experience, hopeful and interested to see what grows from it.
---
OUR CAST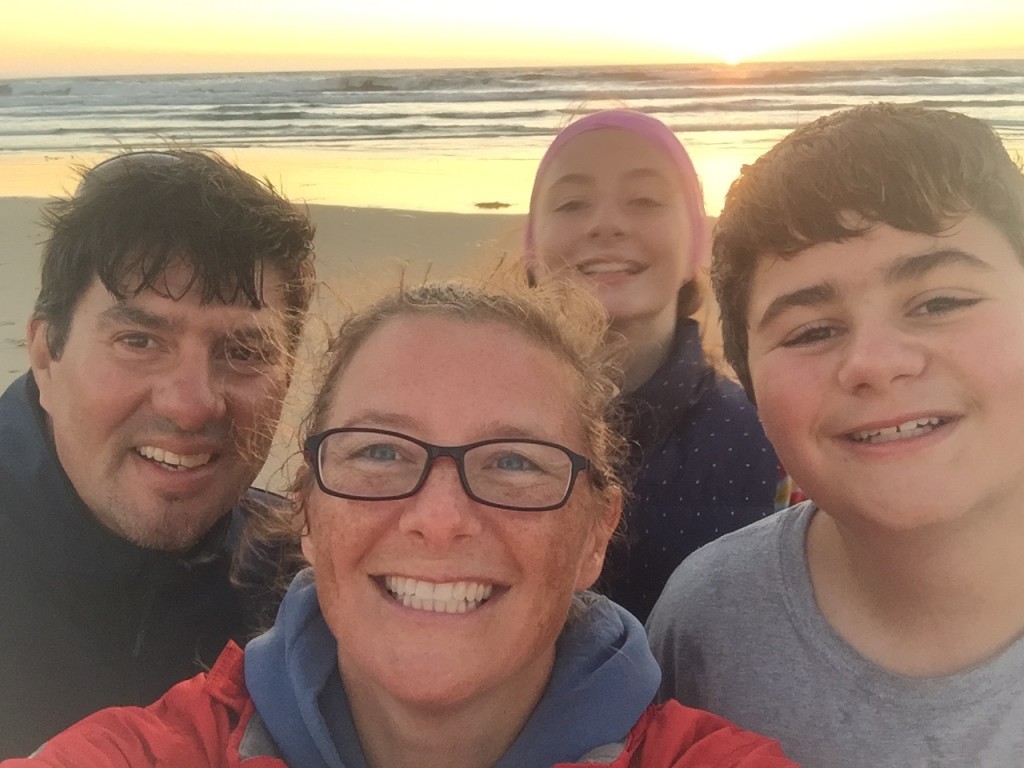 Peter – (49, but extremely hip) Both dreamer and pragmatist; the type of guy who combines a philosophy degree with coursework in business law and an honors thesis in engineering. Inspired by art, beauty and creativity. Loves exploring and moving through the outdoors skiing, mountain biking, surfing, swimming, kiteboarding and sailing. Recently left position as Brand Manager in the outdoor industry. Currently works as an independent writer and product developer.
Karen – (46, but looks much younger) Scientist, nurse, care-taker, classic over-achiever, worrier, earnest wife and mom. The brilliant one who doesn't know it. Karen always assumes it's her mistake before placing blame. Loves reading, running, skiing, sailing and, perhaps most of all, supporting her family. Recently left her position as a hospice nurse in Hood River. Intends to continue her nursing career in the near future.
Sean – (14) Sweetheart and resident goofball, Sean is a well-spoken, respectful young man with a playful, goofy side. Naturally curious about how-things-work, he eagerly soaks up technical information like a sponge and is a masterful builder and analyst. Loves boats, music, mountain biking, skiing, sailing and building things.
Sarah – (12) Athlete, artist, writer and imaginative storyteller, Sarah has a quirky, creative style that is all her own. Driven with a tenacious attitude, she is a natural competitor and one of the top age group swimmers in the Northwest US. She is sweet and a little fiery, a bit like peppermint. Loves swimming, sailing, skiing,reading, writing, being creative, exploring and anything with lots of color.
Sheri (Grandma) – (49 and holding) Amazing supporter, organizer, caretaker and guru. Holding down the home front in Oregon as the rest of us explore. Combine extreme, un-conditional love with 'just-a-little-crazy' and Granny is what you get; a surprising, imaginative, irreverent, loving grandmother with purple hair. Loves her family, dark chocolate, butter, ice cream, spiritual ascendancy and the color purple (not necessarily in that order).
Rio (Pooch) – (6 human years) Rio is a cream-colored golden retriever with a mind of her own. We affectionately refer to her as a very… baaaaad… dog. She is beautiful, soft fur-factory who loves chewing things, stealing socks, digging holes and a "proper" nap on the couch. Passions include exploring, wind in her fur, and anything having to do with boats & water. Because of the unsuitable environment at sea and abroad, Rio has found herself a perfect         foster family who loves her as much as we do and lets her have the occasional visit with Granny, who is traveling more now that we're away..
---
OUR VESSEL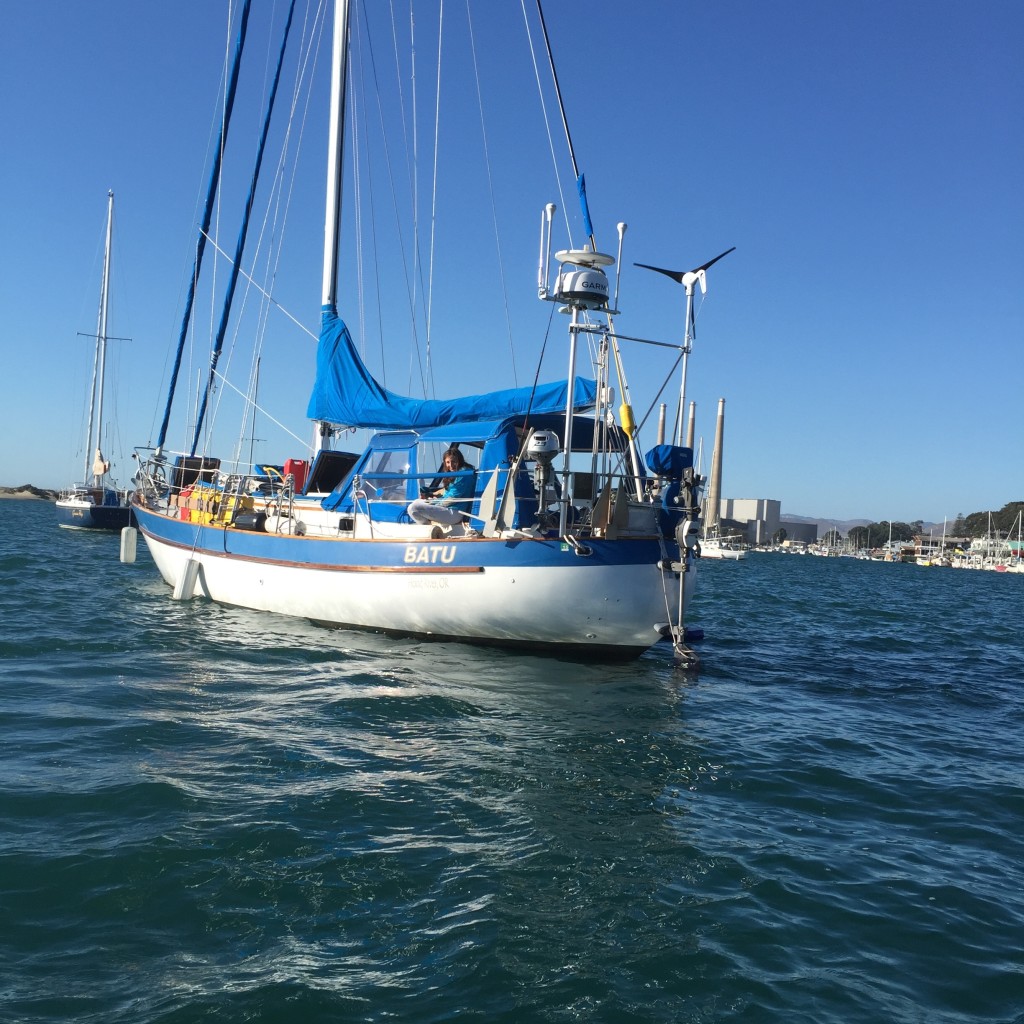 BATU
1977 Valiant 40, Hull #167
Robert Perry-designed cutter-rigged sloop.
Length: 40ft (12m)
Beam (width): 12ft 4in (3.78m)
Displacement (weight): 23,520 (11 Metric Tons)
Engine: Westerbeke 4-108, 40hp diesel
Fuel tankage: 85Gal (322L) *We carry an additional 20 Gal. (75L) of diesel in jerry cans
Water Tankage: 150Gal. (568L)
Battery banks: 12v – 540Ah (house), 90Ah (emergency start)
Self-steering: Hydrovane wind vane, SIMRAD below-deck autopilot.
Electronics: GPS/ Chartplotter, 4Kw HD color radar, AIS.
Communications: Icom M-802 SSB with Pactor P4 Dragon modem, DCS VHF Radio and Delorme InREACH two-way satellite communications device (Iridium network).
Supplemental power: 4 x 100watt Semi-flexible solar panels with 30Amp BlueSky MPPT Charge Controller, Air-X Wind generator, Honda 2000eu gas generator
Bower anchor: Rocna 33kg (73lb)
*Additional details on Valiant 40 specifications can be found online at http://sailboatdata.com/viewrecord.asp?class_id=2351
The relationship between sailor and vessel is complicated. BATU is, at once, our home, a family member, and our benevolent protector. For ages long past sailors have referred to vessels in the feminine, saying "she is a beauty" not "it…". This gender reference can be surprising to English speakers, but to seaborne sailors who place their lives in her hands, a boat takes on an animate personality. BATU takes good care of us, and in turn, we take good care of her. She is strong and stoic, specifically designed for offshore passages.
Although the living space is a bit snug for a family of four living aboard, we do have a lot of specialized gear including two dinghys, two outboards, two sewing machines, kiteboarding gear for 3 people, a surfboard, homeschooling books and coursework for three grades, two laptops, several iPads and Kindles (I loose count) and a huge pile of tools & spares. In addition, we carry two large anchors at both the bow and stern, 300ft (91m) of chain rode, 750ft (229m) of rope rode and a sea anchor. Combine all of these things, plus long-term provisions, clothing, books and personal gear for four and it's a cozy fit, but we make it work fairly well.
---
TRACKING OUR PROGRESS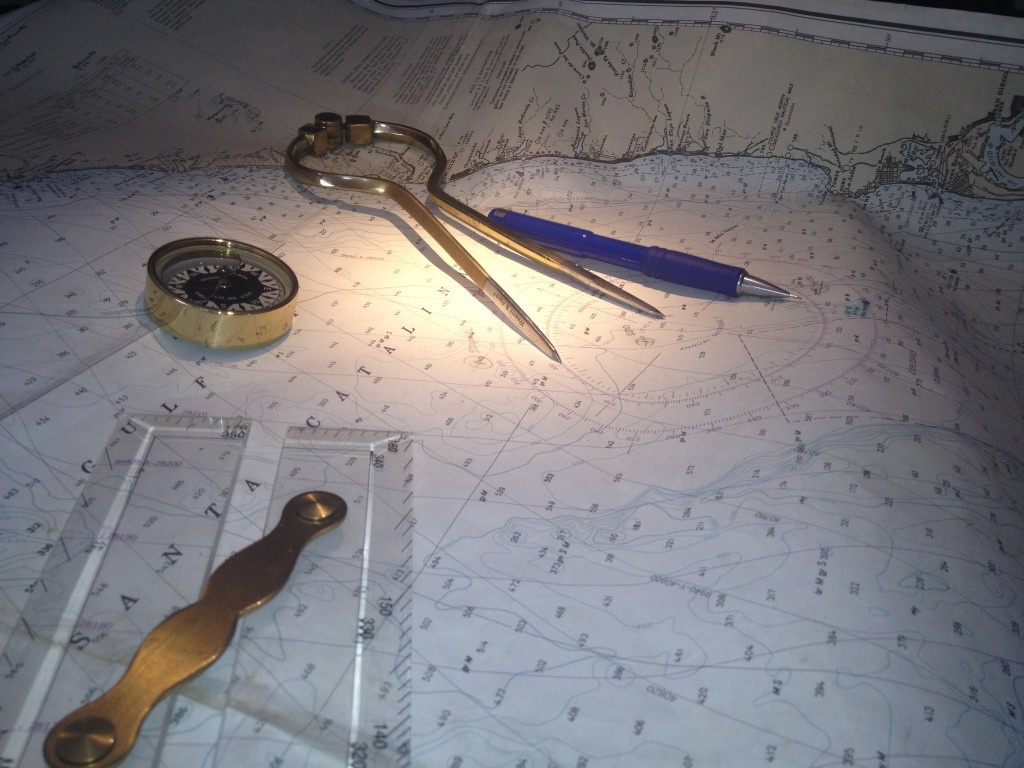 ---
BATU carries several redundant communications. One of these is a Delorme InREACH, which uses the Iridium satellite network to send tracking coordinates and mission-critical SMS and email.
If the embedded map above is not working properly, you can track our progress at: