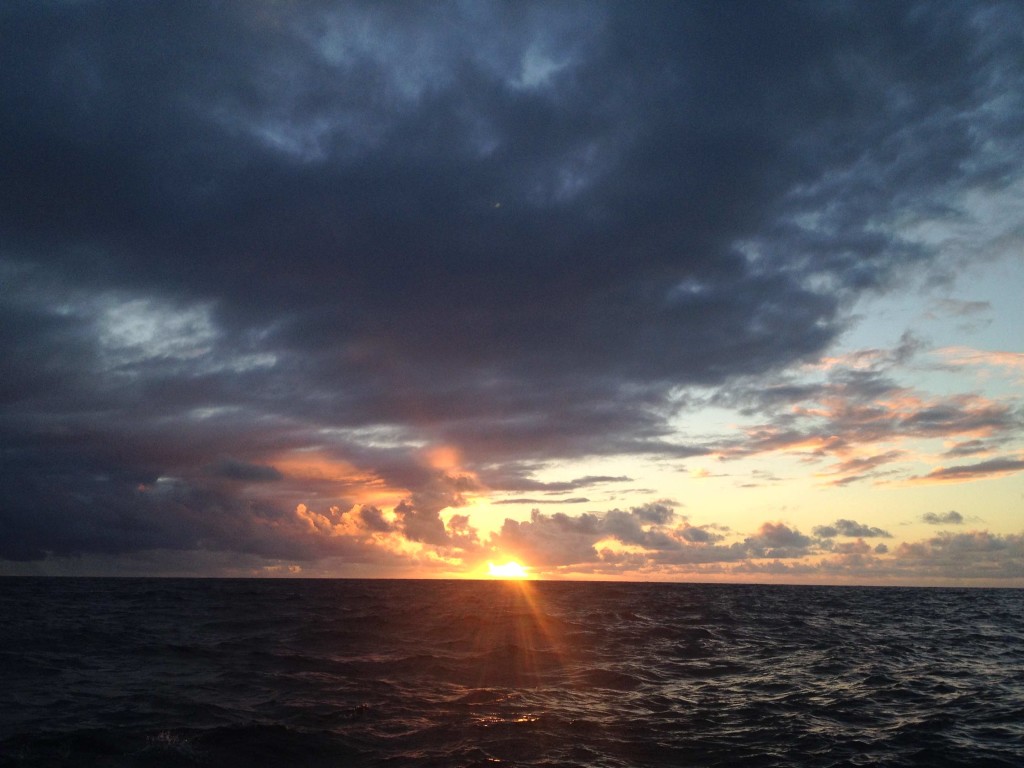 ---
The Batu Crew is back in the USA. What a change! After a mostly pleasant 21-day, passage from Tahiti, we made landfall in Hilo, on Hawaii's Big Island. Hilo is proudly funky, sporting resurrected buildings from the 1890's and an ambiance ranging from whaling port, to hippie hide-away. It's quirky, casual, small-town feeling put us at ease and truly felt like a homecoming. For the first time since becoming internationally aware I found myself feeling somewhat proud to be an American and happy to be home. Despite it's problems and it's dubious executive branch (I'm still in denial – someone tell me Donald Trump isn't really the President), the United States really does have something cool going on.
---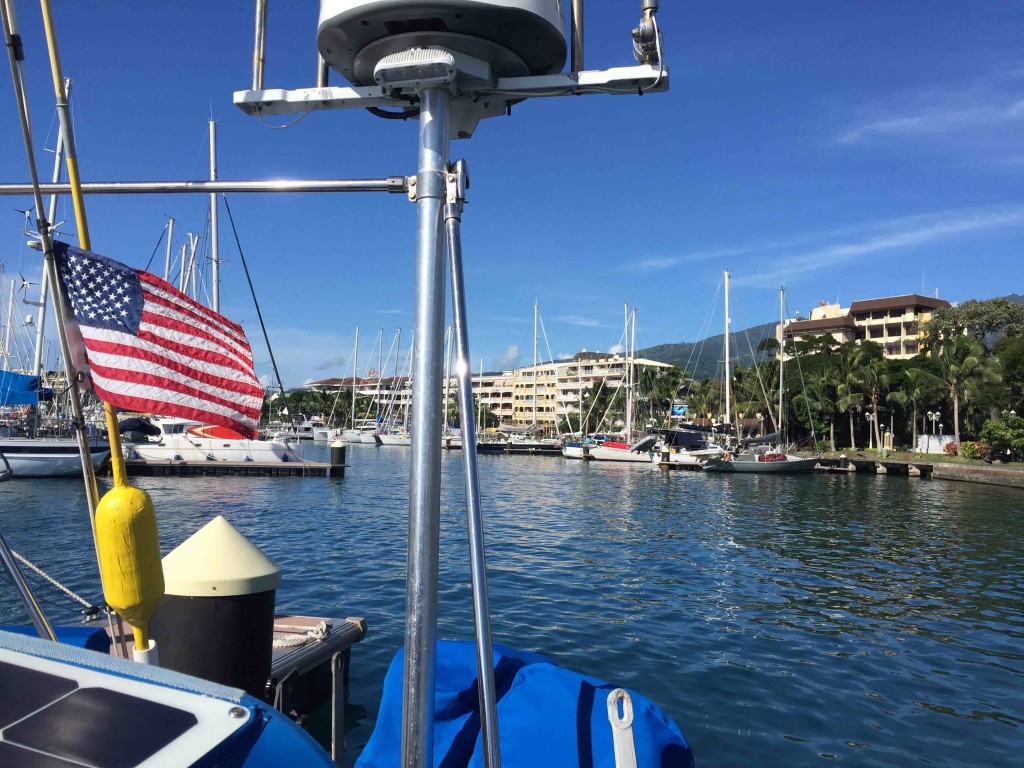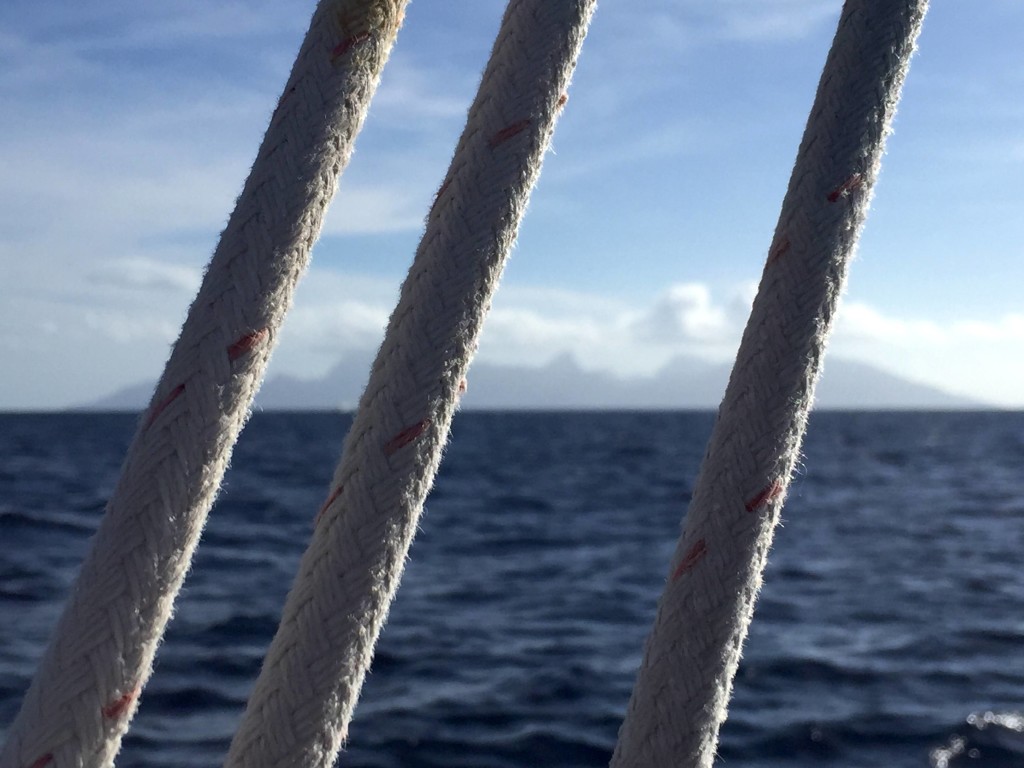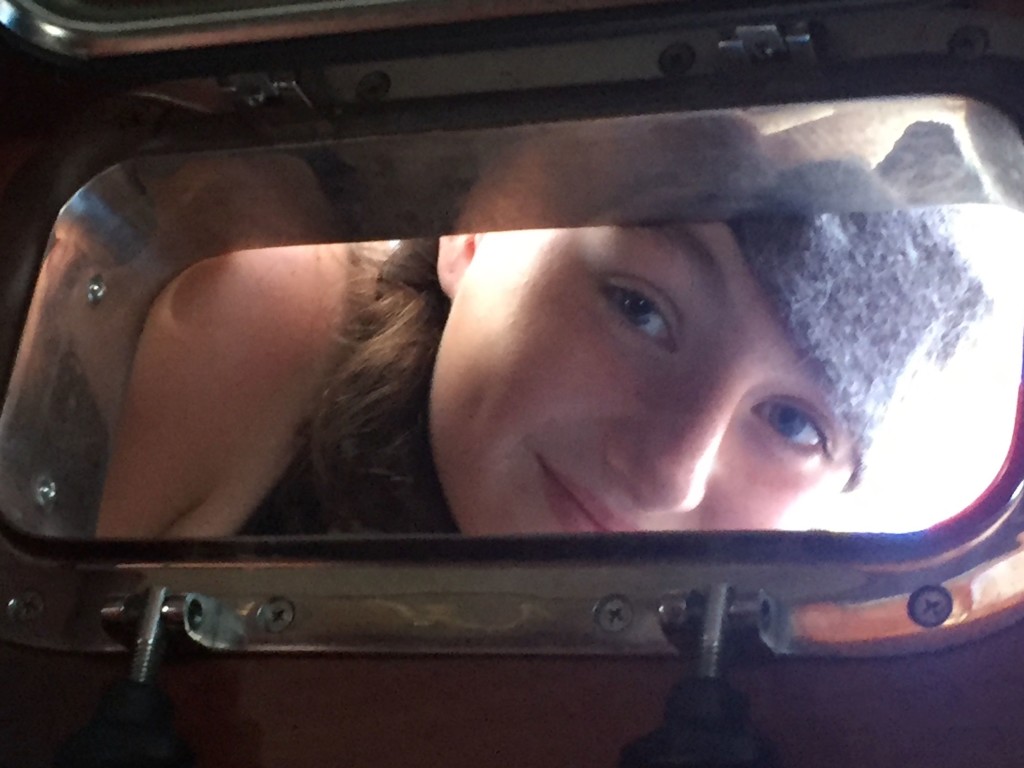 ---
Compared to our last passage from New Zealand, this one was a piece of cake. Most of the sailing was close or beam reaching in warm, steady, moderate breezes. The skies were generally pleasant, the water decidedly clear and blue. We sailed for most of the 2568 nautical miles, only motoring through the turbulent ITCZ (about 350 miles). Batu was on starboard tack nearly the entire way. We arrived with gooseneck barnacles, which always clamp onto the trailing sections during a long passage, only on the boat's port side. After dragging a very attractive lure through nearly 2000 miles of ocean without a nibble we were beginning to wonder if all the fish had departed for parts unknown when a beautifully iridescent mahi mahi proved otherwise. Another mahi followed suit a couple days later, so with the freezer well stocked with fish, we decided to leave the others in peace. Although still not easy, if all passages were this pleasant, there would be a lot more sailors!
---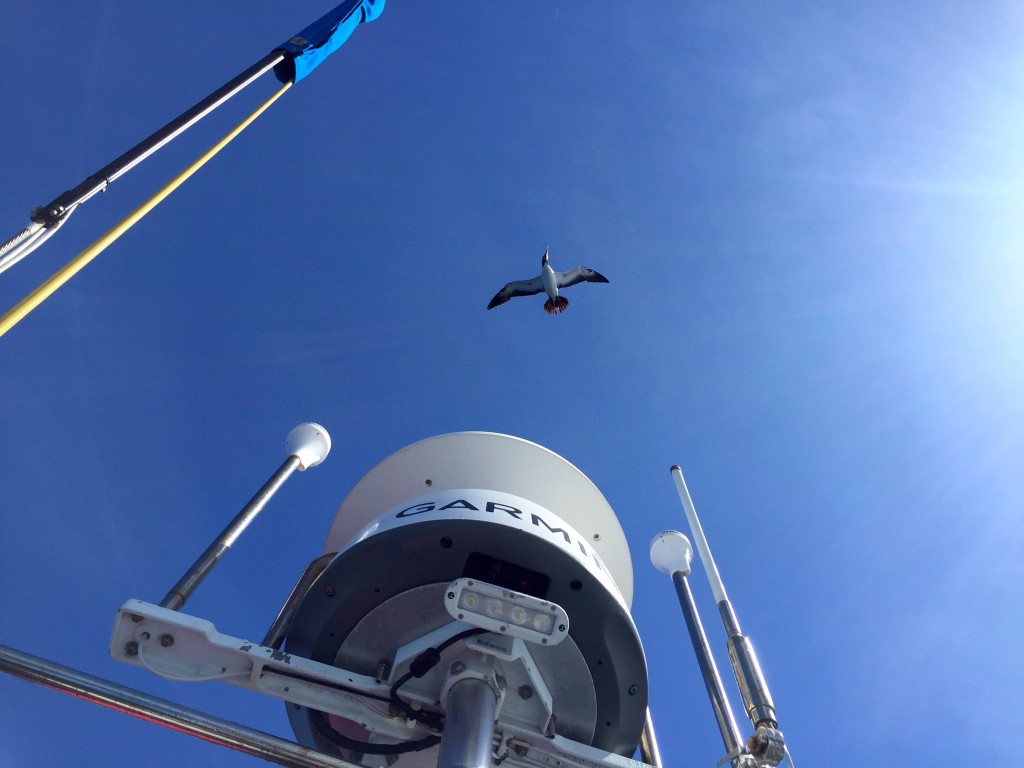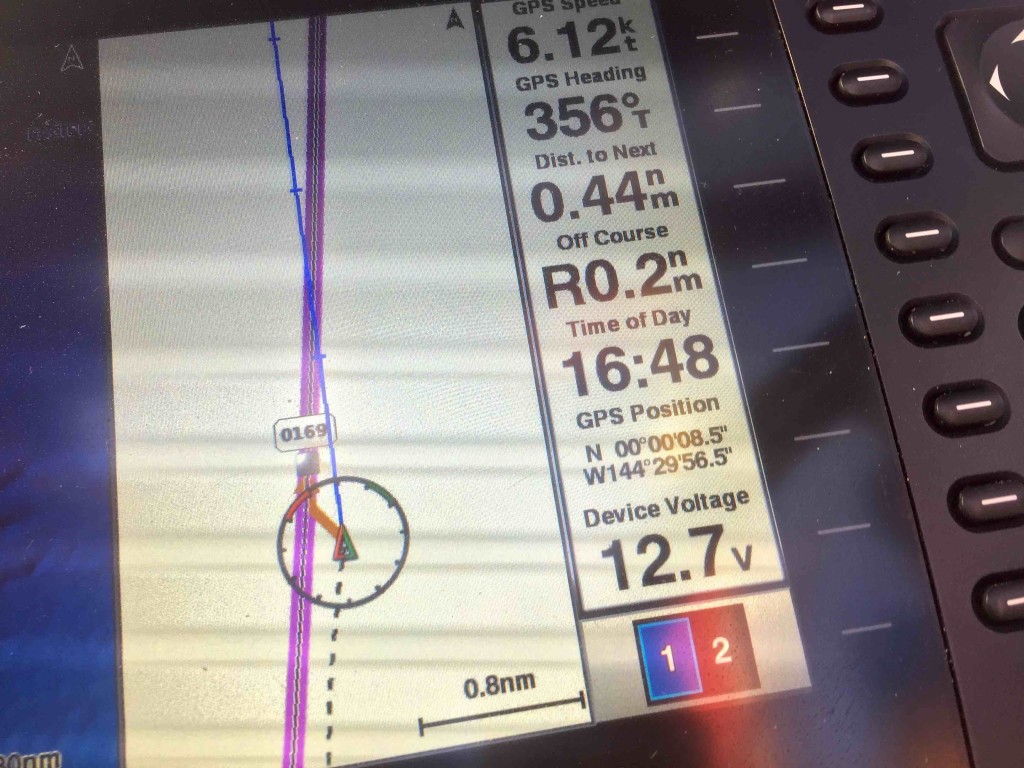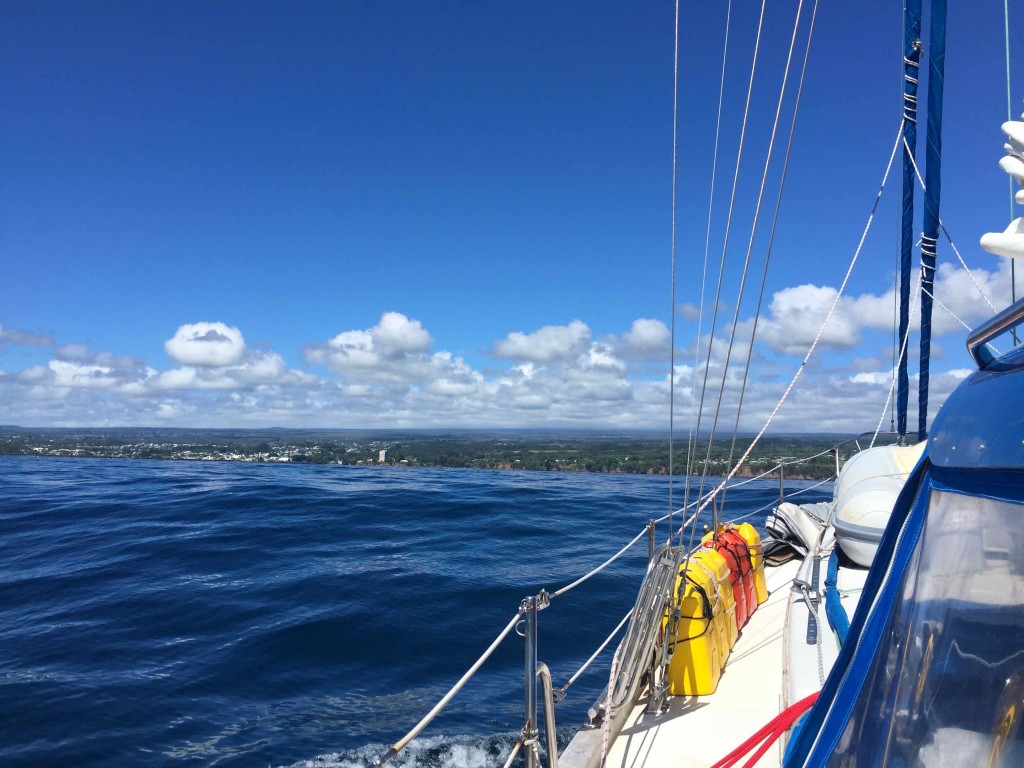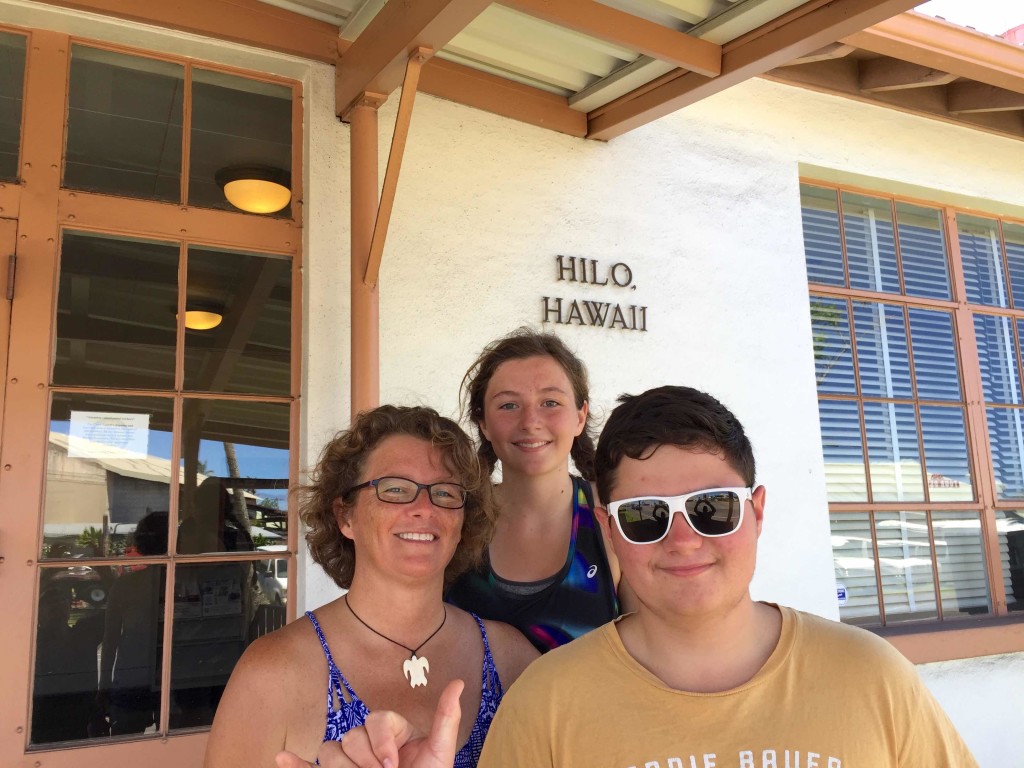 ---
Because of our imminent return to land-based life, on this passage I found myself reflecting on what we've experienced and what we'd carry with us from our voyaging. One thing we sought, and certainly found, in the voyaging life was a sense of wonder about the world. It seems a small thing, but perhaps above anything else, it's this feeling I most want to hold on to.
Sometime past the 0400 watch change I find myself standing on the aft deck staring mouth-agape at a tapestry of stars so rich and bright and clear it's as if I am seeing it for the first time. During this passage the moon sets early, leaving the bright stars a dark stage all to themselves. The infinite abyss exists on our very doorstep and yet, perhaps because it makes us a bit uncomfortable, we so rarely look upon it. Batu's motion sways and pitches as she follows the rhythm of the ocean, slicing powerfully through the night. Beneath us the dark water parts in a flurry of bioluminescent sparks, leaving a brief glowing trail astern as the only evidence of our having been there. In contemplation, I realize the abyss lies below us too. The water in this part of the ocean is well over 20,000 feet deep, seamount peaks rising up to a depth of 5300 meters, (about 17,000 feet) beneath us. Sailing effortlessly through this abyssal dome it's nearly impossible NOT to have a sense of awe and wonder about the world. We are so small; our trials meaningless to all but ourselves.
Yesterday we found ourselves to be the point of interest for a pod of 6 -8 False Killer Whales. "What is a false killer whale?" you may ask, and rightly so. We had no idea what they were at the time – a mix between whale and dolphin – a 15 – 20 foot long 'wolfin' with whale-ish snout and dolphin-ish dorsal fin. Although their appearance was amazing, I was perhaps most intrigued by their curiosity and intelligence. Honestly, I think they felt the same about me. It was very clear that they were curious to check us out, repeatedly swimming up to the stern where we were looking over, and under the boat to see the propellor turning lazily. One swam aft to carefully inspect our fishing lure from all angles. You could almost see her shaking her head in amazement "…silly humans." It was a cross-species lifestyle portal. I'm not sure which of us was more filled with wonder, but I'm certain the feeling was mutual.
---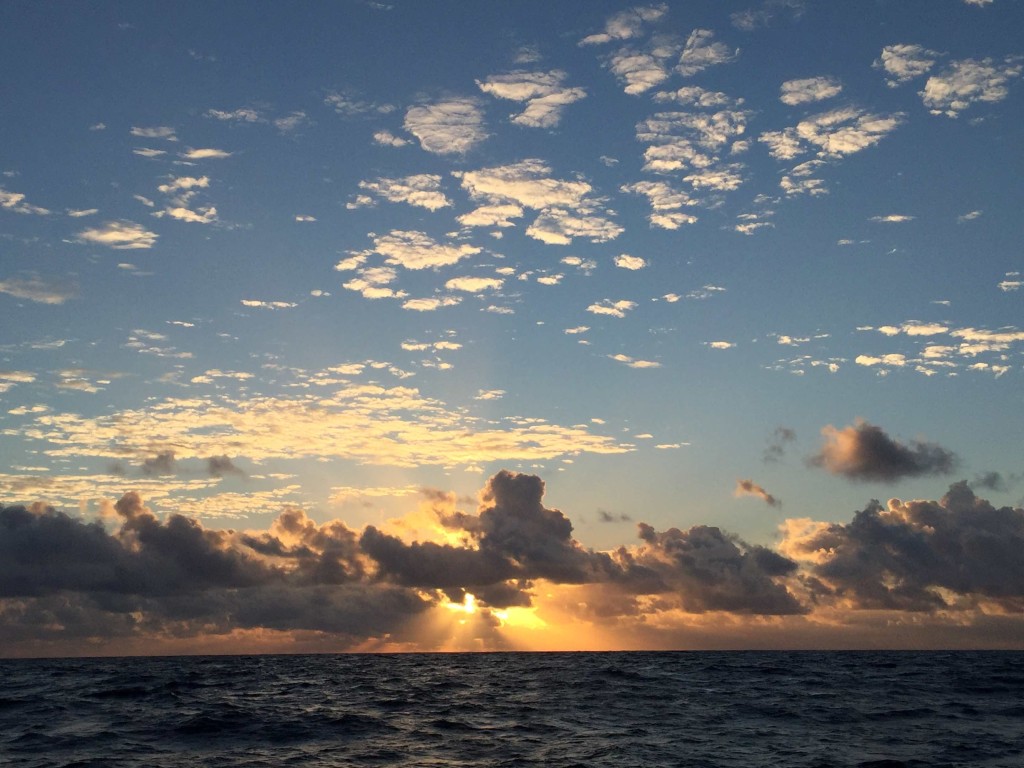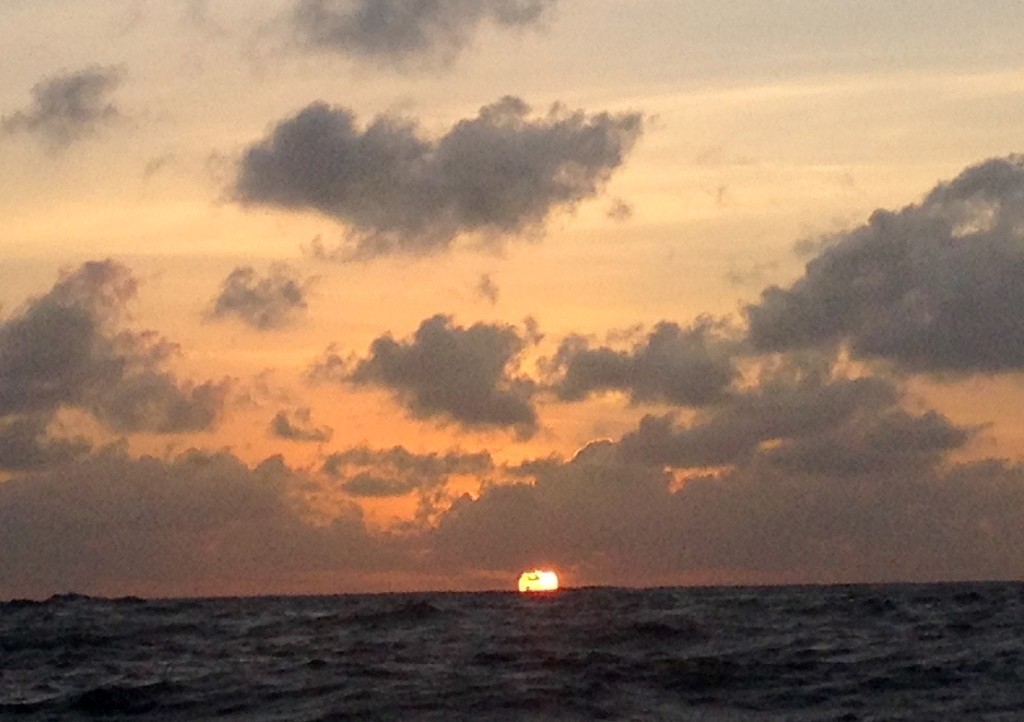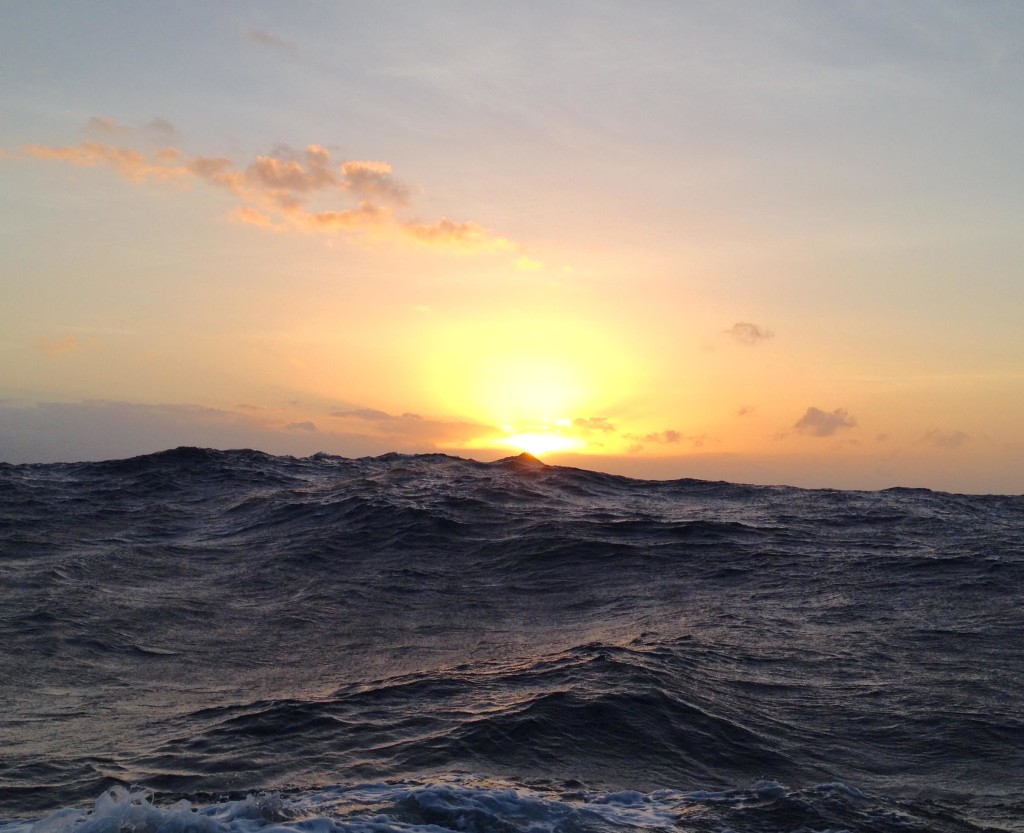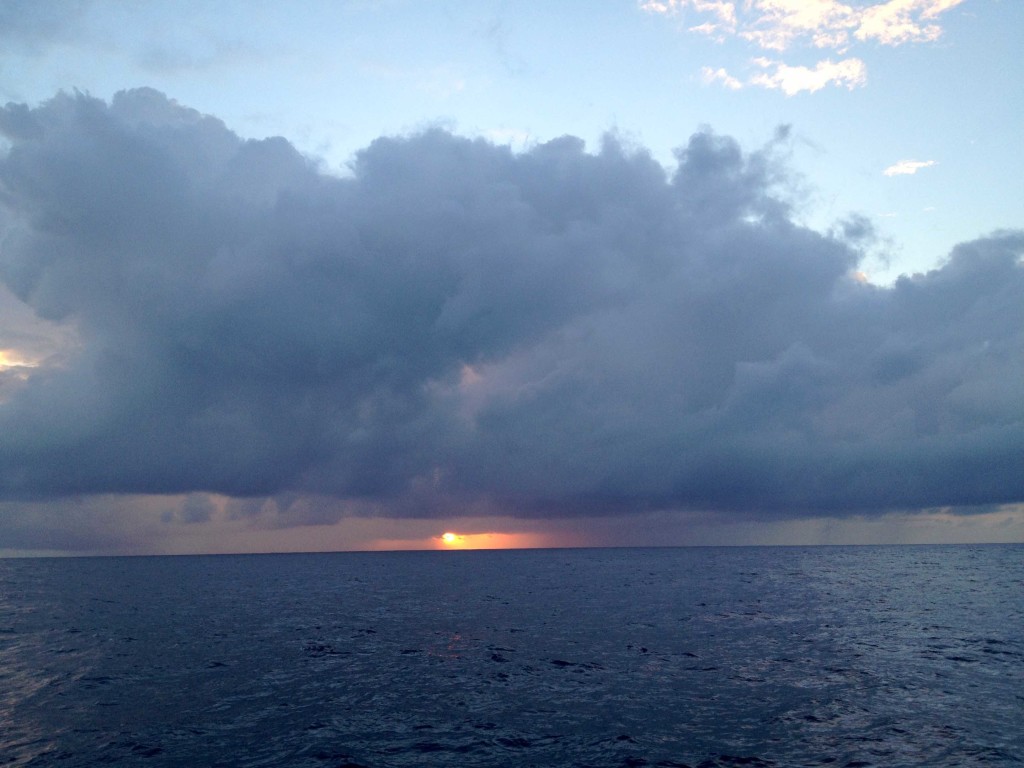 ---
As we approach our inevitable return to land life – work, school, busy-ness – I wonder if we will be able to hold on to moments like these; magical, life-Polaroid moments that fill us with a sense of awe about the world and our place in it. Although I myself am too guarded about offering spiritual allegiance to any organized religion, I've always felt that religion's major benefit is the nurturing of awe and wonder. No matter how you get there, it's an enormously humbling and powerful thing to see one's true place in the cosmos. Naturally too, I wonder what direction our paths will take us. What twists and turns are in store? Will we find new and better ways to live our lives? Or will we slip, all too easily, into comfortable old habits and thought patterns leading eventually to the same well-worn hobbit holes of life?
A bit later, standing on the aft deck staring thoughtfully into the dual abyss of ocean and sky, the pinking of dawn indicates the start of a new day and I find myself filled with hope and wonder to discover what it will bring. Note to self: should you find yourself in a hobbit hole, go find something awesome to wonder at! The mere fact that the future is unwritten is a beacon of hope.
---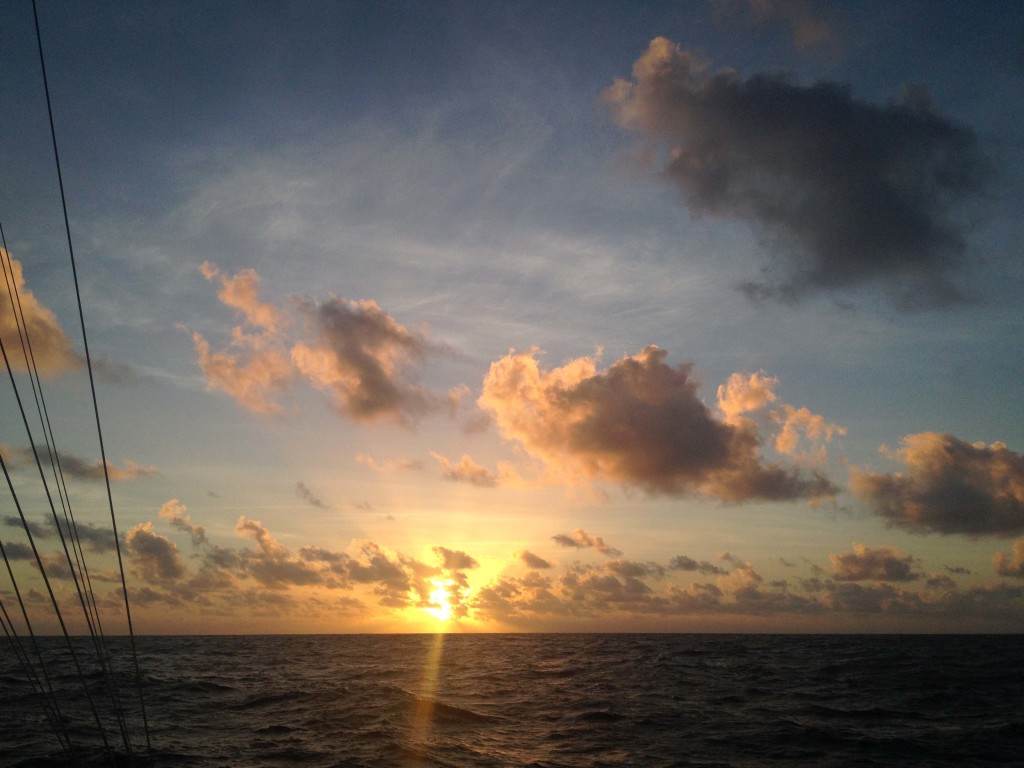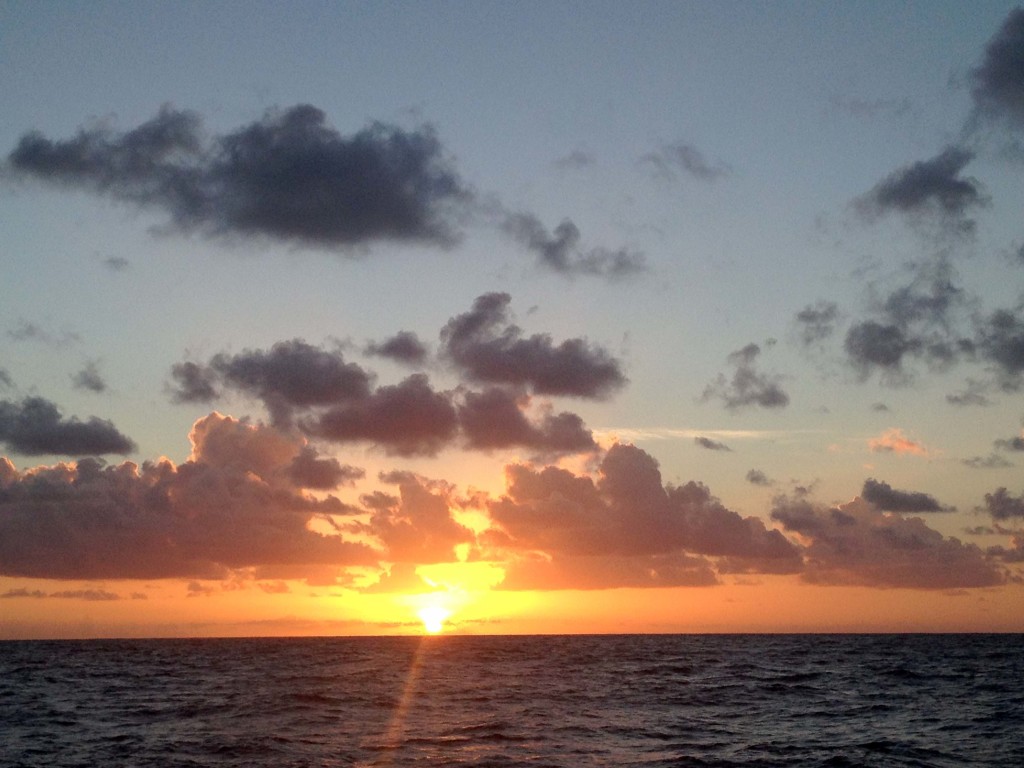 ---
Although we were very happy in Hilo, our weather checks indicated a tropical storm brewing off of Mexico and forecast to strengthen to major hurricane strength. A hurricane is something awesome to wonder about. The storm is tracking straight for Hawaii and, unfortunately, Hilo is a really bad place to be in heavy weather, so we scrapped previous plans and made the 2-day hop directly to Honolulu. At the moment we're in a slip in the Ala Wai Boat Basin, on Oahu's Waikiki Beach. Although lovely, and a good place to be in a storm, it's as touristy as you can get. Nonetheless, we're finding our way around and looking for a good weather window for our next passage back to the mainland. The storm that brought us here appears to be dissipating a bit, but if that were not the case, it might have been too late to move if we had waited in Hilo. Luck favors the prepared! We will make every effort to post again before departing. In the meantime, we happily anticipate catching up with friends and family!
---