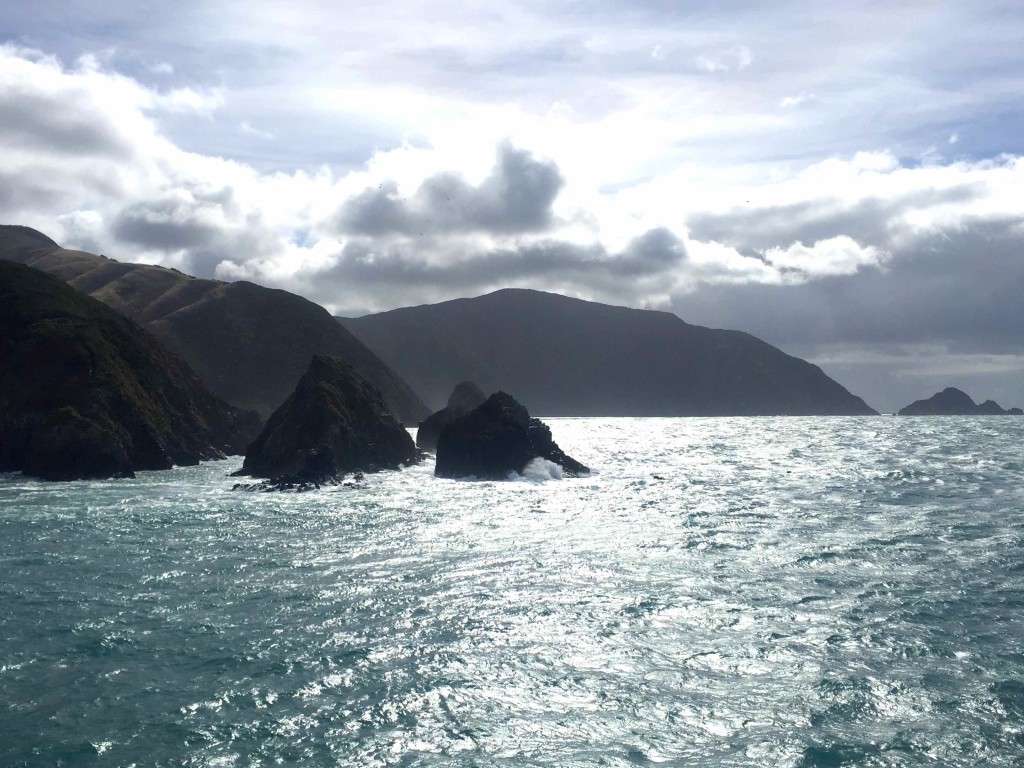 ---
Following are some highlights from our driving tour of New Zealand's South Island. For North Island Highlights, see our previous post, #36.
SOUTH ISLAND HIGHLIGHTS
Marlboro – Our South Island driving tour took us from the ferry landing at Picton, south and west through the Marlboro wine region and the Wairau Valley. Since wine tasting is not exactly a kid-oriented family activity, we simply enjoyed the scenery while driving through these wide open valleys, but it was not hard to notice mile after mile of lush vineyards and boutique wineries. Small, classy cafes and B&B's dot the map here. I could imagine a romantic week spent touring this area in the right circumstances.
---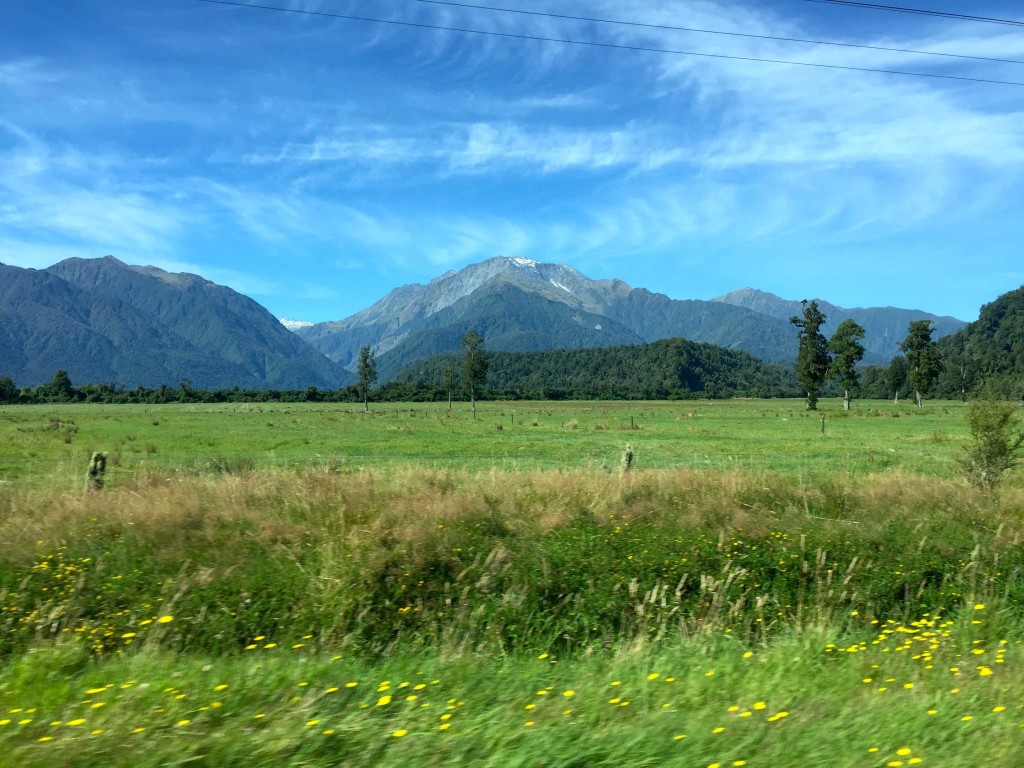 ---
Hokitika – From the Marlboro region, we headed toward the scenic West coast towns of Westport, Greymouth and Hokitika. Here the narrow, mountainous road skirts the rugged, rocky coastline much like Northern California, except giant tree ferns, a bit like palm trees, pop up where they can grab a foothold. The views are staggering as the road marches southward toward the snow-capped Southern Alps towering in the distance. We enjoyed a roadside stop at the pancake rocks of Hokitika, where we saw arches and blowholes formed by the relentless seas acting on limestone layered like stacks of pancakes.
---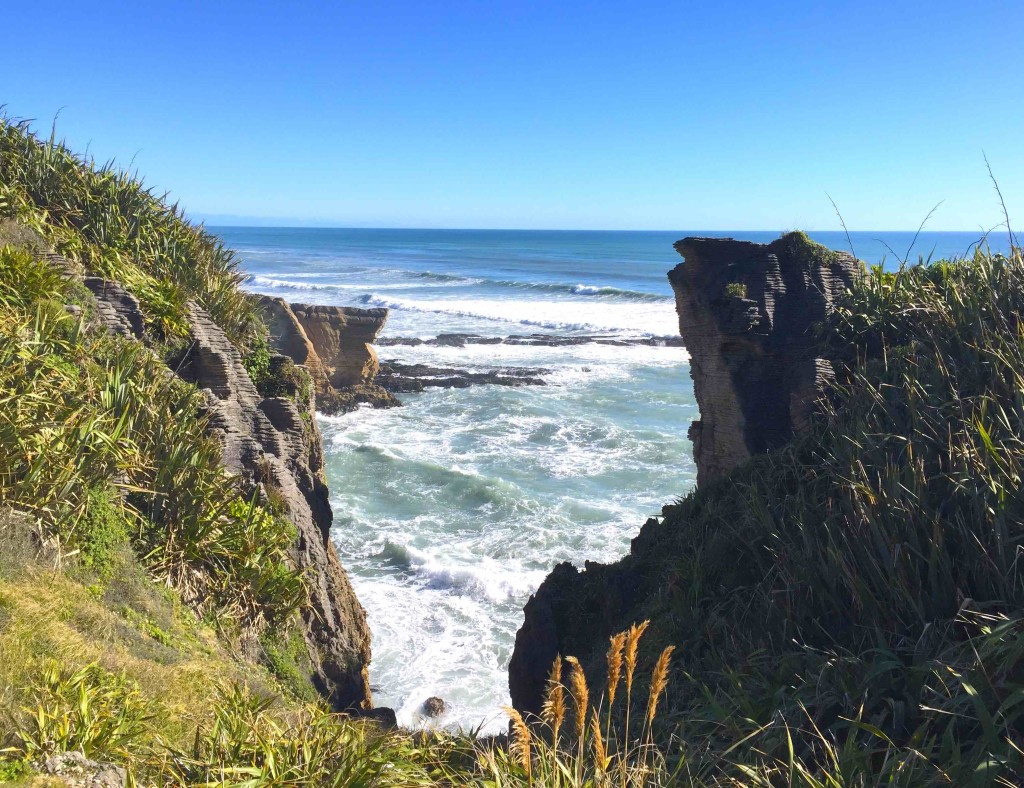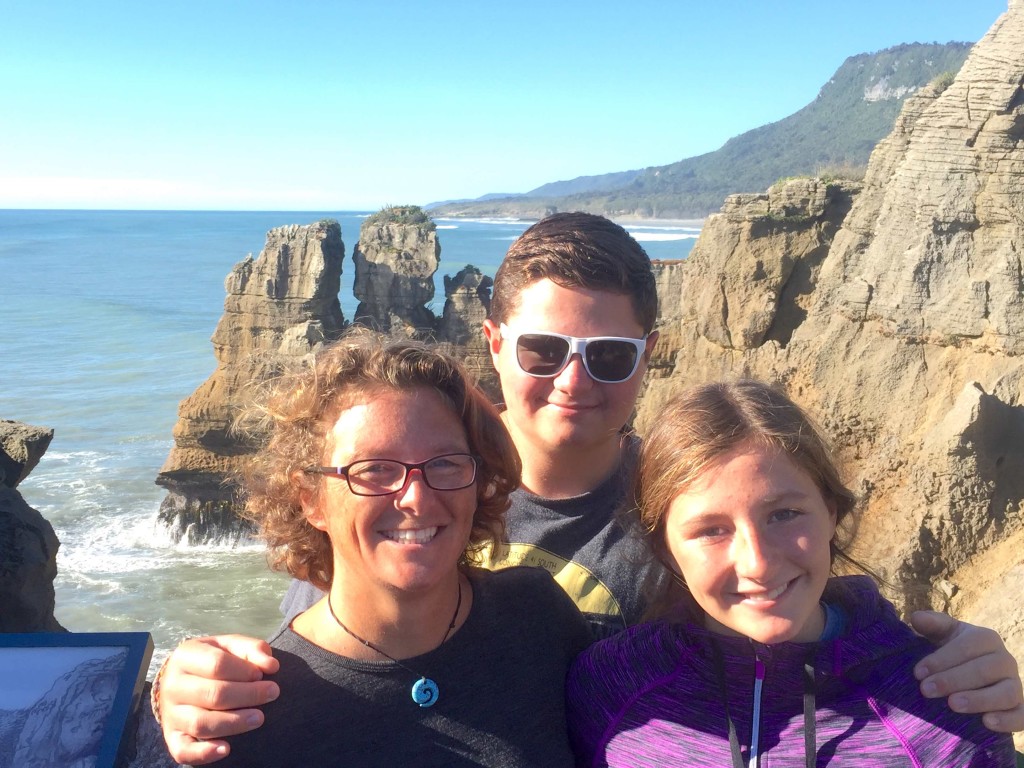 ---
The Gates of Haast – Haast is a small, west coast town at the foot of the Southern Alps. We found this place notable for two things. First, Haast is home to the most aggressive sand flies anywhere in New Zealand. Having sampled nearly all of them, we can testify that this is no small achievement. Viscous, biting creatures, sand flies frequently leave large, itchy welts that can take a week or more to heal. Second, about 20km from the town itself are the Gates of Haast, a place where the road crosses a swift-moving mountain stream on one of New Zealand's finest rickety one-lane bridges. The sheer scale of the rocks, the power and clarity of the running water made this one of our favorite stops.
---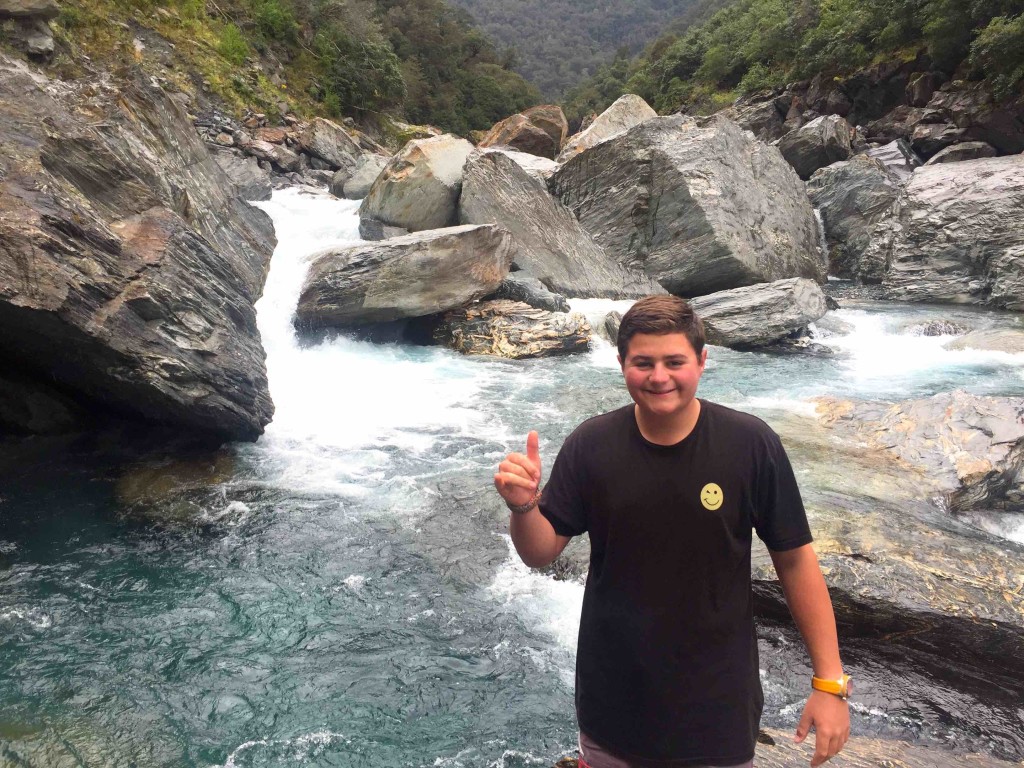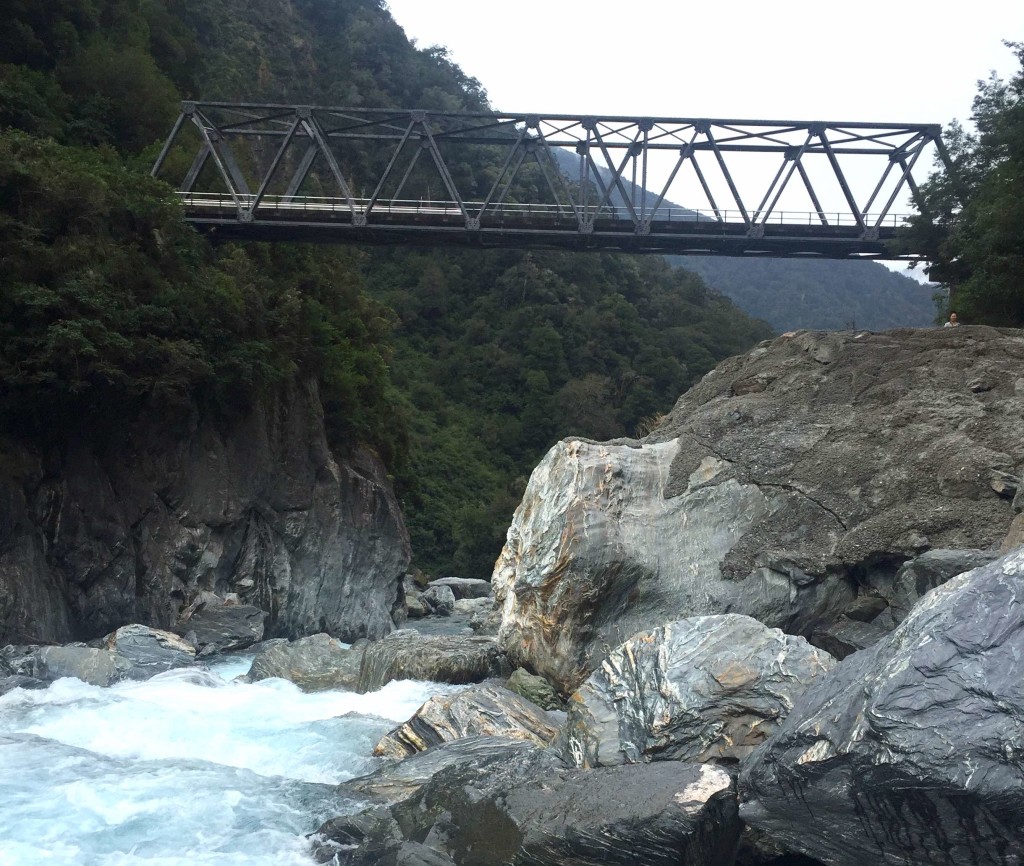 ---
Franz Josef & Fox Glaciers – These glaciers are beautiful, and easy for non-mountaineers to access. An moderate one-hour 'bush walk' from the car park brought us to the base of the Franz Joseph glacier. This was a unique opportunity to see the forces of the glacier working up close. The stratified blue ice field hung precariously above us, just 750m away. Turbulent water, tinted blue-gray by glacial 'flour,' cascaded all around us in a frigid run-off. Definitely worth a stop.
---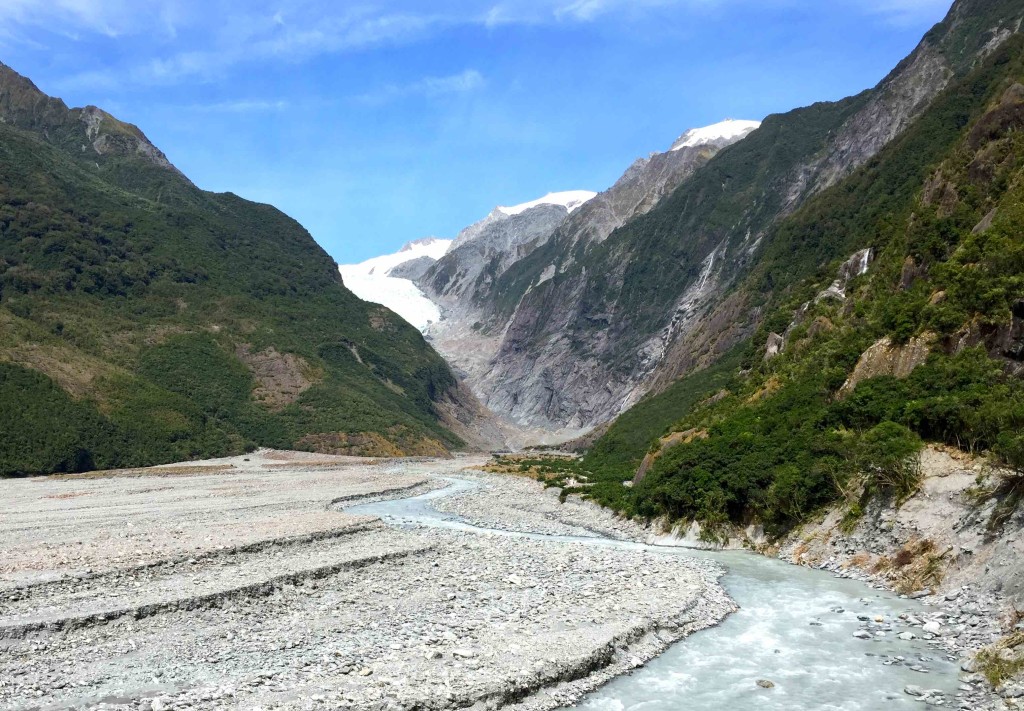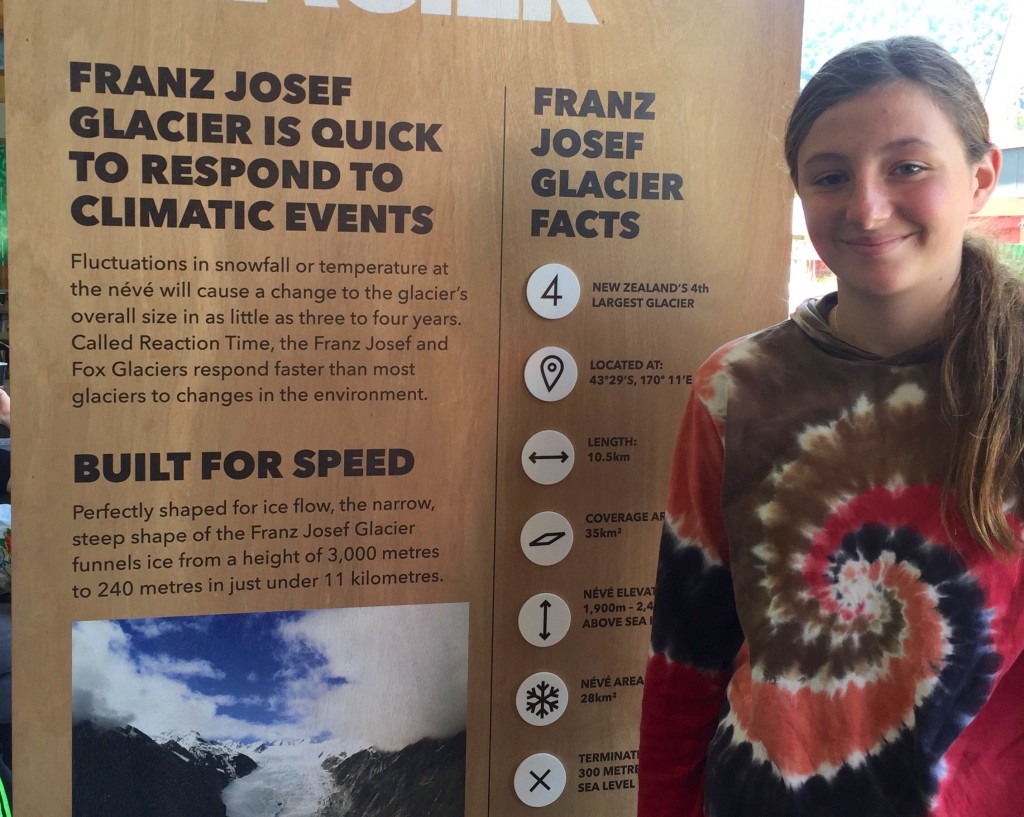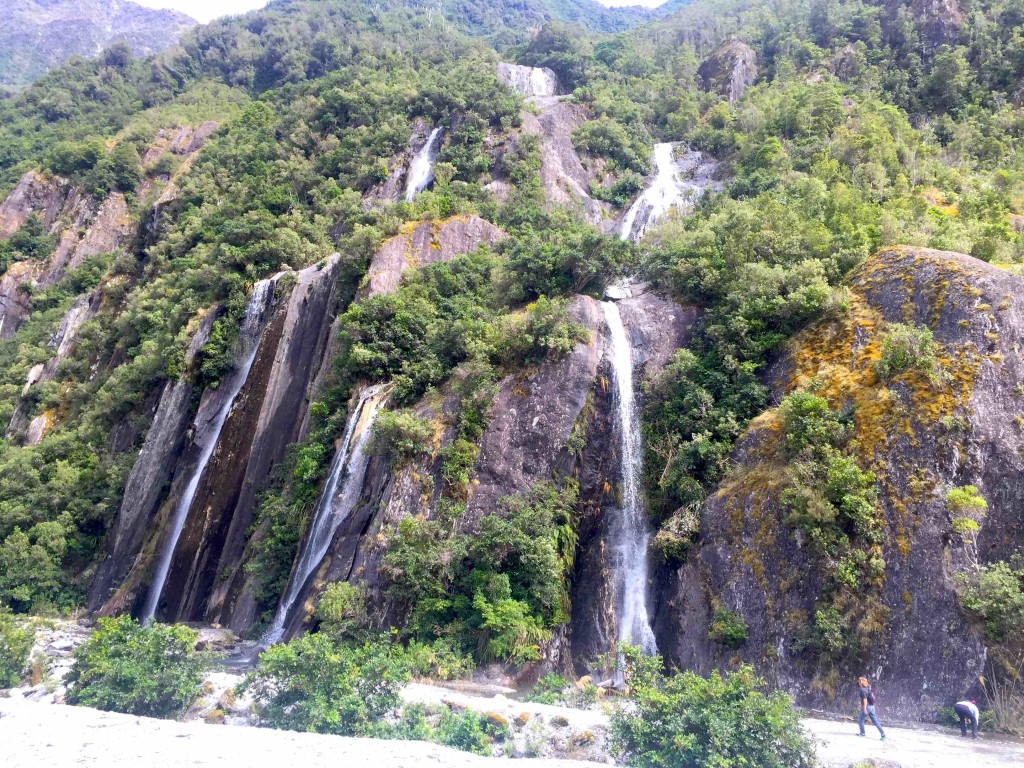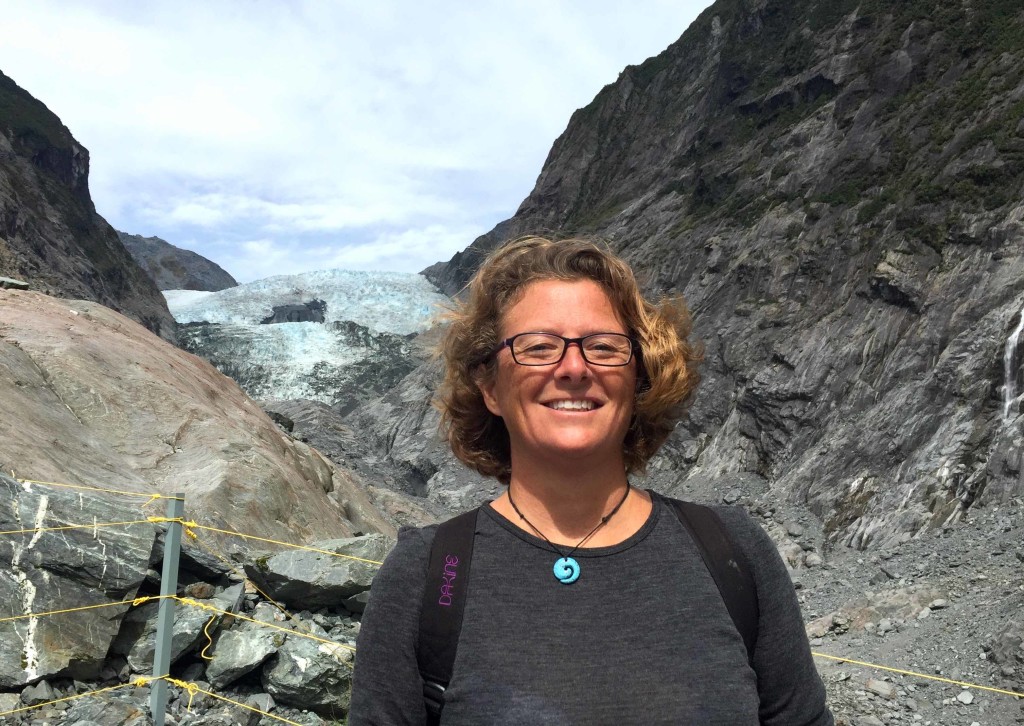 ---
Wanaka – The quaint lakeside town of Wanaka was a turning point for us. Torrential rains and strong winds battered the North Island while we toured the South Island in relative peace. However, with the threat of wet, windy weather in the forecast, we decided to skip a visit to the scenic Milford Sound region and head straight for Christchurch. There's nothing fun about packing up tents in the rain. During our visit, Wanaka was inundated with 35,000 additional visitors due to the annual A&P show (agricultural & pastoral). Any other weekend, this would be a wonderful place to stop and explore a bit.
---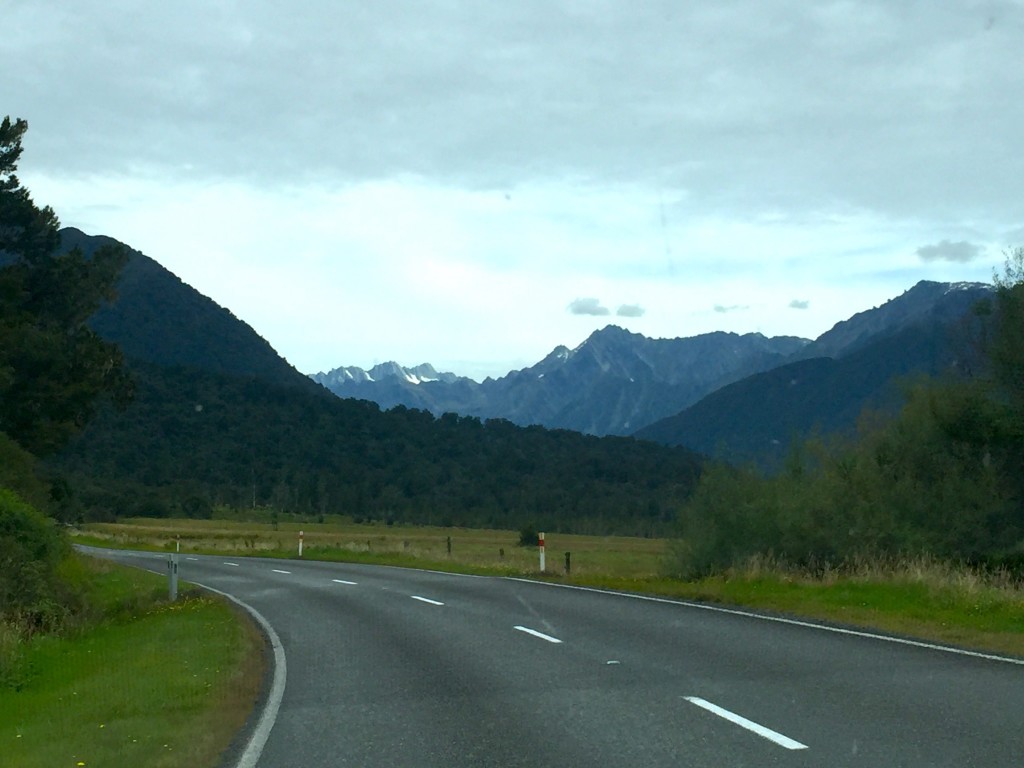 ---
Christchurch – Compared to the mountainous west coast, the landscape of the Canterbury region is wide open and relatively flat, about the only place in New Zealand where the roads are nearly straight. As the jump-off point for scientific expeditions to Antarctica, Christchurch is inextricably associated with that frozen continent. Thanks to her experience researching stratospheric ozone with NOAA, Karen's strong connections to Antarctica drew us to Christchurch's Antarctic Museum. Despite it's dumbed down, edu-tainment approach, we enjoyed the museum. Highlights included riding in an actual Hagglund track-driven vehicle, and the opportunity to see native New Zealand penguins. The museum acts as a penguin sanctuary for injured birds who can't survive in the wild. We heard many disappointed stories from friends who'd attempted to see wild penguins, so we were thankful to see them up close here.
Aoraki (Mt. Cook) – The sight of snow-capped Aoraki towering over a stunningly blue lake is one I had really hoped to see. It's classic New Zealand, rugged and incredibly beautiful, the stuff of glossy postcards, and National Geographic center folds. Unfortunately, timing is critical, and our's wasn't good for this postcard view. Low clouds hovered just overhead, spitting rain at us in random spurts that only served to break the monotony of the otherwise steady drizzle. Nonetheless, we were still stunned by the cerulean blue color of the surrounding lakes & streams. The water is clear, but somehow appears remarkably blue from glacial 'flour' (fine silt). If I hadn't seen it myself on a rainy day, I would assume the color was enhanced in Photoshop.
Hanmer Springs – The small, quaint town of Hanmer Springs is nestled into a well-forested area two hours north of Christchurch and the main draw here are the thermal pools. This is a fully developed thermal pool Mecca with numerous therapeutic soaking pools of various minerals and temperatures. To round out the family appeal they also offer several multi-story waterslides and a lazy river. As you might imagine, this stop was a big hit with our water-oriented family. The cold, rainy weather kept the crowds away so we more-or-less owned the waterslides, running seven or eight flights back up to the top as soon as we reached the end. Great for families, this would also fit perfectly into a romantic wine tour, as it's not far from the Marlboro area.
What We Didn't See – You can never see it all, and we skipped a lot! To my way of thinking this means we have plenty of incentive to visit again, and that's a good thing. Tops on the list of missed sights are Abel Tasman National Park, Marlboro & Doubtful Sound, Queenstown, Invercargil (in particular I would like to have seen the 'tributes to the gods of speed' from the excellent movie The World's Fastest Indian), Stewart Island, Dunedin, and Kaikoura (recently earthquake-damaged).
So with most of the sightseeing over, now we buckle down again and focus on the serious work of preparing ourselves and Batu for the difficult passages to come. We plan to leave New Zealand on the first good weather window after April 15. The weather is extremely volatile in these parts, so we'll be weighing many factors into our decision, and we'll do our best to keep posting updates.
---