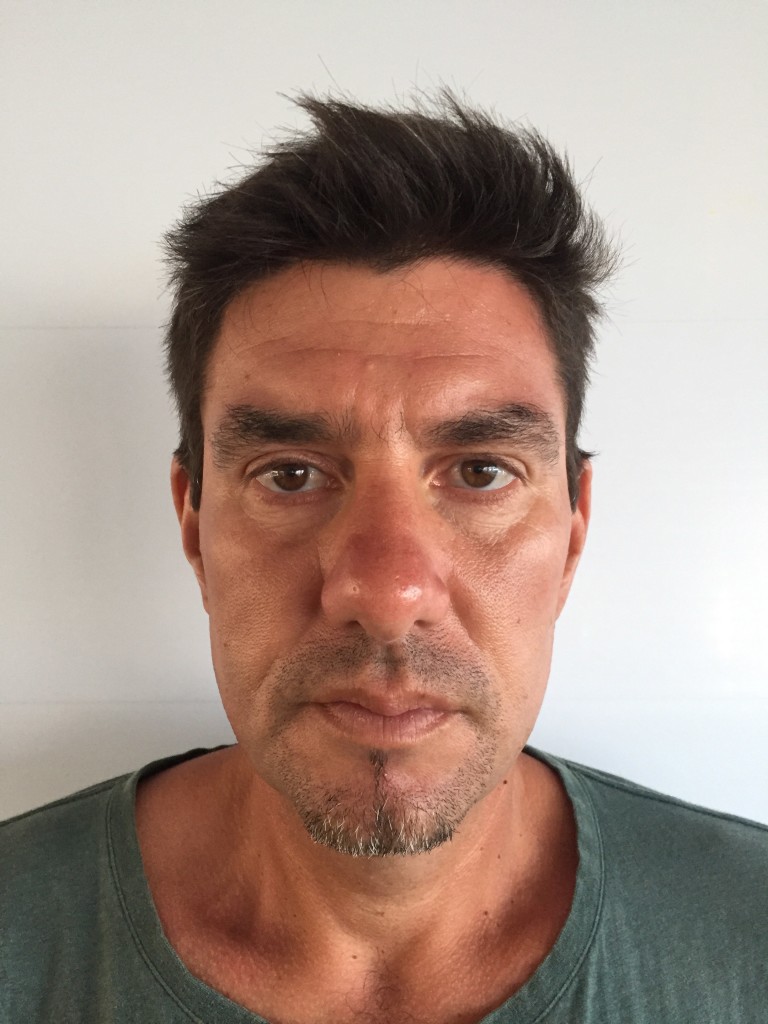 ---
Like it or not, extended voyaging on a sailboat is an excellent way to discover all sorts of things about yourself. On the basis of full disclosure I should probably mention that I've reached something of an emotional low point. I realize it's difficult to fathom given that we are currently in, of all picturesque vacation spots, Tahiti, but it's true nonetheless. Yes, the sun is shining. Yes, the water is actually that miraculous blue and turquoise seen in the travel brochures. These posts are about our perspectives while living the voyaging life, so please, allow me to explain.
After about a month exploring the Marquesas, s/v Batu moved on to Fakarava atoll in the Tuamotus, where we met up with Karen's Mom, spending almost three weeks resolving some of our long-standing engine issues and enjoying life in, and on, the water. Our next stop, Tahiti, was to be a short one. For all visitors to French Polynesia a check-in/ check-out with the main immigration office in Papeete, Tahiti is mandatory. We had hoped to pick up a few key supplies and replacement parts while in the city of Papeete and move on quickly to the less populated, more scenic leeward islands of Raitea, Tahaa, Huahine and Bora Bora.
---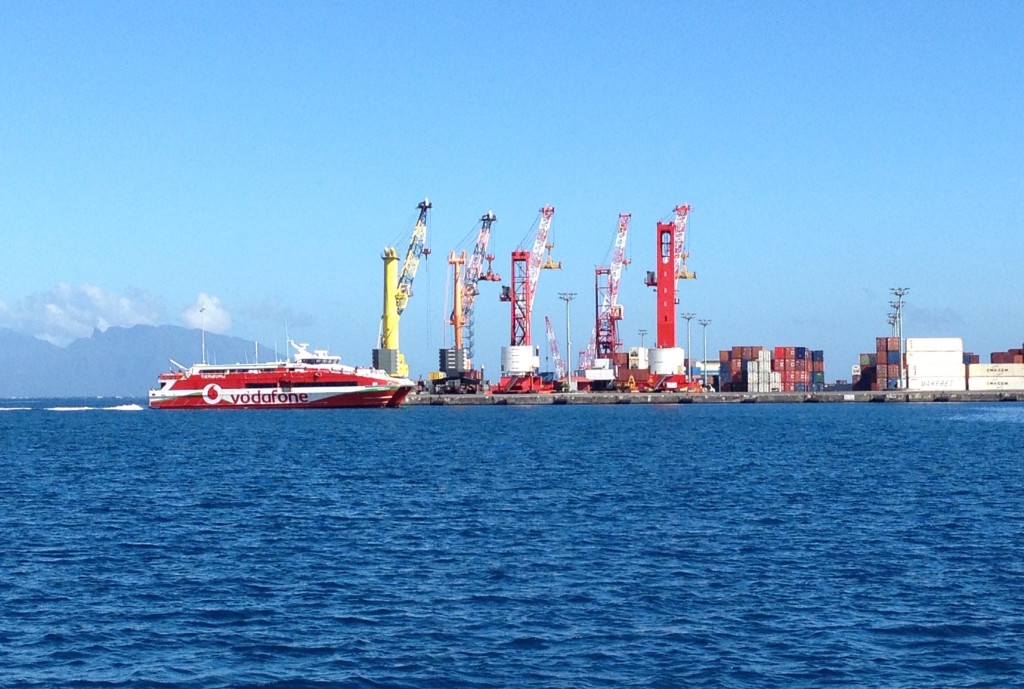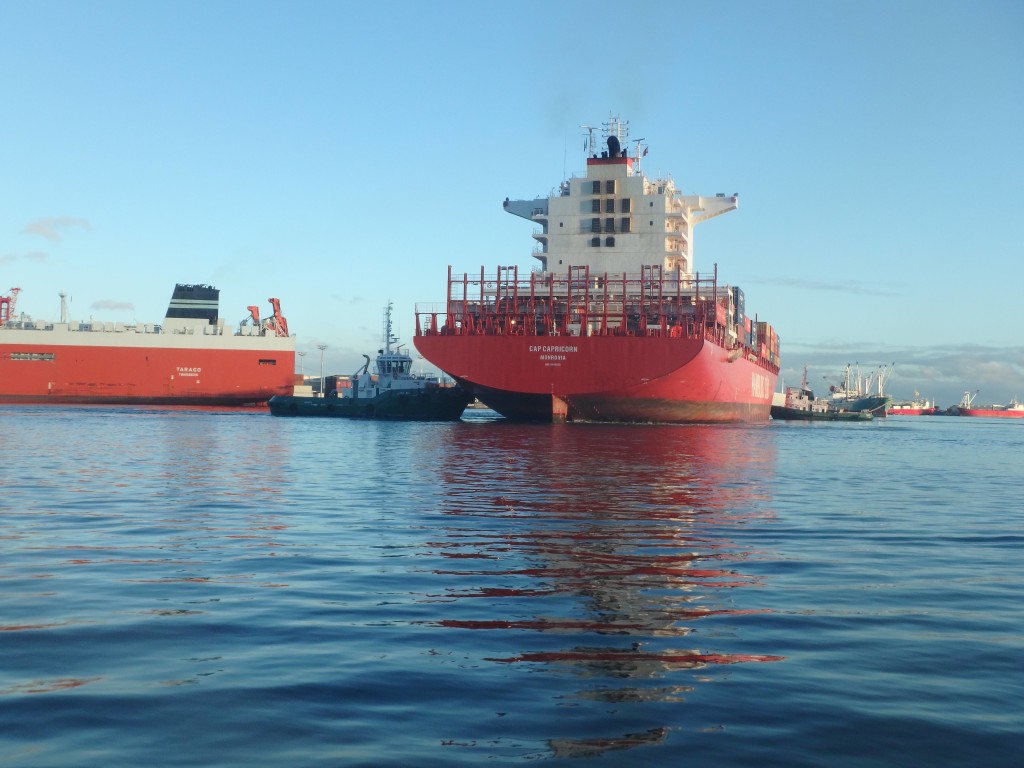 ---
We arrived in Papeete after a decent two-day sail from Fakarava – Granny's first-ever ocean passage. We had decent winds in the 15 – 25 knot range and all went more or less as planned. The Stugeron we gave Granny as a prophylactic for seasickness knocked her out for almost a full 24 hours. Once recovered Granny enjoyed the remainder of the smooth passage with the rest of us and synced flawlessly with our shipboard ways. Despite being a crew of 5 people aboard a 40 foot monohull (perhaps 350sq ft of living/ storage space), we have gotten on incredibly well in terms of living arrangements.
While many of our pending engine issues like the heat exchanger, transmission oil cooler, v-drive cooling seals and raw water strainer cap have been resolved by recent parts infusions, we have new problems we're managing now, most notably the leaking transmission seals. This was underscored on arrival in Papeete when, after carefully topping up the transmission fluid and sailing right up to the pass entrance, our very short 20 minute motor through the pass and directly to the most central marina left us with just barely enough transmission fluid to drop into reverse and stop the boat. It took me several days to acknowledge that this confirmed the looming transmission seal issue we were wrestling with upon departure from Mexico.
---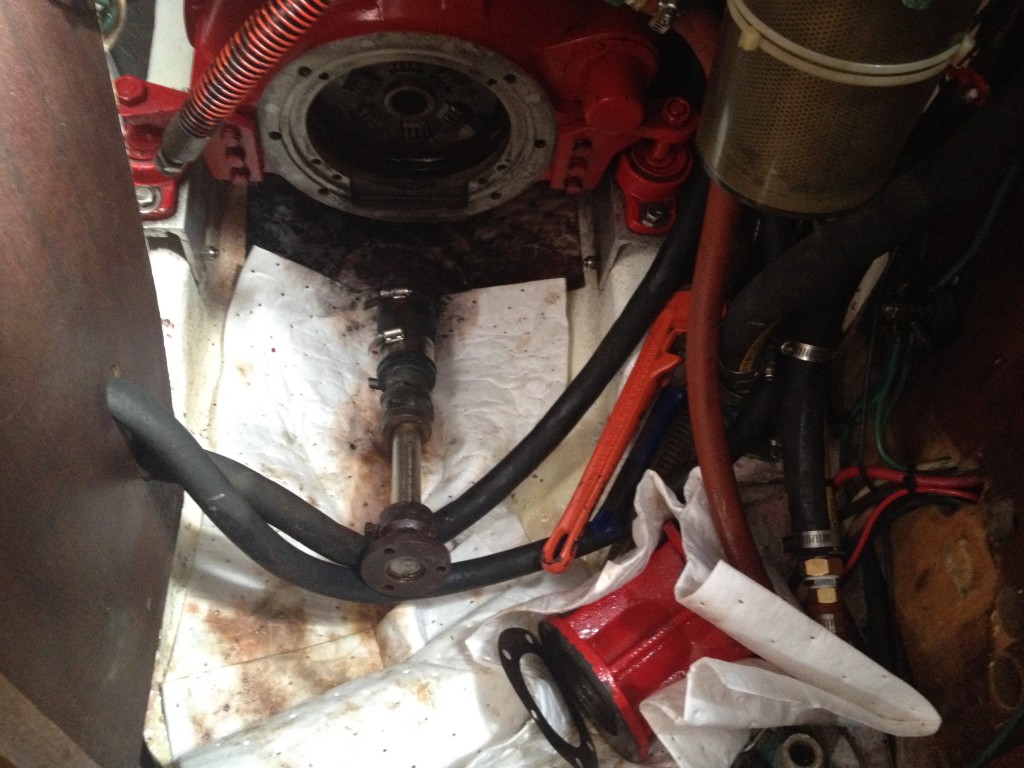 ---
Grudgingly, I ordered a transmission rebuild kit and main oil seal kit for our 1977 4.108 and Paragon hydraulic transmission. These parts were so unlikely to be found in Tahiti that, after asking around a bit and receiving laughter in response, I didn't waste much time trying. So this is what "overnight" shipping looks like from the US to Tahiti:
Transmission Rebuild Kit                     $189
Overnight Shipping (US address)    $128
FedEx International (US to Tahiti)   $134
Duty                                                                  $0
Agent's fee to clear "duty free"         $70
Dinghy fuel (25 miles traveled)         $30
Total time to "in hand"                           11 days
Calls to arrange (@ 3am local)            5
Emails to arrange (various)                  12
   Total Cost                                                        Best not to think about it
This is for one of the three shipments ultimately needed. Suffice it to say, these things are complicated. To be expected I suppose.
Add to this, me removing the shaft coupling, v-drive, reduction and transmission for the first time on my own and with the boat in the water (where a mistake means we sink). Daunting, for sure.
Next, the refrigeration system begins to act crazy and, in a moment of weakness, we call in an expensive specialist who KILLS the system without apology or remuneration. This forces us to order a new electronic control module from the US (repeat list of extended costs and hassles above).
Naturally, once he has our transmission in hand, the mechanic won't return my calls, so I focus on smaller tasks around the boat which take ridiculous hours and numerous excursions to find the most basic of parts. Despite our best efforts to solve the transmission problem quickly, while we wait, our 90-Day tourist visas expire, forcing us to gather reams of documentation to prove our situation and apply for an extension with the Haute Commissaire. None of the required letters or interviews are in English.
---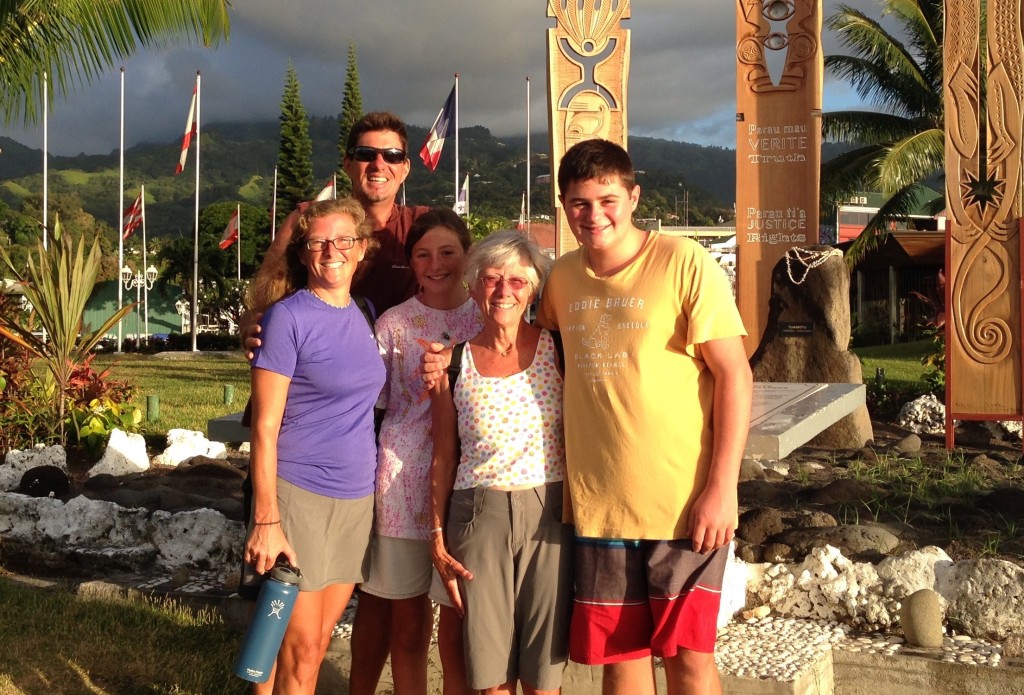 ---
Because of the transmission issues, we stay in Marina Papeete, which is pleasant because of the beautiful city park wrapped around it and ideal because of it's central location. Marinas, however, aren't cheap. Like any city, Papeete has beauty such as the park, the grand market and the municipal pool we use regularly, but there's also  real ugliness like the poverty, homelessness and pollution that are plainly visible. The Marina and nearby park are clean and well-kept, so we were surprised when we found evidence of rats on board after leaving a trash bag in the cockpit overnight. We fought them off mercilessly, and appear to have won, but we still remain vigilant in case the nasty critters get the idea to return.
---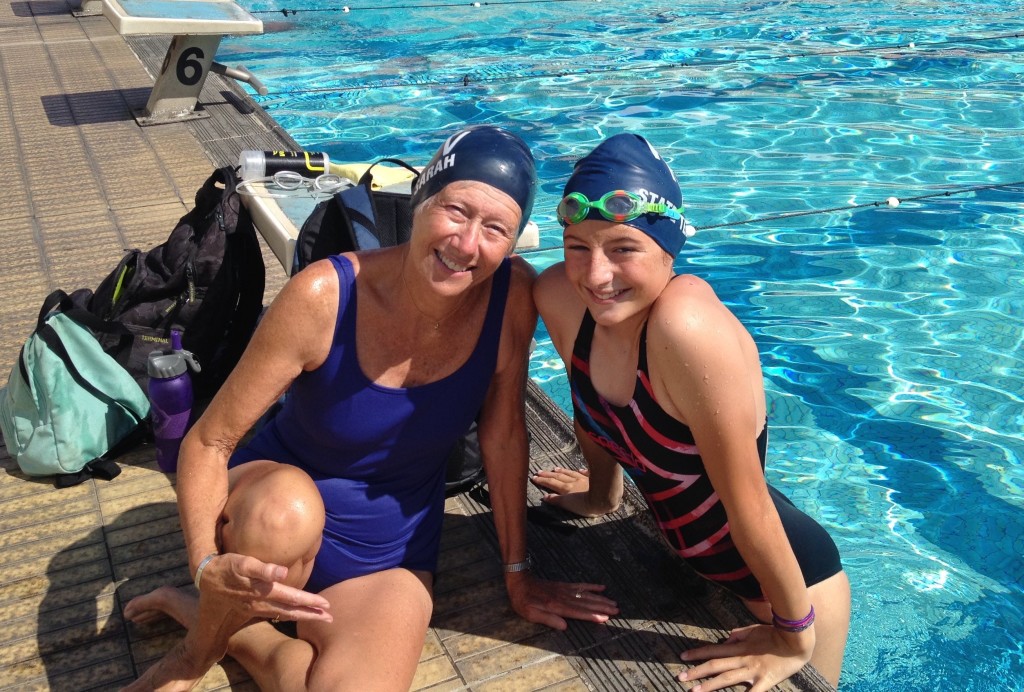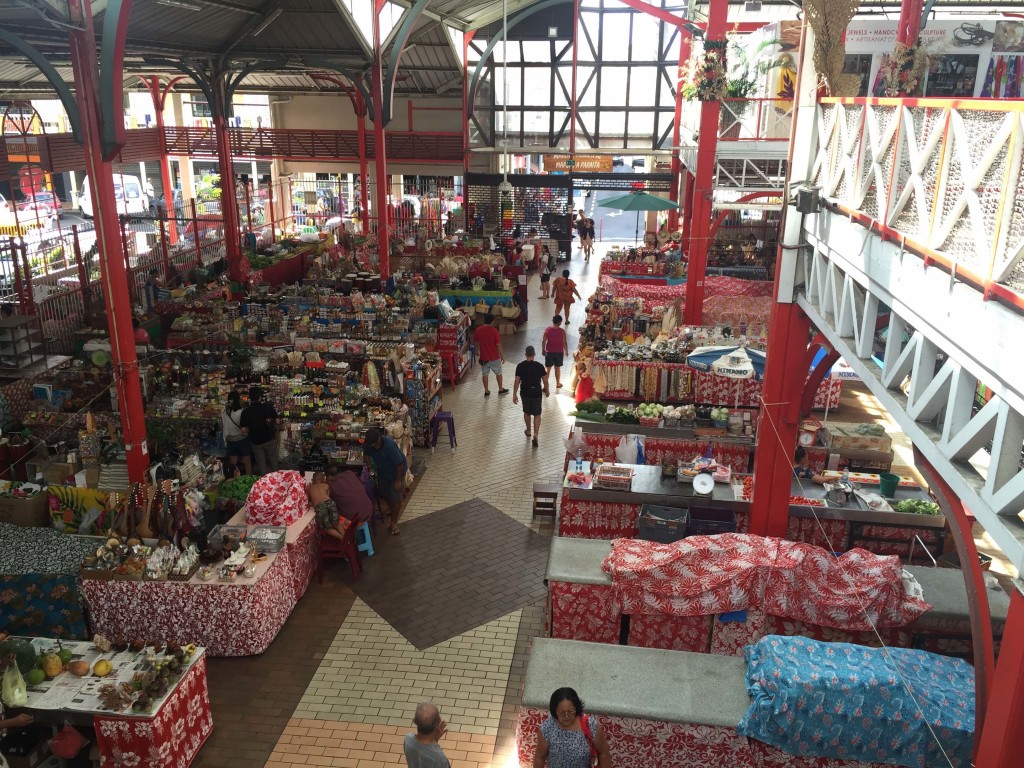 ---
I must admit, this – all of this – stacked atop months of relentless, self-applied pressure to keep our family safe and keep us going; this has gotten to me. I need a break. We came for freedom, but nonetheless we are trapped here, at least for the moment.
My reaction is frustrating and disappointing to me, but it's real and it's human. Once I stop railing against it and simply accept, then I can move on. The movement comes slowly, and in increments so small they are hardly noticeable. We're not out of the woods yet, but if we keep working at it, we might be eventually, or perhaps we'll just move into different woods. To struggle and fail is only human. To fail and keep trying takes a real bonehead, but it's also the only way forward. Perhaps part of my therapy is to start a club for other boneheads. We can sit in a sharing circle and discuss stationary boat life. I'm quite sure the officials will forceably remove us from French Polynesia when our visa extensions (and cash) run out, so forward ho, on we go! I'm feeling better already.
---