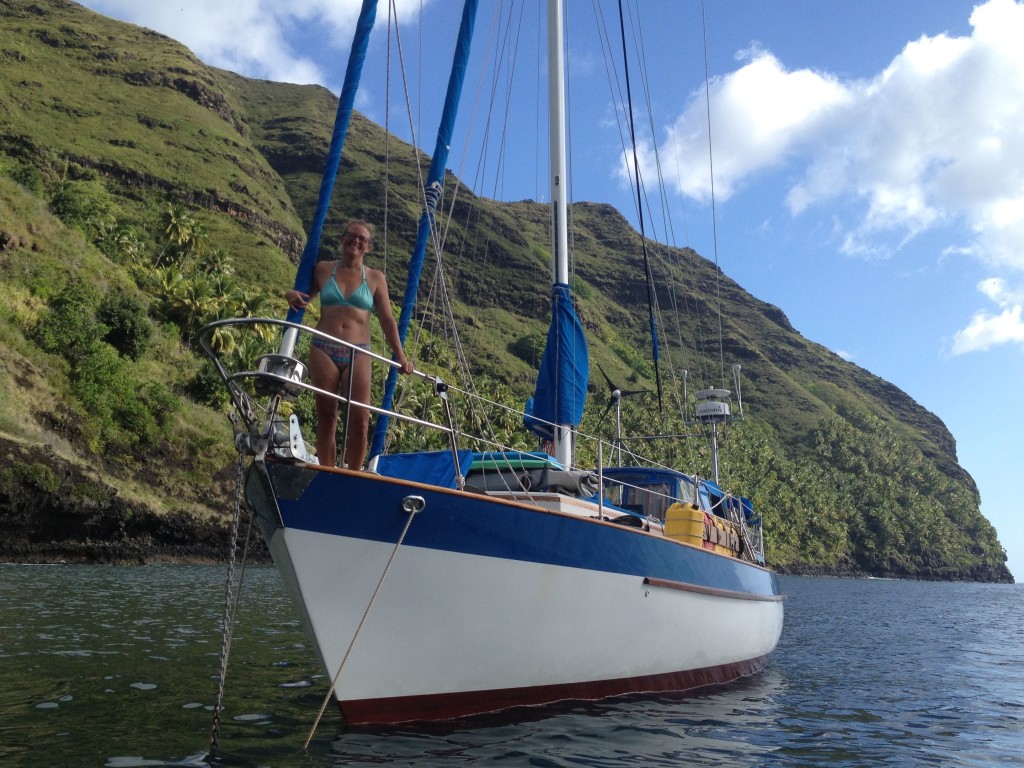 ---
Tonight I stand in the cockpit with the towering confines of Hanavavae Bay surrounding and enclosing me. I am still deciding if it feels protective or foreboding. The wind moans through our rigging and this curious song entwines with the rhythms and tones of tribal drumming which whip, with the strong and gusty winds, out from shore. I also hear the crash and swoosh of swell mixing and tumbling on the rock walls of the bay just a boat length away. It raises in me a curious mix of interest, apprehension and concern. I imagine what it must have been like for the first explorers, little more than 100 years ago, to have heard the same sounds.  I'm certain they would have been filled with dread and foreboding in this wild place. The deep thrumming of those drums awakening primal emotions, the chorus and coordination of them suggesting a well-organized military precision and almost certain, grizzly death as someone else's dinner.
---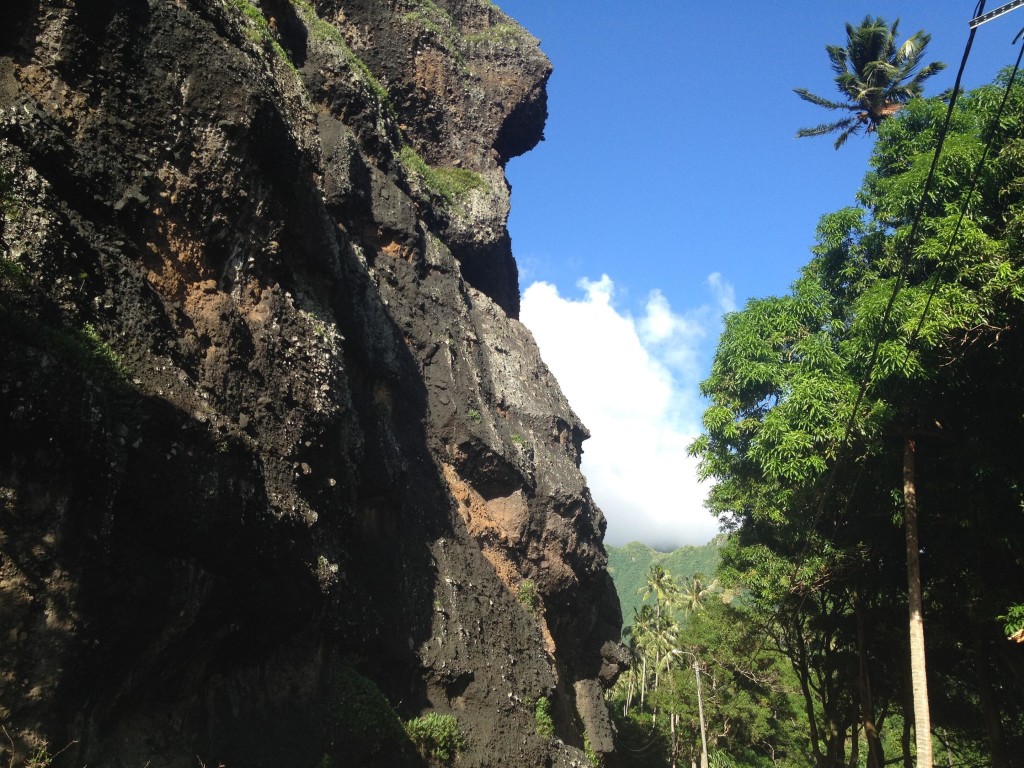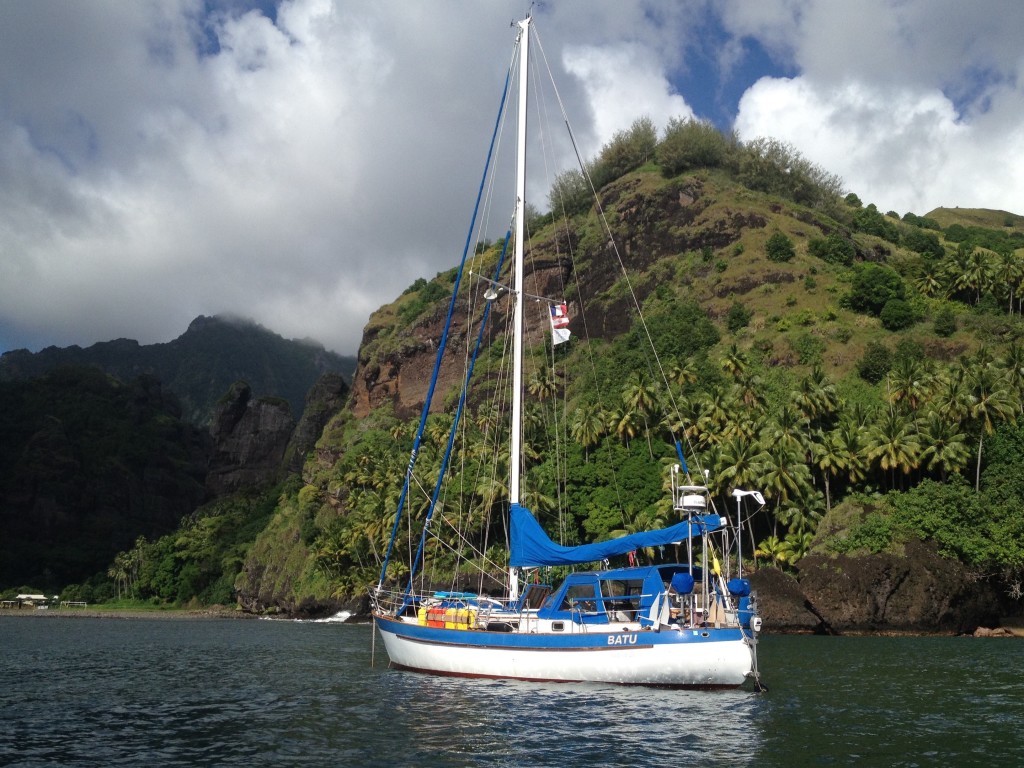 ---
Hanavavae Bay, on the island of Fatu Hiva, is a special place. Named originally for the distinctively shaped rocky pillars which surround it, it feels spiritual, almost mystical, and possibly a touch magical. Like many places in the Marquesas, the rocky walls are improbably tall and impossibly steep – near vertical for almost 2500 feet,  enclosing the bay. Here and there the rocky walls are dotted with overhanging rock formations which look for all the world like huge carved tiki faces watching the bay and the narrow gateway to the deeply cut valley beyond. To be truthful, not all the rocks look like tikis. Several in this valley look exactly like giant phalli dotting the valley like so many erect,…er, spires. Apparently, this place was originally named Baie des Verges (Bay of Penises), but since early Christian missionaries felt the name inappropriate, with what one might consider healthy irony, they renamed it Baie des Vierges (Bay of Virgins) to protect the locals from the obscene reference. Surveying the immediate landscape, I'm not sure if anyone was much fooled.
---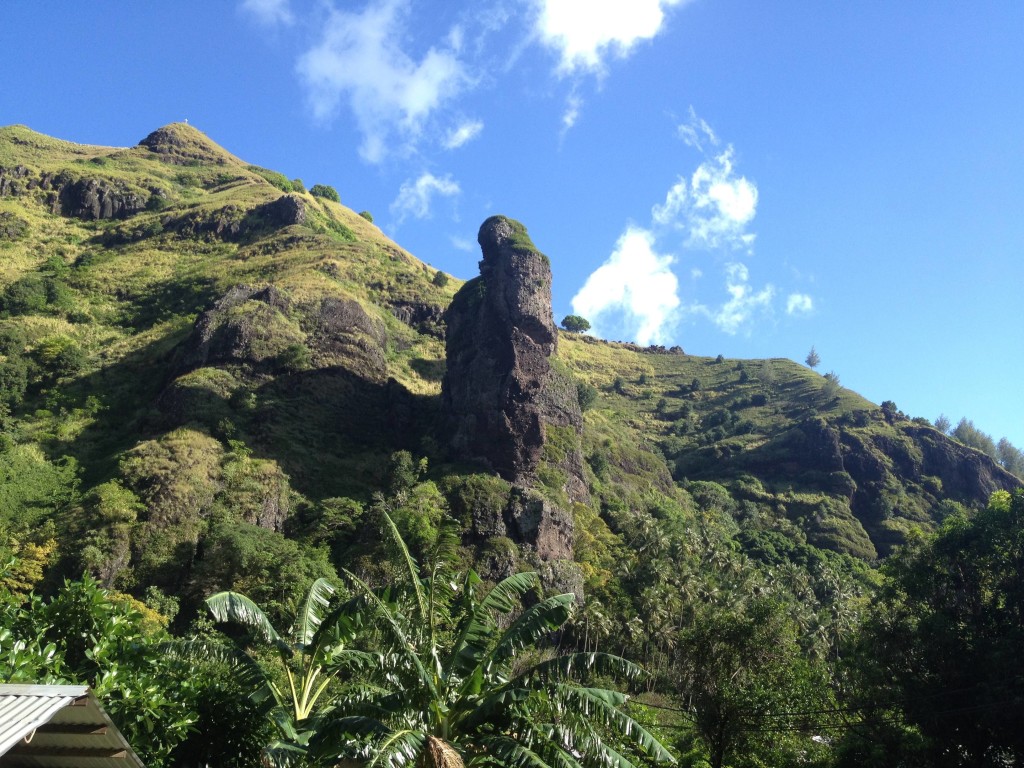 ---
During our first approach of Hanavavae Bay we did something we said we'd never do; we entered an unfamiliar anchorage at night. Having just completed a very rough passage beating upwind into 20 – 25kts (true), we were knackered. The passage from Hiva Oa to Fatu Hiva took almost 14 hours, and was made even more exhausting by choppy 12 foot seas and occasional rain squalls. Karen was stuck below with a nasty infection and the cockpit was a wet, splashy affair, so I was basically single handing for the duration. When we arrived around 9:30 pm, we hoped there would be room in the small anchorage for us to drop the hook. We crept the boat in slowly using HD radar plus a sliver of moon to shed some light. After one brief, nerve-wracking pass through the anchorage we determined that seven boats (only 3 with mast lights!) in this particular space makes the anchorage tight – claustrophobic actually. There was no way we were going to try setting anchor in the dark. In fact, just creeping out of the anchorage put us extremely close to the other boats and the rocky edges of the bay. Once out of the bay we hove-to in the lee of the island, the thundering sound of waves smashing into Fatu Hiva's nearly vertical face echoing eerily for the rest of the night. In daylight we returned to Hanavavae and saw just how tight the anchorage was. The bottom contour is so steep that the depth changes from 150 ft to 50ft in one boat length. The sides of the bay go from 50 ft depth directly to vertical to rock walls. The six boats already anchored were packed in like sardines, and we would need at least 400 ft of chain, 120 ft more than we carry, to anchor safely in the deeper water. After three unsuccessful attempts to set the anchor well with suitable room, we were relieved when one boat cleared out, making our fourth attempt a successful one. Finally we were well-set in 50 ft depth, although we still swung to within a boat length of the precipitous side walls.
---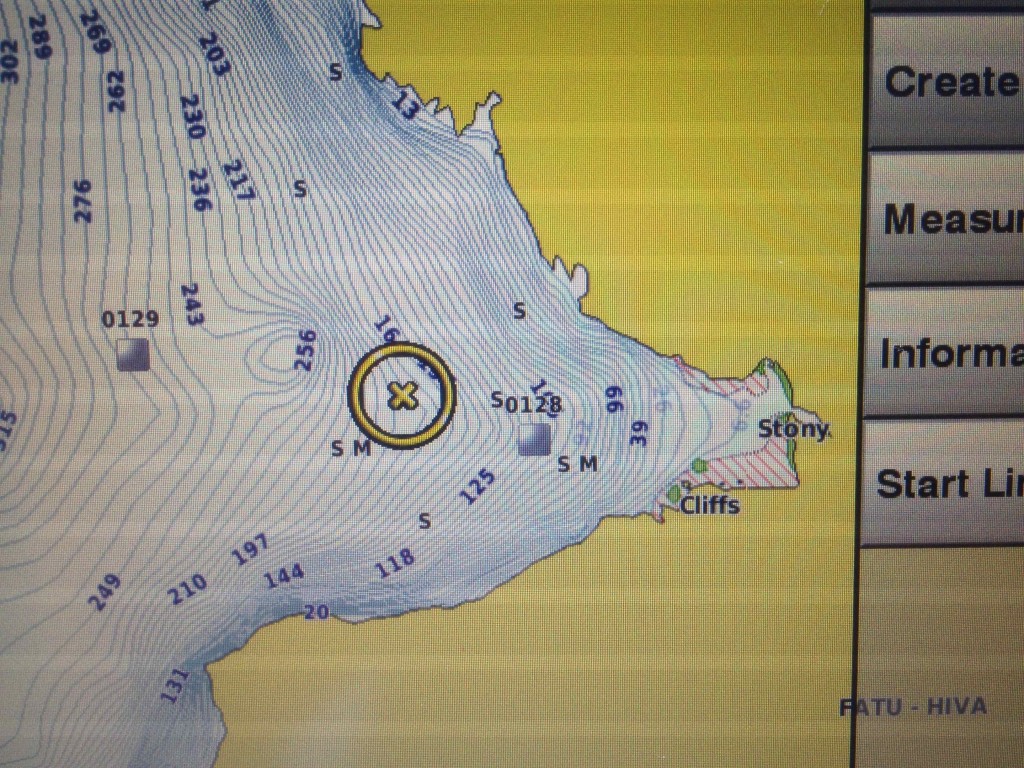 ---
Despite the ominous nighttime drumming, our daytime explorations proved the locals to be quite friendly. One afternoon, as kids and I explored the valley, we spotted several bee hives and heard beautiful music coming from a small home nestled near a stream. We turned to go, but an older woman came out of the home and gestured repeatedly for us to come visit. Josephine and her husband spoke no English, but they welcomed us graciously into their modest home, just happy to meet and talk with us as we passed by. They showed us their simple home, which had no furniture at all, only a mattress and a large freezer chest on the floor. The walls were filled with family photos and achievements. Fortunately, we were able to make my rusty French work well enough to find out about this couple, their grown children and grandchildren. The most-used area of their home was the back porch, nothing more than a handmade shed roof over an earthen floor, with several large picnic tables and piles of fruit. They gave us delicious honey that tasted of mango blossoms, and a potent home-brewed honey-wine that, although tasty, echoed through my gastro intestinal system for the next 24 hours. Josephine's husband played music for us on his hand-crafted Polynesian banjo, an 8-stringed affair that sounded just right for this rustic setting. We shared stories and when we finally left, we did so with arms filled with fruit and faces filled with smiles, having made new friends in what initially seemed like a very strange and ominous place.
---