One of the key tenets of Suburban American culture is constant productivity. We scurry around like good multi-taskers, checking off lists and making the most out of each hour, each minute. While this is one concept we plan to question while living the Voyaging Life, ironically, we chose to scurry while preparing to go cruising. We wanted to leave on a schedule, with our kids, at an age where the cruising experience would add to their formative understanding of the world. So it is that we were so busy nosing-the-grindstone that the reality of what we were doing didn't quite hit until we actually slipped the dock lines and pulled out of our home marina, looking back at that familiar home vista of the Hood River Valley overlooked by the snow-capped sentinel of Mount Hood. It was then that the sadness of leaving home, friends and good people for who-knows-how-long finally hit me. The weather, seemingly in-line with our feelings, quickly became cloudy and began to rain. Fortunately the sadness, which hit us all, was tempered by the building excitement that this moving environment, the boat, was now home.
---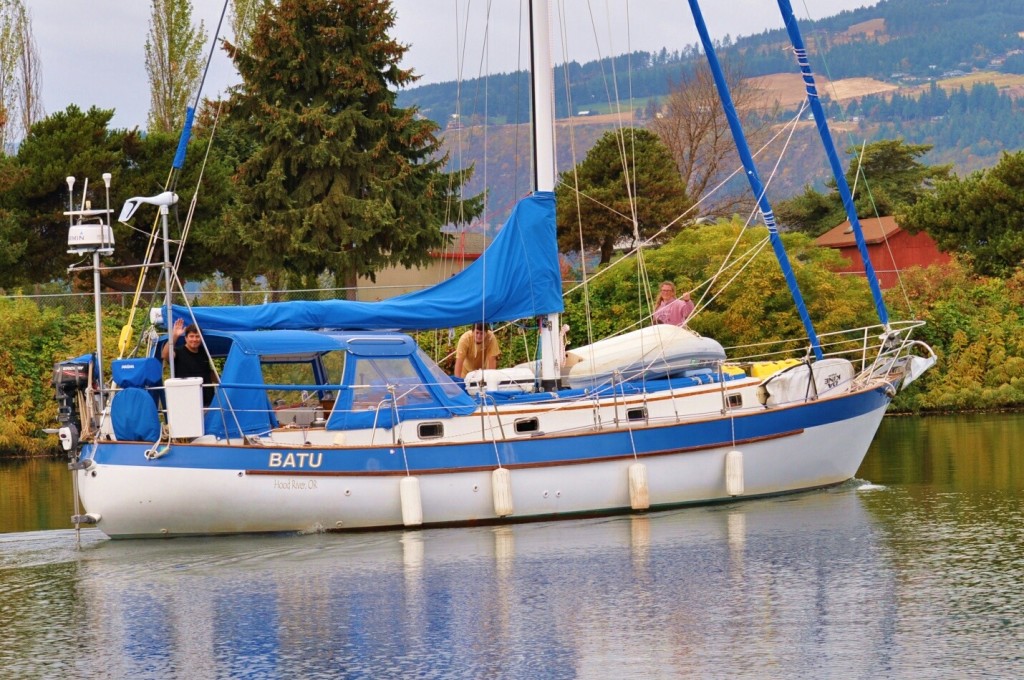 ---
We passed through the Bonneville Locks and on downriver without incident, feeling increasingly peaceful as the hectic pace of life ashore slipped astern. The first night out we spent at Government Island, a beautiful public facility very near the Portland metro area, yet insulated by a nature preserve. The second day we tied briefly to the docks at the Red Lion Inn for a last run, on foot, to West Marine.
---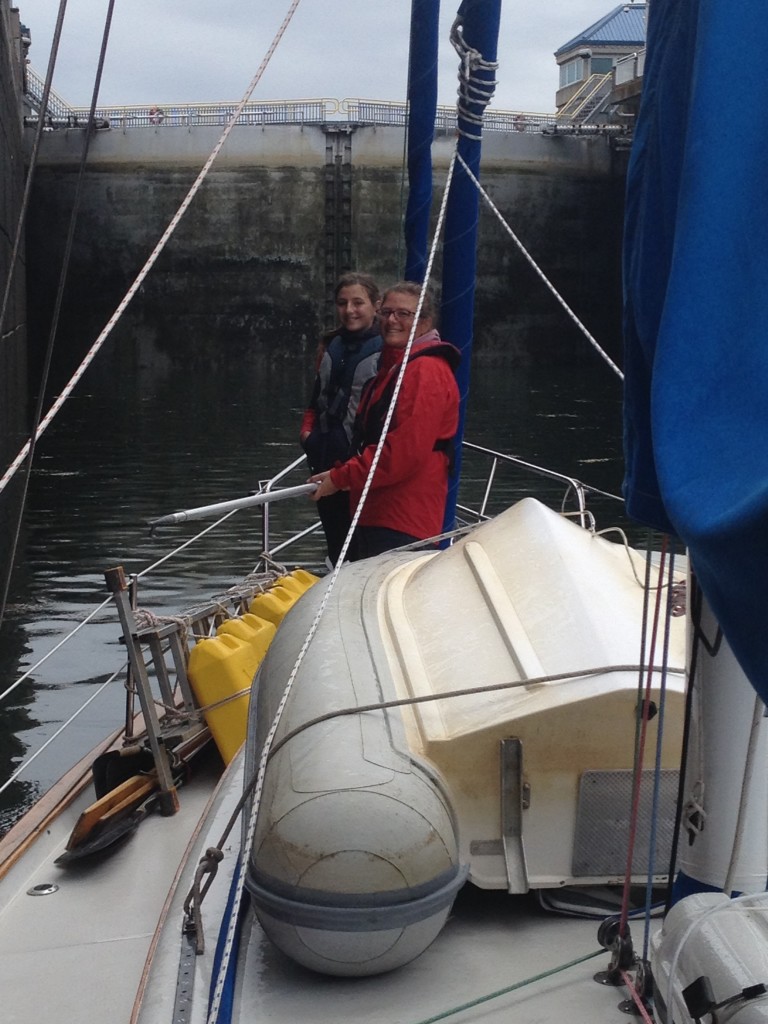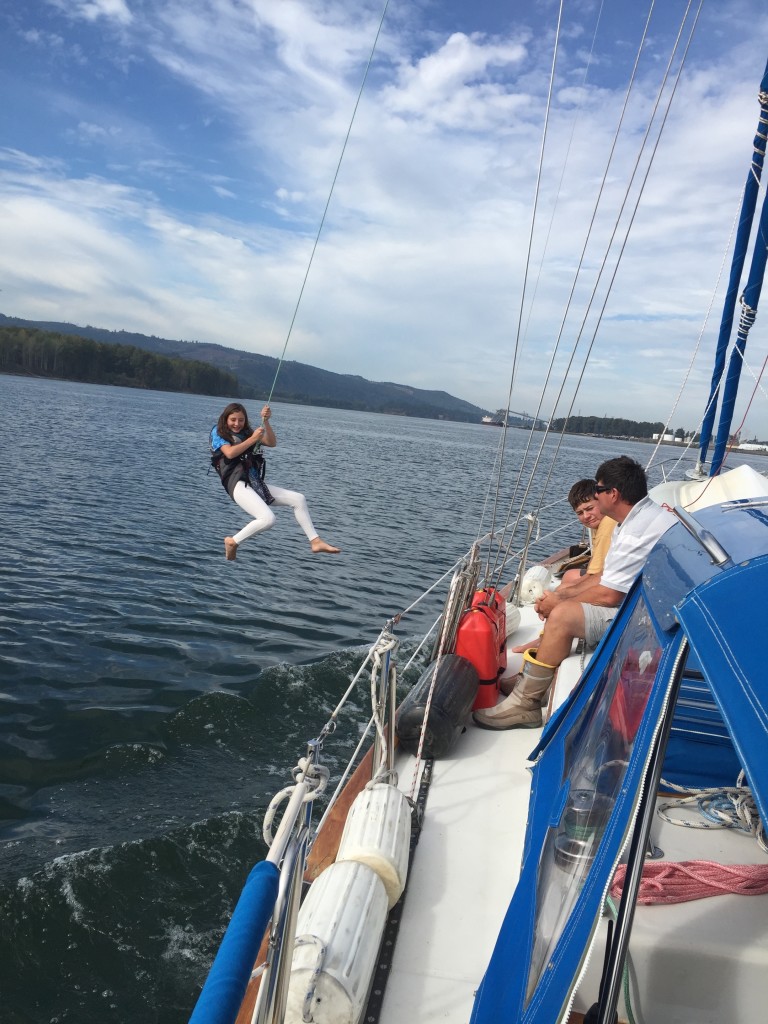 ---
We should have known something was up when, by the end of the second day, everything was working seamlessly. Our plan was to tie up to the guest docks in the small town of Cathlamet. We had gone several extra miles to avoid the questionable, shallow waters of the Eastern entrance, and so we arrived at the town of Cathlamet at dusk, and with a soft thud as the depth sounder went very suddenly from 25.0 ft to 2.5 ft. Batu's draft is 6.0 ft., and all attempts to motor out of the shallow mud were futile. For the first time in our sailing lives we were well and truly aground. There is a saying that any person who claims not to have run aground is either a liar or not a sailor. No need to feel badly about that saying any more! Fortunately, our intrepid team stepped into action in the darkness. Sean and Sarah launched the dinghy and rowed out about 200 ft astern to drop our large stern anchor. I used a winch to pull tension on the stern anchor while Karen motored the boat in reverse, and just a few minutes after low tide, we eased gently off the bank and into the darkness. I wish I could say that was the end of the excitement, but as we gathered ourselves back together and put the dingy back aboard, we discovered that the Cathlamet Channel is apparently a great fishery during the nighttime hours. The channel was strewn with semi-lighted fishing nets leaving only a very narrow area about 40 ft. wide to squeeze through in the darkness.
---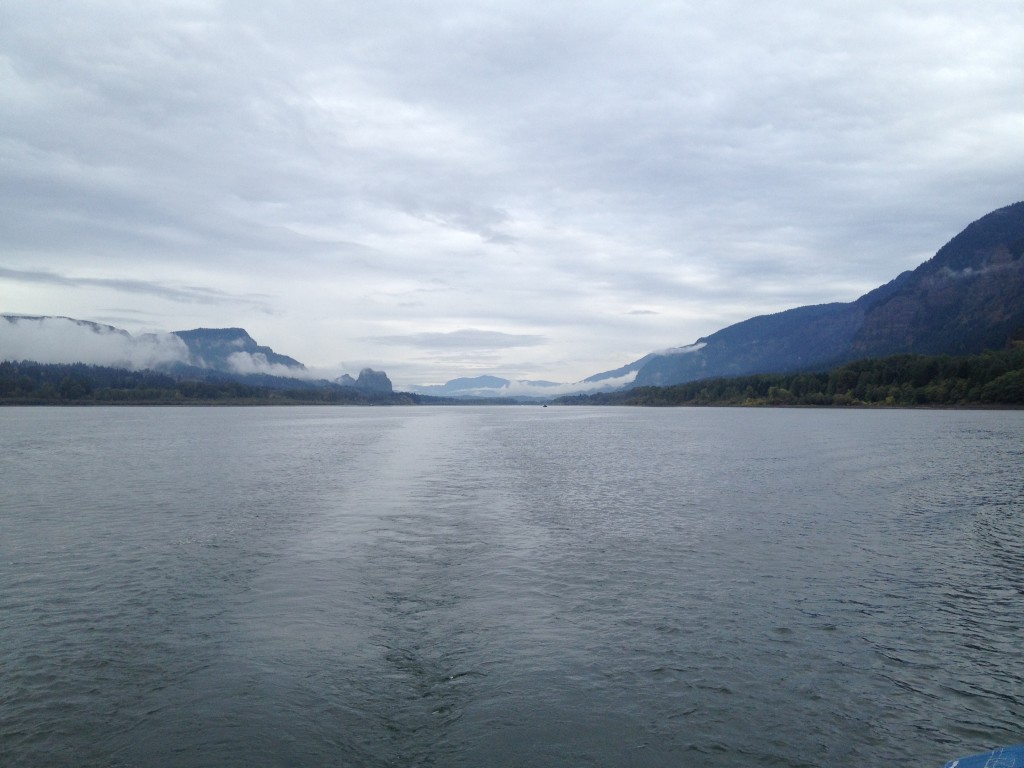 ---
Finally back to the main channel in the Columbia River, we decided to continue on to Astoria, just a few more hours downriver. Things were generally smoothing out, but even here we were confused by a series of net lights strung over halfway across the shipping channel. Although we avoided them, it must be stressful to be a fisherman watching vessels heading for your nets. I'm surprised there's really a need to string nets in the main shipping channel of the Columbia River. Finding this experience so close to home, I can't wait to see what we'll find in less developed countries.
---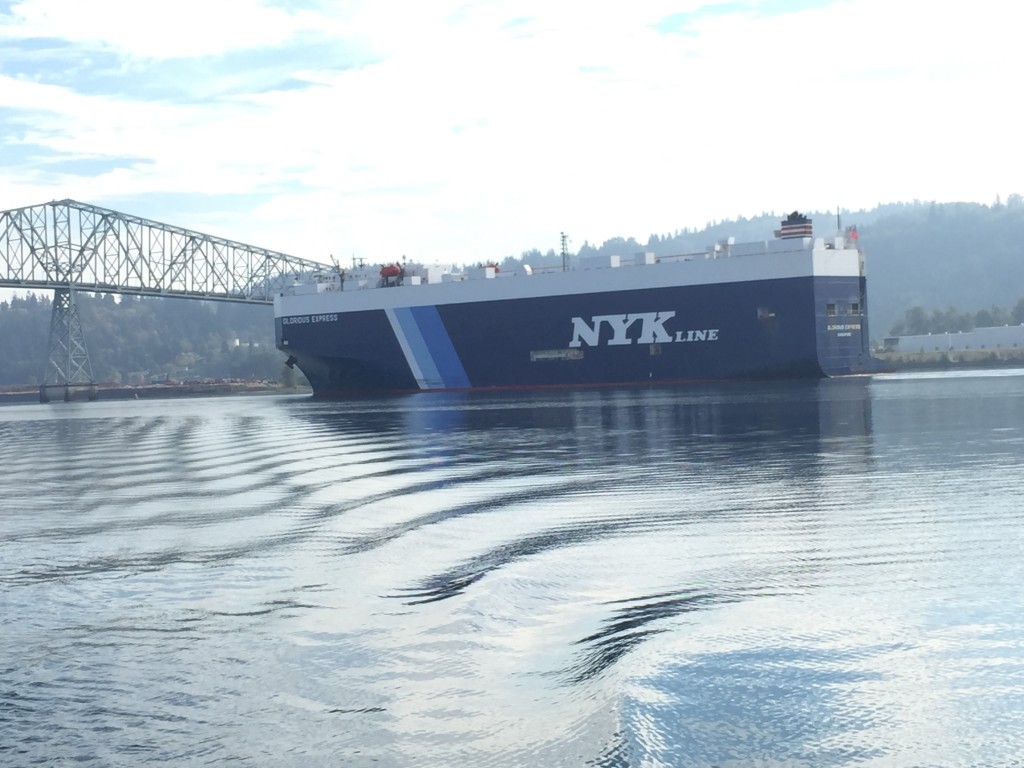 ---
Ultimately, we pulled into Astoria around 12:30 AM, and were happy to tuck in snug for the night. Our haulout scheduled for the next day, we were anxious to press forward with bottom paint and other 'below the waterline' projects before our next weather window, which would undoubtedly be short one the following week. Unfortunately, the weather had other plans, because by noon the next day I was in full foul weather gear leaning into a steady horizontal rain borne by 35 knots of Southwest wind, a clear sign of Fall weather setting into the Northwest. When the gusts reached over 45 knots, my phone rang; it was the boat yard calling to postpone our haul out until Monday.
Some experienced sailors may scoff at this, but to my mind, the Oregon Coast in the middle of a strong Fall cold front is no place to ease your wife and kids into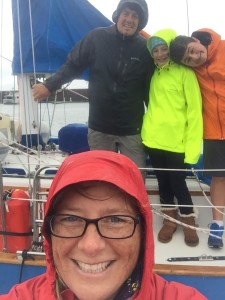 the fun, casual world of ocean passagemaking.  Our original intent was to begin our passage South around mid-September. But projects always encounter snags and, doing all the work ourselves, our production capacity was severely limited. In the end I can't believe how much we did accomplish in two (long) months, but the fact remained, we were pushing the weather window and this Fall seemed to be coming on strong. We'd heard stories of people getting 'stuck' in the Northwest. Once the weather changes, it can become extremely unpleasant and downright dangerous to sail this coast. The earlier vision of Batu heeling at 20 degrees on her dock lines as 45 knot gusts swept the Port of Astoria pressed relentlessly on my mind all weekend. By Monday we had decided to cancel the haul out and take a 2-3 day window of Northwest winds which, as it turned out, was one of the last civilized chances to sail out of the Pacific Northwest this season.
The suburban multi-tasker in me is profoundly bugged by not checking off all the items on my 'IMPORTANT' list; organize gear – NO, renew bottom paint – PASS, install line cutter – NOPE, replace flax shaft packing – NADA. But, it seems, part of the voyaging life is learning to accept where you are, and where you want to be, with honesty and humility. There are times when the list must be damned. On Tuesday, October 13 we were keenly aware of the choice we made when we scrapped the list and, despite Coast Guard warnings, set out to sea.